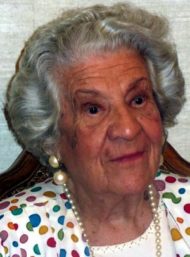 Hilda Stork
March 23, 2019
Hilda Stork, a longtime resident of Lancaster, PA, died on Saturday, the 23rd of March, 2019, at the Glen at Willow Valley, following a brief illness.
Hilda was born in 1924 in Cap Haitien, Haiti, to the late Haydee Marin and Luis Llabres Cintron. During World War II she worked with US Naval Intelligence in Puerto Rico, the birthplace of her parents. When the war ended, she moved to Washington, DC, to join the staff of the Puerto Rican Representative to the US Congress. From there she was recruited by Armstrong Cork Company to work in Armstrong's Export division in Lancaster. It was there that she met her future husband, Richard Stork, to whom she was married for 54 years. She was thrilled when his work moved the family, which then included two young daughters, to Switzerland and then, briefly, to Germany—she loved those years of exploring other communities and cultures abroad.
Later in life Hilda opened a small shop, The Higgler's Basket, in downtown Lancaster, where she made and sold handmade quilts, pillows, and gift items. After retiring from her shop, Hilda applied her bilingual skills as well as her compassion for others as a volunteer with Domestic Violence Services, providing court accompaniment to participants and translation when needed. Her last years were spent at Willow Valley Retirement Community, where she made many wonderful and lasting friendships. Always gracious and considerate of others, Hilda most enjoyed lively conversation and being with friends and family. She was grateful for the kindnesses of staff at Willow Valley during her ten years there.
Hilda is preceded in death by her beloved husband, Richard; daughter, Karen; her two sisters, Haydee Muxworthy and Dora Andrulonis, and brother Luis Llabres. She will be deeply missed by her daughter, Erika Flood, and son-in-law, Paul Flood, from Lancaster; and her grandson, Tim Flood; and step-grandson, Jesse Flood, and his wife, Katie, and children, Maddie and Jack, from Philadelphia.
At her request, a private graveside service will be held at St. Joseph's New Catholic Cemetery. In lieu of flowers, contributions in her memory may be made to Tabor Community Services, PO Box 1676, Lancaster, PA 17608-1676.
Leave a condolence on this Memorial Page
Condolences to the Family
April 02, 2019
Erika, My name is Cindy (Good) Schreiner (also friends with Mannie Tobie),and my mom, Jo Good , and your mom were good friends at Willow Valley. I had the fortune of being with Hilda on a number of occasions; spending "happy hour" at her apartment, eating with her, reading jokes in the Glen (before my mom died), and simply visiting in the common areas. My sister and I loved being with her as she was intelligent, gracious, kind, politicallly informed, and very interested in the lives of others. Actually, Sue and I both went to buy "thigh high" stockings because your mom was adamant that when a "lady" wore a dress , which she always thought was the protocol for dressing, this undergarment was key to the fashion. I still have those stockings,although they remain packaged, because my normal attire includes pants. However, I will always remember those conversations.
Erika, the other day I was in Lancaster and en route to visit my friend, Cindy Galebach Herr, and I was going to stop in to see Hilda. Cindy contacted me and informed me of her death. My sister and I were , of course, shocked, and saddened to hear this news. We both want to express our sympathy to you and your family because she was an important friend to all of us at Willow Valley. This is a challenging time and I hope you are able to be comforted in some way during the difficult moments. May her spirit rest in peace and I hope that someday your mom and my mom may be reunited . Thinking of you.
Cynthia Schreiner
March 31, 2019
Our deepest condolences to the family. Hilda was a special person and a vibrant personality here at Willow Valley. I will miss seeing her at the pool/hallways and at mealtime. She will be missed.
Loretta
March 30, 2019
We have been neighbors briefly of Hilda at Willow Valley. Hilda told us she always ordered flowers every week and flowers and music filled her life. I often met her going down for her late afternoon swim in the North Pool. We knew she spoke Spanish but we never got a chance to ask her more about her life. To us she was the example of fine living. We will miss her.
Jim and Nancy Hansard
March 29, 2019
dear erika
my condolences to you and family on the loss of your mother. When I met your mother, I learned where you developed your graciousness. Hilda was moving in WV after my mother's passing and we spoke in hallway several times. Am so glad she enjoyed her years there. I cherish the small quilt she made for me and it is displayed in its third location
we were both fortunate to have wonderful parents
With love
Georgia McCune
March 28, 2019
Hilda was kind and witty and loving and smart.Lancaster has lost a true Lady.
Hilary Grant
March 28, 2019
Thank you so much for sharing your memories of my mother…it means a lot to me.
Erika Stork Flood
March 27, 2019
Hilda was a dear lady and we will miss her here at Willow Valley. I will miss her conversations because she kept up on all the news and shared her opinions yet always listened to others whether she agreed or not. Blessings and peace, Hilda

Sandra Pickering
March 26, 2019
I shall miss Hilda dearly. She was a beloved member of our Monday Night ladies group at the North in Willow Valley. She always added spark to our conversations. When it was her turn to host, she provided unique hors d'oeuvre recipes of her own. My sympathies to her family.
Meg Hazeltine Wolfe
March 26, 2019
Hilda personified the art of graciousness. Cocktails at Hilda's meant savoring her hors d'oeuvres served elegantly. It has been a privilege to call her a friend for many memorable years
My sympathy to Erika and Paul and the Flood family.
Marge McCarthy
March 26, 2019
Good memories of Hilda & Dick Stork at Marion Art, Higgler's Basket & Windward Travel. They were early supporters of visual art in Lancaster from the early 70's. I am grateful for their kind words and support over the years. They helped make Lancaster better.
Robert LeMin
March 26, 2019
Sending loving thoughts and prayers.
Diane and Henry McQueen
Olney MD