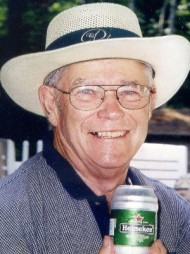 Herbert Yost, 89
May 02, 2014
On a Spring day in 1925, an infant named Herbert Yost was born into earthly life as the son of C. Herbert and Emma (Heil) Yost. On another Spring day, in Belmont Village of St. Johns Creek, GA, he was born into eternal life with God.
Herb is survived by his wife, Mary (Hiemenz), whom he married April 22, 1947.
They raised four children in Lancaster PA: Rev. Herbert C, CSC (South Bend IN), James (Peggy) of Macungie PA, John (Teresa) of New Holland PA, and Joanne (Gregory) Heroux of Suwanee GA. From a small family we have grown with the addition of eight grandchildren: Kirstin (Liam) Powers, Melissa (Sporty) Acosta, Elizabeth and Eric; Jennifer (Tony) Ortiz and Jamie Merritt; Lauren and David (Corey) Heroux. Over the years 9 great-grandchildren have blessed the family with much joy: Hazel, Zeke, Zion, Elias, Miles, Olivia, Nora, Frances. Another greatgrandson, Orion Yost, died in 2002 shortly after his birth.
Herb is also survived by his sister, Audrey (C. Pat) Riley, of Lancaster PA.
A graduate of Lancaster Catholic High School, Herb served his country in the Army Air Force in World War II as a B-29 pilot. After the war, he gained retail experience at Herr and Company in Lancaster, and then opened his own paint store on East King St. He was active in parish activities at St. Anthony of Padua Church, and was one of the first lectors when it became permissible for laypeople to read Scripture at Mass. He and his sons would also sell regional Sunday newspapers from the back of the station wagon after each Mass, with the proceeds funding activities for the parish's altar boys.
Herb was also very active in Democratic politics in the City of Lancaster, serving as City Chairman in the early 1960's. He was Public Safety Director for the City of Lancaster for 7 years. From there he went to Harrisburg where he spent several years as head of the Crime Prevention Unit with the Commission on Crime and Delinquency. Herb was instrumental in the Take A Bite Out of Crime-McGruff Program in Pennsylvania.
Herb was past president of the Lancaster Jaycee's and past president of the Lancaster Catholic High School Athletic Association.
In 1985, Herb and Mary both retired from state employment. Herb had always enjoyed outdoor maintenance and it wasn't long before he answered an ad for an estate manager. This brought a move to Easton MD. He oversaw care of the gardens and grounds, and enjoyed the opportunity it provided for golf with Mary and the family.
In 1991 the lure of a golfing retirement resulted in a move to Sea Trail Plantation in Sunset Beach NC. He also worked part-time at the Pearl Golf Course and along with Mary, maintained a bluebird trail at that course that was registered with the National Bluebird Association.
In Spring of 2013, as a result of failing health, Herb and Mary moved to Assisted Living at Belmont Village near their daughter, Joanne, and her family.
A Mass of Christian Burial will be held at 11:00 AM Saturday, May 17, 2014 at Our Lady of Lourdes Catholic Church, 150 Water Street, New Holland, PA. A time of remembrance will precede the service at 10:30 at the church. The family asks that everyone in attendance please wear bright colors. Inurnment at Fort Indiantown Gap National Cemetery will be at 11:00 AM Monday, May 19, 2014. Kindly omit flowers. Memorial contributions may be made to Priest of Holy Cross, P.O. Box 771, Notre Dame, IN 46556-0771.
Leave a condolence on this Memorial Page
Condolences to the Family
May 14, 2014
Mrs. Yost, I am sorry to hear of Mr. Yost's passing . Please know that you and your family are in my thoughts and prayers at this time. I can remember mom and dad (Ruth & Dick Grimm) talking of you two and seeing you when you would come for visits or parties when I was growing up.
Rory Grimm
May 13, 2014
Dear Joanne,
Please know that you and your family are in my thoughts and prayers. Your dad always made me laugh I know he will be missed.
Think of all the good times.
Peace and love,
Mary Lynn Hobday DiPaolo
May 12, 2014
My sympathy to the Yost family. I have good memories of Mr. (and Mrs. Yost) Yost, growing up with Joanne and learning about politics at a young age.
My thoughts and prayers are with all of you.
Love the picture! Just how I remember him smiling!
Cathy Capp Koller
May 12, 2014
We are so sorry we can't be with you this weekend,
with all our love,
Jeanne and Henry
May 12, 2014
I fondly remember Mr. Yost from when he provided a small number of Class of 1971 LCHS students with a tour of the then police/fire station. My deepest sympathy to his immedaite family; especially to his sons John and Jim.
JOE KAMBIC
Visitation

Saturday, May 17, 2014
10:30 AM - 11:00 AM
Our Lady of Lourdes Catholic Church
150 Water Street
New Holland, PA 17557

Map and Directions

Services

Saturday, May 17, 2014
11:00 AM
Our Lady of Lourdes Catholic Church
150 Water Street
New Holland, PA 17557

Map and Directions