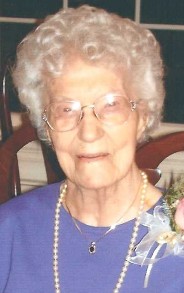 Helen Olsen Thompson
Helen Olsen Thompson, age 100, born Christmas Eve 1906, of Quarryville, PA, formerly of Brooklyn, NY and a 34 year resident of the Quarryville Presbyterian Retirement Community (QPRC) went to be with The Lord on September 28, 2007 surrounded by the family she loved and served all her life.
Helen lived a full life, being married to the late Arnold Thompson, a New York building contractor, who in conjunction with Dr. Franklin Dyrness, were inspired to build a place for the elderly in 1946.
Helen's life was one of service to The Lord in her gift of hospitality. She was a devoted homemaker and she also gave 20 years of service to QPRC, from which she retired at the age of 85.
She is survived by two children, Olive Helen Bishop, retired Elementary Teacher and minister's wife presently living in Florida with Rev. Alfred Bishop, husband and David Arnold Thompson, Resident Engineer of QPRC in Quarryville with Gladys Thompson his wife, homemaker and retired Dental Receptionist.
She is survived by 5 grandchildren: Debra Bishop, Timothy Bishop husband of Lori Bishop, Kathy Whitaker wife of Donald Whitaker, Lisa Lehman wife of Daniel Lehman, Christine Ung wife of Rithy Ung; and 8 great-grandchildren – Amanda, Challise, Donald-Craig, Emmalee, Tyler, Noah, Danielle, and Natalie.
A Memorial Service honoring Helen's life will be held at the Chapel of QPRC on Saturday, October 20th at 10:30 a.m.
Her body was given as a gift to science, Anatomy Gifts Registry. In lieu of flowers any memorial gifts may be given to the Quarryville Presbyterian Retirement Community, 625 Robert Fulton Highway, Quarryville, PA 17566. Arrangements by the Charles F. Snyder Funeral Home, Inc., Lancaster, PA 393-9661.
Leave a condolence on this Memorial Page