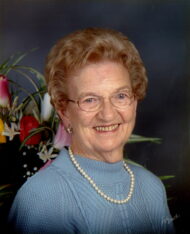 Helen Mechler, 100
December 26, 2021
Helen Therese Mechler, 100, of Lancaster, passed away at Landis Homes on Sunday, December 26, 2021.
Born on February 4, 1921 in Elizabeth, NJ, Helen was the daughter of the late James and Martha (Heusser) Meek. She was also preceded in death by her loving husband, William Anthony Mechler in 1995; as well as her sisters Catherine Meek, Martha Fitzpatrick, Mary Wagner, and Elizabeth Kovacs; brother James Meek; and son-in-law Danny Ryan.
Helen was a proud Catholic and was an active member of St. John Neumann Catholic Church. She participated in the St. John Neumann Bazaar workshop, as well as the Knights of Columbus Ladies Auxillary, and the St. Anne Neumann Travel Club. She worked in various positions for Bell Labs for 25 years before retiring.
Helen loved to travel, especially with her sister Mary. Together they took several trips to Europe and their memories were full of laughter of the really fun times had. They'd go on thrilling vacations and dare each other into all sorts of stunts. She also loved a good party and was a was a self-professed chocoholic. Spending time with her dogs and best companions, Seamus and Shamrock was very special to her.
Helen is survived by her daughters, Kathleen Garvey (wife of Edmund, M.D.) and Karen Ryan; her grandchildren Ned Garvey (husband of Suzy), Allison Garvey (wife of Patric Charest), and Dan Ryan (husband of Kelly); her great-grandchildren Eamonn, Fionn, Madeline, Carson, and Savannah; her brother-in-law Peter Kovacs; as well as many nieces and nephews.
The family would like to give a special thanks to Landis Homes Retirement Community for all of their help and support.
A Funeral Service will be held at St. John Neumann Church at 601 E Delp Road, Lancaster, PA 17601 on Friday, January 7, 2022 at 11:00 AM. Friends will be received at the church one hour prior at 10:00 AM. Committal will take place at a later date. In lieu of flowers, donations can be made to Hospice & Community Care at www.hospiceandcommunitycare.org or 685 Good Dr, Lancaster, PA 17604 or to The Huntington's Disease Society of America at www.dhsa.org or 505 Eighth Avenue, Suite 902, New York, NY 10018.
Leave a condolence on this Memorial Page
Visitation

Friday, January 07, 2022
10:00 AM - 11:00 AM
St. John Neumann Catholic Church
601 E. Delp Rd.
Lancaster, PA 17601

Map and Directions

Services

Friday, January 07, 2022
11:00 AM - 12:00 PM
St. John Neumann Catholic Church
601 E. Delp Rd.
Lancaster, PA 17601

Map and Directions