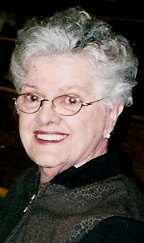 Helen M. Albright, 80
Helen M. Albright, 80, of Lancaster, passed away on Wednesday, May 5, 2010 at Conestoga View.
Born in Lancaster, she was the daughter of the late Lester C. and Louisa E. Sipe. She was formerly married to the late Leroy Albright, Jr.
Helen had worked in the packing dept. at the JL Clark Corporation for over 35 years.
She was an avid reader, enjoyed playing cards and crossword puzzles. Helen had attended Happy Hours at the Lancaster Rec Center and enjoyed spending time with her family.
She is survived by her children: Sandra A. married to William Souders of Holtwood, Michael E. married to Suzanne Albright of Lancaster, and Terry L. married to Brenda Albright of Refton; her 10 grandchildren: Kristen, Christina, Andy, Jason, Chad, Lauren, Ryan, Andrew, Lance, and Lacy; and her 6 great grandchildren: Kayla, Lucy, Gabriella, Zachery, Audrey, and Madison. Helen is also survived by her sister, Gerry married to Paul Wenger of Paradise.
Helen's family would like to thank the staff at Conestoga View for their exception care they provided for her.
Friends will be received on Monday, May 10, 2010 from 10-11AM at the Charles F. Snyder Funeral Home, 414 E. King St. Lancaster, PA, with the funeral service to follow at 11AM. Interment in Riverview Burial Park. In lieu of flowers, please make contributions in Helen's memory to Hospice of Lancaster County, 685 Good Dr., Box 4125, Lancaster, PA 17604-4125. To send an online condolence, please visit SnyderFuneralHome.com.
Leave a condolence on this Memorial Page
My thoughts and prayers are with you during this difficult time.
One of my fondest memories as a teenager was when you (Sandy) and I would invite our moms to drive along with us to shop. I remember our moms talking and laughing together. Of course, with our inexperienced driving skills, maybe humor was their way of coping with two teenage girls.
Once again, I'm truly sorry for the loss of your mother.
Julia Negley Kirchner
Dear Family,
My name is Ron Sipe, son of Elvin (Aunt Helen's brother) and his wife, Mary Sipe. I am sorry to hear of Aunt Helen's passing. I retired from the United States Air Force and have been residing in San Antonio, Texas since 1976. I do remember visits to the Sipe family while I was living in Millersville.
My thoughts and prayers are with the family.
Please feel free to contact me at rsipe24@aol.com.
Sincerely,
Ron