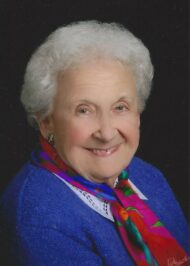 Helen A. Martin, 95
September 16, 1926 - September 20, 2021
Helen A. Martin, 95, of St. Anne's Retirement Community and formerly of High Street, Lancaster, passed away at Lancaster General Hospital on Monday, September 20, 2021. She was married to the late Richard H. Martin for 43 years before his death in 1995.
She was born in Steelton, PA to the late Ignatius and Mary (Neubauer) Krasovic. Helen graduated from Harrisburg Catholic High School and St. Joseph School of Nursing. She worked as a Geriatric Registered Nurse at Whitehall Nursing Home for 20 years, and then at Conestoga View for 25 years. She was Director of Nursing at both facilities.
Helen was a parishioner at St. Joseph Catholic Church.
Surviving Helen are her four children, Joseph R. Martin, husband of Karla of York, Mary E, wife of Robert F. Weaver, Jr. of Lancaster, Carole A, wife of James Good of Lancaster, and John F. Martin of Lititz; 6 grandchildren, 3 great-grandsons and one great-granddaughter on the way; and two brothers, Edward Krasovic of Oceanside, CA, and Martin Krasovic of Chambersburg. In addition to her parents and husband, Helen was preceded in death by her three brothers, Francis, William, and Richard Krasovic.
Helen's family will greet friends from 11 AM to 12 PM, followed by a Mass of Christian Burial at 12 PM, with The Rev. Allen F. Wolfe as Celebrant, on Monday, September 27, 2021, at St. Joseph Catholic Church. Interment in St. Joseph New Catholic Cemetery.
Please omit flowers, and kindly consider a memorial contribution to St. Joseph Catholic Church, Stained Glass Window Fund, 440 St. Joseph Street, Lancaster, PA 17603 or to St. Anne's Retirement Community, 3952 Columbia Avenue, Columbia, PA 17512.
Leave a condolence on this Memorial Page
Condolences to the Family
September 27, 2021
Dear Mary and Carole and family: I am sending my deepest sympathy to all of you for the loss of your Mother. May she Rest In Peace in the arms of Our Lord Jesus.
Bonnie Schlager
September 27, 2021
Dear Martin Family, I wanted to express my condolences in the passing of your mother. Mrs. Martin was a such a kind and wonderful woman. She made a huge impact on me when I worked at Conestoga View, many, many years ago. The support and encouragement she gave me while I was going through nursing school is something I've never forgotten. She truly was a genuinely beautiful soul. My thoughts and prayers are with you. God Bless,
Lori Kleckner-Hagen
September 26, 2021
My condolences to the Good Family. Although I never met Helen, I know that Carole was close to her Mom and greatly influenced by her. She will be missed.
Jeanne L Mitman
September 26, 2021
Our condolences in the passing of your mother Helen. We appreciated your parents living down the street, and enjoyed seeing you kids growing up, playing football at the top of the hill, baby sitting our children Sam and Karen, and seeing you together at church. She was a great asset to our growing into adult roles, knowing I could talk with her about anything. We will miss her.
September 25, 2021
Dear Martin Family,
Our deepest sympathy on the passing of your dear mother. Her pain and suffering has ended and she is in the arms of our Lord. God bless her and may she rest in peace.
Blessings,Carol and Rich Lichty

September 24, 2021
To my second family,
My deepest sympathy for the loss of a gentle soul. Your mom was always a great listener and like a mom to me also. She is at peace in the loving arms of our Savior Jesus Christ. I wish for you all to find comfort in the knowledge of knowing she is now where her journey of life was meant to take her, home.
Love and prayers
Christine Anderson-Spiess
September 22, 2021
Your mom is woven deeply into the fabric of our hearts and lives forever. The memories of growing up together on High Street are precious and priceless. She was your devoted mom , adoring grandma,a good neighbor, a compassionate and intelligent nurse, highly respected by her professional colleagues, devoted to your dad during his illness, brave widow , gracious lady and wise woman. A rock of faith in our family, she welcomed all the spouses , loved all the nieces and nephews and all the new babies who came into the family. Beautiful smile, spoke truth in love, enjoyed so many family get-togethers…..family stories, keen mind and wit always. Knew so many people, she was beloved by all. Always kind and gentle , thoughtful and empathetic. Aunt Helen, we will miss you terribly. Thank you for all the love. Our hearts wrap around you Joe, Mary,Carole,Jon and families. We love you. Your Ressel cousins and families: Mary ,Dick, Steve,Chris,Bob,Kathy and Mike
September 22, 2021
Our condolences and prayers to Joe, Mary Beth, Carole, John and their spouses, children, and grandchildren. Aunt Helen was a true treasure in our family. Always a kind word for all.
Phil and Beth Wade
Visitation

Monday, September 27, 2021
11:00 AM - 12:00 PM
St. Joseph Catholic Church
440 St. Joseph Street
Lancaster, PA 17603

Map and Directions

Services

Monday, September 27, 2021
12:00 PM
St. Joseph Catholic Church
440 St. Joseph Street
Lancaster, PA 17603

Map and Directions