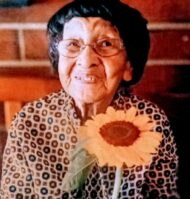 Hazel E. Gantt, 98
July 21, 2022
Hazel E. Gantt, age 98, passed away on July 21, 2022. She was born in Harrisburg, PA to the late William E. and Ruth F. (Jackson) Gantt.
Hazel is survived by her adopted daughter, Wanda McKinney; 3 grandchildren, George McKinney, III, Dawond McKinney, and Porschia Cox; 2 great-grandchildren, Donte McKinney and Alea McKinney, and several great-great-grandchildren; 7 nieces, Patricia Evans, Ann Gantt, Caryle Jones, Leonora Jones, Michelle Rolle, Beatrice Taylor, and Yvette Schley; 4 nephews, John Gantt, Joseph Gantt, Jr., Gregory Jones, and Todd Jones; and many great-nieces and great-nephews too numerous to list.
Hazel is preceded in death by her siblings, Reverend Joseph Gantt, Jr., Elaine Washington, Ruth Hines, Avril Schley, Jean Jones, and Credon Gantt, her nieces Margaret Gantt and Karen Jackson, and her nephew Vance Hines.
The Family will receive friends Saturday, July 30, 2022, at Bethel African Methodist Episcopal Church, 450 E Strawberry St, Lancaster, PA 17602 from 9 am-10 am with services to begin at 10 am. Burial will take place at Mellinger Mennonite Cemetery following the services.
Leave a condolence on this Memorial Page
Condolences to the Family
July 30, 2022
Walk on the Streets of Gold Ms Hazel; walk around Heaven all day.
Brother Willard A. Durham, Jr., FriendshipBC, York
July 29, 2022
She was so sweet and kind and a blessing to be around
send my condolences and prayers to all her family and friends
Shemeka Smith
July 29, 2022
"Miss Hazel".🥰 What a blessing! I will miss the talks, she always, any day, had a kind, uplifting word or thought to give you. And the stories! They will be remembered. You would see her on the bus doing her crossword puzzles, you knew it would be a spirited ride to your destination. A true Christian, indeed. Thank God for you and thank you for sharing your time. You were an amazing person, gifted beyond measure. I'll miss those hugs too! Our condolences to the family.🙏🏽
The Williams Family: Charmaine, Cissy (RIP❤️), Jennifer Ann, Charles "Ducky" and Mamma Jo-Anna.
July 28, 2022
My condolences to the Ganatt family,Ms Hazelwas such an awesome woman. and very encouraging to people and myself,you will be truly missed!!!!!!
July 28, 2022
It was such an honor to have known you. You amazed me with your spunk, you walking all over the place and taking such pride in your hometown and the family you loved so much. You will be missed by many.
To the daughter (not legally adopted) please know, whether blood or not you shared a bond with her that was very special between the two of you and nobody can take that away from you.. You are her daughter and I'm so very sorry for your loss.
July 28, 2022
My sincere condolences to the family of Miss Hazel Gantt. Miss Hazel you will truly be missed by me and all who knew you. May your soul rest in Heaven. I will not say Peacefully because I know you will be shouting and dancing and praising God all day long! Love you Miss Hazel.💜
Suzanne & Randall
July 27, 2022
Aunt Hazel, words can not adequately express the impact you had on so many. You lifted the hearts of so many people by just being you! You were always smiling, willing to help others and sharing your dancing exercise which brought joy to you and so many others! We are going to miss you so much Aunt Hazel but God was ready for you to come on home and bring your joyous upbeat spirit with you! Rest Easy Aunt Hazel! Another Community Legend spread her wings and went home to be with the Lord!
Lovingly submitted by,
Dontina Jones Jackson and the Jones Family
July 27, 2022
May she rest in paradise. My deepest condolences to the family and friends.
July 27, 2022
Such an awesome amazing woman of God. She was always walking and encouraging others. Her testimony as to how God changed her life showed in everything she did and said. Condolences 💐 to her family. Rest in the arms of Jesus Queen Hazel♥️♥️♥️
July 26, 2022
Rest well Ms Hazel! I used to work at Fulton Bank downtown and she would always come in and put stickers on the money envelopes in the branch and I always would say hello when I saw her downtown- Lancaster lost a great lady!
July 26, 2022
So sorry for your loss,she was an amazing woman of God,we always see her walking everywhere even at the Mall getting her walk on,Blessing from cofshg,the Pastor's Webbs
July 26, 2022
Rest in peace Miss Hazel you was always an inspiration for me and I'll never forget when you used to bring me back and forth from RCA I was young and you was there I could always talk to you and thank you for your prayers love you Miss Hazel
July 26, 2022
My name is Mary Krout and Ms Hazel was one of my favorite people! She loved Jesus and was always an inspiration to me! So sorry for our loss – and it is a big loss- but do happy for her that she is dancing and laughing with Jesus! I will miss seeing you, my friend!
July 26, 2022
I'm so grateful Ms Hazel has left us with Yhe LOVE ❤️ of GOD in her. She will be sorrowful missed❤❤☝🏽
July 26, 2022
My Condolences to the Family
July 26, 2022
Well, "Aunt Hazel" you blew up the internet one last time Rest Easy🙏🏾
1) The first time I saw this was when you were featured having lunch at Blazzin J's
2) Second time was when Champ took you to a birthday dinner
3) Third time was highlighting your 98th birthday
4) Fourth time was doing what I will always remember you by…DANCING downtown at Lancasterfest!
If there's one thing you knew it was "One thing about good music when it hits you, you feel no pain "(in my Bob Marley voice)
Your smile and strut could be witnessed marching down the isles or at your seat in church, at a family celebration or any celebration. I imagine you have probably been spotted dancing down the aisles of the supermarket if the music was good!😂
One time you attended a backyard family party at my house, and you sat there the whole time you were there. We kept prodding you to get up and dance and your reply was that someone had put up a video on Facebook of you dancing at a function and you were later somewhat chastised for dancing.
I was so saddened to see this because it looked like it broke your spirit all the way down. But guess what y'all she got her spirit back and as someone said to me yesterday, she got her last dance in at Lancasterfest.
I can imagine you not "walking around heaven all day" but dancing around heaven all day💃🏾
May her spirit, spunk, and feistiness encourage us all!
Denise Jones Campbell
July 26, 2022
Your dear friend from Mercer Ave days Mary Boots n family, sorry for your lost Gantt family
July 26, 2022
It was only a few weeks ago that we saw a photo of Hazel dancing to some outdoor music, and we rejoiced that she was still alive and active. For many years, until the COVID pandemic, I and several others on Saturday morning stood on the courthouse steps on East King Street with our signs asking passers-by to support Peace and Justice in this town, state, country and the World. Almost every Saturday Hazel walked by us on her way to Market or otherwise downtown, and she always gave us a hearty encouraging greeting and a warm hug as she went on her way. We were uplifted by her loving concern for the bringing of Peace and Justice to our community and the World.
Dear Hazel, you were a vital support then and you are one now. May you rest in peace and your loving spirit stay with us all.
July 26, 2022
My condolences to the Gantt family. She was a lot of fun when I had her on my route to Park City Mall. I liked teasing her when she would be doing her cross word puzzle or search a word.
July 26, 2022
Rest in Heaven Ms Hazel.
July 25, 2022
Rest In Peace Aunt Hazel. Your memorials will last forever.
July 25, 2022
Rest in peace, Miss Hazel. You lived a good, long life & still dancing just a few weeks ago & still walking to wherever you wanted & needed to go. You will be missed.
Visitation

Saturday, July 30, 2022
9:00 AM - 10:00 AM
Bethel African Methodist Episcopal Church
450 E. Strawberry Street
Lancaster, PA 17602

Map and Directions

Services

Saturday, July 30, 2022
10:00 AM - 11:00 AM
Bethel African Methodist Episcopal Church
450 E. Strawberry Street
Lancaster, PA 17602

Map and Directions