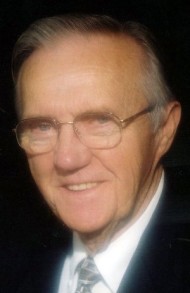 Harold N. Yarnell, Jr., 87
November 30, 2015
Harold N. Yarnell, Jr., 87, of Lancaster passed away peacefully Monday, November 30, 2015 at the Mennonite Home. Born in Lancaster he was the son of the late Harold N. Yarnell, Sr. and the late Elizabeth Sophia (Coulson) Yarnell. He was the beloved husband of Lydia B. Yarnell with whom he just celebrated 67 years of marriage in November.
He was the founder and the chief executive officer of the original Yarnell Electric Co. founded in 1967 and later became known today as the Yarnell Security Systems.
Harold enjoyed boating, fishing and most of all spending time with his family.
He served in the US Army as a Private first class during WWII.
In addition to his wife Lydia, he is survived by his children: Ronald R. Yarnell husband of Tammy, Teri Lynn Yarnell and Michael D. Yarnell all of Lancaster. Three grandchildren, Ronald R. Yarnell, II, Vanessa A. Herr, Heather Yarnell Beck; Five great-grandchildren, Sean, Adam and Aiden Yarnell, and BaiLee and Anaiah Herr, two step-grandchildren, Heather Hoover and Nicholas Duffy, and two step great-grandchildren, Chloe and Brandon Fulcher.
Funeral Services will be held at 2:30PM on Monday, December 7, 2015 at the Charles F. Snyder, Jr. Funeral Home & Crematory, 3110 Lititz Pike, Lititz, PA 17543. A viewing will be from 6-8PM on Sunday evening at the funeral home and again one hour prior to the service at the funeral home on Monday. Interment will be in Conestoga Memorial Park with military honors.
Leave a condolence on this Memorial Page
Condolences to the Family
December 07, 2015
Dear Lydia, Ronnie, Teri & Michael, So sorry to hear about the passing of dear Uncle Harold. He is woven into some of my earliest memories, like when our dad (Dick Phillips) and our grandpa (Paul Falk, 'Pap') and Harold took my brother Richard and I along to go fishing from a railroad bridge over the Susquehanna (1957?)…our Dad & Harold as cousins having come through Hershey Homes, cracking corny jokes, laughing till they cried. And Lydia was always the most movie-star beautiful of all the aunts, and my first exposure to a true Southern accent. After his years as a succesful electrician, Harold loved to tell about evenings on his boat on the Chesapeak, leaning back and saying, "I wonder what all the poor people are doing tonight." Well, tonight we're sending our love and condolances, and virtual hugs, and our greetings, from Amsterdam. Bob Phillips, with Miriam, our 3 daughters, Leslie (32), Ruthie (36), and Joy (39) with her 2 children, our beloved David (12) and Delenn (11). love and prayers, Bob
December 04, 2015
Dear Lydia, Mike, and Ron- you all were such great neighbors. I will always be grateful to Harold for bringing the bucket truck home so that I could paint the peak of my house and not hang over the roof those many years ago. When I heard that Harold was ill, you all were in prayers, but I am sorry I never got to see you. Unfortunately I will be out of town this Sunday and Monday too so I won't see you. Please know you have my sympathy.
Blessings, Bev Moran
December 03, 2015
Love and hope for brighter days ahead to the entire family. Warren and Jennifer Eldredge
December 03, 2015
Having once lived around the corner from Mr. Yarnell and later being a costumer of the Yarnell Security Systems for many years, my wife, Nancy and I want to offer our condolences to his family upon reading of his passing on.
With much sympathy toward all of you.

Larry and Nancy Warshawsky
December 02, 2015
Dear Lydia and family,
As Keith and I ate dinner this evening, we remembered the first time we stood in the yard talking. You and Harold shared the story of your first encounter, and his eyes lit up with boyish charm. We did not know him for very long, but we know your love was great. And your commitment to him is an inspiration to us. We are only steps away if you ever need anything.
Love Keith and Dori
Visitation

Sunday, December 06, 2015
6:00 PM - 8:00 PM
Charles F. Snyder Funeral Home & Crematory
3110 Lititz Pike
Lititz, PA 17543

Map and Directions

Visitation

Monday, December 07, 2015
1:30 PM - 2:30 PM
Charles F. Snyder Funeral Home & Crematory
3110 Lititz Pike
Lititz, PA 17543

Map and Directions

Services

Monday, December 07, 2015
2:30 PM
Charles F. Snyder Funeral Home & Crematory
3110 Lititz Pike
Lititz, PA 17543

Map and Directions