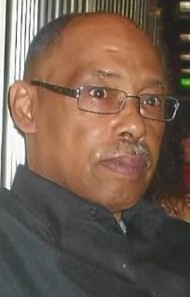 Harold L. "Poogie" Anderson, Sr., 65
March 14, 2015
Harold L. "Poogie" Anderson, Sr., 65, of Lancaster, went home to be with his Lord and Savior on March 14, 2015. Born in Lancaster to Charlotte (Anderson) Washington and the late Harold Glover, he was also the step-son of the late Robert Washington. Harold was the loving husband of Melinda Allen to whom he was married on November 11, 2009.
Harold worked as a general laborer most of his life. He was a member of Bright Side Baptist Church. After graduating high school, Harold took some courses at Yale University School of Divinity. He was an avid chess player who participated in tournaments. Harold also enjoyed reading and was a Philadelphia sports team enthusiast.
In addition to his mother and wife, Harold is survived by three children: Hakika Sturgis of California, Harold Anderson, Jr. and Stephan Anderson, both of Lancaster; 6 grandchildren, and 7 brothers and 4 sisters.
Funeral Services for Harold will be held at 11AM on Thursday, March 19, 2015 at Bright Side Baptist Church with Pastor Louis A. Butcher, Jr. officiating. Family and friends will be received at the church one hour prior to the service. Interment will follow at Mellinger Mennonite Cemetery.
Leave a condolence on this Memorial Page
Condolences to the Family
March 21, 2015
Melinda and Family,
We are praying for the family, and want to express our condolences.
James and Bonnie Morant
March 19, 2015
My Deepest Sympathy to you Melinda and the Anderson, Washington family.
God bless you and keep you, Denise Williams
March 18, 2015
My Deepest Sympathy ….Joyce Johnson
March 18, 2015
Greetings to the family
The loss of a family member is always a tragedy but our heavenly father knows best he is at peace now and at the gates of the heavenly father my God be with the family at this time of your loss.i was a good friend of Poogie we grew up together and had many good times in the ward.i have been away from home along time but I never forgotten my friend's. May God bless the family and I will continue to keep you in my prayer.
Elliott Godwin jr.
Hinesville, ga.
March 17, 2015
Our deepest sympathy to the family. Theresa and Victor Mendez.
March 17, 2015
To Malinda and all family, I was saddened to hear of your loss. You will be in my thoughts. May God's peace be with you all. Mildred Perdue
March 17, 2015
Dear Melinda, Ms. Sue and Family,
I am going to miss seeing Poogie! I didn't see him often but when I did we always talked about the fun we had playing pinochle and always vowed that we would gather everyone together to play again. Unfortunately, as life will sometimes dictate , we did not make it happen. However, I will always remember the fun we had growing up and the good times we had on those pinochle nights. Lots of laughing and selling wolf tickets. Every time I have one of those memories, I will think about him. I sincerely hope your personal memories of him will bring you smiles and comfort in the days ahead!
God Bless You,
Becky Corbin Powell
March 17, 2015
Melinda, Miss Sue and Family, we extend our heartfelt sympathy to you all. Poogie was a nice and respectful man. He will truly be missed. He called me "Suzy Homemaker" for many years.
May the God we serve give you peace and comfort. God Bless You All!
Popper and Suzanne Thomas
March 17, 2015
May Our Heavenly Father Bless You Unc on your Journey and continue to allow you to watch over us my heart is saddened from your passing filled with joy you no longer haft to go through the pain any longer with that being said Rest Easy Unc gone yet never forgotten your nephew Boogie
March 17, 2015
Melinda and All the Andersons: My dearest friend "Poogie" (to both me and on behalf of my mother) will be missed. I will have you in my prayers. I am truly sorry he will be looking over you with them other Angels. Dawn Carin Boots
March 17, 2015
To the Family of my dear friend. …….Uncle Poogie that's what I called him ..I've known him all my life when we use to knock off school he had to watch the stories with us me and Peanut at Dale Butlers apartment on Rockland St….But we had to cook for him lol so many Good memories of back in the good old days. …I will miss that big beautiful smile and laugh rest on my dear brother. ….I Love You all Brenda E Stone Dennison.
Visitation

Thursday, March 19, 2015
10:00 AM - 11:00 AM
Bright Side Baptist Church
515 Hershey Ave.
Lancaster, PA 17603

Map and Directions

Services

Thursday, March 19, 2015
11:00 AM
Bright Side Baptist Church
515 Hershey Ave.
Lancaster, PA 17603

Map and Directions