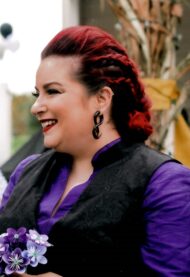 Hannah Elizabeth Garland, 35
July 27, 2021
Hannah Elizabeth Garland, age 35, passed away on Tuesday, July 27th after a sudden illness. Hannah graduated from the Lancaster General School of Nursing and Immaculata University. She traveled the world and served as a traveling nurse around the US. She was an ER nurse for many years and worked for Hospice and Community Care of Lancaster County, at the time of her passing. Generous in spirit, extremely intelligent, and fiercely loyal, Hannah loved games, books, movies, good food and good friends.
She was married October 2020 to Hunter Arkulari and is also survived by her mother Marcia Campbell (William), father Michael Garland, sister Mary Wilson (Alex), and step sister Kara Kriner (Todd), nieces Elise and Ember, nephew Patrick, and beloved dogs Loki and Hudson, and cats Liara and Lily.
Her friends are invited to a celebration of her life on Friday, August 6 from 2-6PM at 3327 Greenridge Drive, Mountville. Overflow parking is available at Murry Ridge Park off North Donnerville Road with access to Greenridge Drive by walking path. Please BYOB and bring your favorite board game to play.
Keepsakes and mementoes are most welcome at the celebration of Hannah. They will be forever kept with her.
Comfortable attire recommended as Hannah would have wanted. In lieu of flowers, donations should be made to East Coast Corgi Rescue or your favorite animal rescue organization.
Leave a condolence on this Memorial Page
Condolences to the Family
August 05, 2021

It's hard to convey how much this beautiful girl will be missed. Hannah was a bright spot in everyone's life; you couldn't help but become a better person by just knowing her. Being my daughter's best friend for years, we dubbed each other with the nicknames of East Coast Daughter and West Coast Mama, a relationship I treasured. A trip to Hawaii with us was energized by her spirit and spunk. My heart and prayers go out to Hannah's family from this heartbreaking and unfair loss. The world has lost a true Angel, but Heaven has gained the best of the best with her presence. Rest in Peace, West Coast Daughter.
August 05, 2021
I am so sorry for your loss of Hannah. She was such a joy to work with. Her laugh was so delightful. She laughed easily, was always kind, always knew her patients and cared deeply. I want to be more like Hannah!
Twila HCC
August 03, 2021
Cannot believe that beautiful, life hugging Hannah has gone, we are all poorer for her passing. RIP generous, loving Hannah, and words don't go deep enough to express how much love I want to shower Marcia, Mary and the rest of the family with. When the tears runout, you will have the best memories of a wonderful human. Hang tough, you are strong enough to cope with this, God bless you all.
Helen Loizou
August 02, 2021
I had the privilege of working with Hannah during her time at the LGH ER. Hannah was truly very special. My prayers go out to Hannah and all who grieve.
Tim Patterson
August 02, 2021
I keep thinking of Hannah and your family.
You can be so very proud as Hannah was the kindest; most helpful person and always smiling
Linda Gross/HCC
August 02, 2021
I met Hannah in the ER at LGH when she started there as a RN at such a young age. She was always bubbly and fun! She was never afraid to ask questions and learn. Her kind, free spirit will be missed! May God comfort you during this difficult time.
Sheri Lamparter
August 02, 2021
To the Family
We are very sorry for your loss
Love
Donna Speece/Jeff Davis
August 01, 2021
So sorry Marcia and family for this tremendous loss. My heart gors out to you all. My prayers for healing and peace.
Donna Owsiak Derivan
August 01, 2021
She was the sweetest, kindest, gentle soul. She lit the mood in any room with just her presence. She is brought up in every conversation we speak of and everything reminds us of her lovely soul. She will forever lie in our hearts.
August 01, 2021
She was a delight. Always cheerful. Always bubbly. Always asking questions. Such a joy to teach. One of those people who will never be forgotten and who will remain in my heart forever. May God's love and the love of others bring you peace.
August 01, 2021
My sincere sympathies to Hannah's family and friends. She was a wonderful co-worker and a friend to all. May your memories bring you comfort in the days and weeks ahead.
August 01, 2021
We are so very sorry for your loss. Please accept our heartfelt condolences.
August 01, 2021
So absolutely sad for your sudden loss. May His grace and presence truly comfort you. Christine Franklin.
August 01, 2021
Hannah was the youngest person I had met who had become an RN (I believe by age 18?) and that's not all! She had an encyclopedic knowledge of many subjects, and the sweetest smile and laugh and was just an amazing person to be around.

It was a blessing to get to know her. We loved to debate about the origin of whoopie pies and she even made the Maine version of them with me one time! I admit they were good with the marshmallow creme added to the filling!

Over the years we lost touch somewhat but we did correspond some about house hunting and she blessed our family with a great window unit air conditioner!

One of the last emails I sent her was about a position to work for Hospice. I had just started volunteering with them at Camp Chimaqua, a camp for kids who have had a loss. She was on the very short list of people I thought of when I read this email that started with this sentence:

"Do you know a caring and compassionate nurse that wants to make a difference by doing meaningful work in a caring and professional environment?"

I am so glad to know she was working there in recent years and KNOW she made a difference! She will be missed by so many in this world and may God comfort her family and friends.
Stu Metzler
Services

Friday, August 06, 2021
2:00 PM - 6:00 PM
3327 Greenridge Dr.
Mountville, PA 17554

Map and Directions