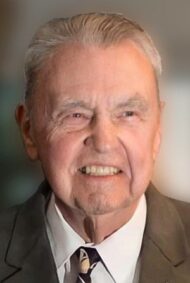 Gilbert Wayne Bonsell, 84
September 14, 2021
Gilbert Wayne Bonsell, age 84, of Lancaster, passed into the loving arms of his Saviour September 14, 2021. He is survived by his devoted wife of 62 years, Donna F (Focht) Bonsell, a daughter Cheryl Hefft of Carlisle, PA, a son Joshua of NYC, three grandsons, Zachary Bullock of Lafayette Hill, PA, Gavin and Ethan Bonsell of NYC, a great granddaughter, Morgan Bullock of Lafayette Hill, a sister, Norma Swartz of Tyrone, and several nieces and a nephew. He was predeceased by grandson, Jordan Bullock.
Son of the late Rhella (McFarland) Bonsell and Gilbert R Bonsell, Wayne was born February 11, 1937 in Tyrone, PA.
He was a life-long member of the Christian and Missionary Alliance Church where he had served in various offices as Youth Leader, Elder, Financial Secretary, and Board Member. Currently was an Elder in the local Lancaster Alliance Church. He also served on the Board of the Lancaster Christian School.
A 1954 graduate of Bellwood-Antis HS and Pennsylvania State University (1958) where he majored in chemistry and also earned an MS degree from Temple University. He served in the US Air Force in Germany and in the PA Air National Guard. After employment with WestVaco and Allegany Ballistics Laboratory, working on US Navy missile programs, he joined Armstrong World Industries in 1964 and had Plant Manager assignments at Fort Mountain, GA, Beech Creek, PA and the Lancaster Plant. He retired in 1999 when he was corporate Director Environmental Health and Safety. Following retirement, he taught at the Lancaster Academy.
Wayne was also a member of the Gideons International, American Legion, NRA, the Southern Lancaster County Sportsmans' Association, and a Life member of the Penn State Alumni Association having served on the Advisory Board of the Penn State Eberly College of Science.
Over the years he enjoyed piloting private airplanes, cycling, pickleball, golf and wintering at World of Life in FL. He loved his wife and family who will miss him deeply.
Friends will be received by Wayne's family on Friday, September 17, 2021 from 10-11AM at the Lancaster Alliance Church, 210 Pitney Rd., Lancaster, PA 17601, with the Funeral Service to follow at 11AM. Interment will be Monday, September 20, 2021 at 11AM at Blair Memorial Park, 3234 E. Pleasant Valley Blvd., Altoona, PA. The family respectfully requests that all who attend the funeral services at the church and cemetery to please wear masks and to refrain from hugging and close contact. In lieu of flowers, please send donations to the Lancaster Alliance Church at the above address, or Gideons International, c/o Brian Mast, 815 Lightfoot Drive, Lancaster, PA 17602.
Leave a condolence on this Memorial Page
Condolences to the Family
September 24, 2021
Dear Donna and family, How sorry we were to hear of the passing of your dear husband and our dear friend. Your family played a unique role in our lives and we are forever grateful to have known you. May the God of all comfort, comfort you with His peace. Loveingly, Pete and Pat Dys
September 24, 2021
Dear Donna, Cheryl, Joshua, and Family … Please allow Judy and I to express our most sincere condolences to all of you. We were saddened to learn of Wayne's passing and cannot imagine how his loss has affected you all. Our earnest thoughts and prayers are with you all at this time of profound loss in all your lives. Please allow me to share some words of comfort from Scripture that have meant so much to us at times like these. … GOD in love has promised grace for every trial, strength for every sorrow, help for every mile, and may GOD in sympathy and unfailing love impart help for each tomorrow and new courage to your heart. … "Cast your burdens upon the LORD, and GOD shall sustain you; The LORD shall never allow the righteous to be moved … Cast all your cares upon GOD, for the LORD GOD cares for you." (Psalm 55:22, 1st Peter 5:7) May GOD'S gracious love and tender mercies rule in your hearts and minds through all of this time. Sincerely, in HIS Name, Judy and Fred Holler (Lancaster Alliance Church)
September 21, 2021
Dear Donna and family. What a shock to read of Wayne's passing. We have been good friends for our many years at Armstrong and shared a tennis court together many years ago at 6:00AM on Thursdays. May God bless you and the family in this difficult time.
Ed Kronenberg
September 18, 2021
Dear Donna and family. I am so sorry about the passing of your husband and father. You have my deepest sympathy. I will be praying for you and your family.💐 God bless the family 🙏
Tammy Jones
September 18, 2021
Wayne was a Word of Life friend and a good man. We're looking forward to meeting him again when we get together in Heaven.
Alvin and Ruth Bragg
September 17, 2021
Cheryl. I find peace, and I hope you do too, in knowing that when we were little kids in school ..our Dad's were both convinced that life with God was the only option for real peace. Our Dads are together now ..cheering us on. We have both been blessed like crazy with a heritage that has a solid rock foundation. I will pray for your heart, and the hearts of your mom and family..as you move forward. Dan Bicker
September 17, 2021
Cheryl and Zack,
We express our symphathies for the loss of your Dad and Grandad – We enjoyed getting to know him in our community. He was a kind, gracious man ~ Terry and Amy
September 16, 2021
Got to know Wayne as we shared the Word of Life Park for a few years. As a fellow Pennesylcanian from Carlisle, I will continue this conversation in Heaven. Wayne was a really nice guy, always smiling, confident and easy going. Will miss him on FB.
Vernon Ream
September 16, 2021
Wayne was a trustworthy man with staying power and a loving family. Thank you, Wayne, for your faithful service to the Lord and His church.
Steve and Beth Hammer
September 16, 2021
Wayne is absent from this body but present with the Lord…bittersweet. I always enjoyed conversations with him and Donna and glad for our visit this summer. Asking God to give His peace and His comfort to the Bonsell family.
Mike & Amy Bush
September 16, 2021
What a wonderful life Wayne lived. Full of wisdom, godliness, and love for his family and for those who were fortunate to call him friend. May God bless you, Donna, Cheryl and Josh, with comfort and peace and wisdom as you grieve his loss and plan for the future. We love you all. Bob and Sharon
September 16, 2021
Will miss his intelligence and my pickleball partner at WOL
Paul Biezing
September 16, 2021
Dear Donna,
We are so sorry to learn of the passing of your dear husband. You have our deepest sympathy. We are praying for you and your family at this time. Love,
Jim and Doris Rooks
September 16, 2021
Cheryl and Famly,
So sorry for your loss. May you cherish all your best memories of your father. Hoping you find peace in this difficult time. Much Love,
Bill Brecht
Visitation

Friday, September 17, 2021
10:00 AM - 11:00 AM
Lancaster Alliance Church
210 Pitney Rd
Lancaster, PA

Map and Directions

Services

Friday, September 17, 2021
11:00 AM
Lancaster Alliance Church
210 Pitney Rd
Lancaster, PA

Map and Directions