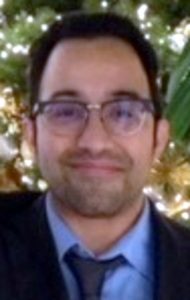 Gilbert Eddie Tellado, 43
March 25, 2018
Gilbert Eddie Tellado, 43, of New Orleans, LA, formerly of Lancaster, PA, passed away unexpectedly on Sunday, March 25, 2018 in Meridian, MS. He was born in Lancaster, PA and is the son of Edward Velez Tellado of Leola, PA and Mary Lou (Rodriguez) Ranck of New Holland, PA.
Gilbert graduated from Conestoga Valley High School and attended Millersville University where he was a brother in the Sigma Pi Fraternity. He also supported and participated in "The Distinguished Gentleman's Ride" in New Orleans every year to raise awareness for prostate cancer and men's mental health. Gilbert was a realtor with Keller-Williams Realty in New Orleans, LA and a sales associate for the Transportation Revolution in New Orleans. He had a passion for selling, riding and working on motorcycles and scooters. He brewed his own beer and was an exceptional cook. He also loved his animals and all animals in general which is evidenced by the numerous cats, chickens, raccoons, and opossums that visited his house daily for their meals.
He is survived by his sister, Regina, Tellado of OH; his paternal grandmother, Elena Tellado; and his niece, Carolina Tellado.
The family will receive guests from 12:00 noon until 1:00pm on Monday, April 2, 2018 at Charles F. Snyder Funeral Home & Crematory, 3110 Lititz Pike, Lititz followed by a Celebration of Life Memorial Service at the funeral home chapel at 1:00 PM.
Leave a condolence on this Memorial Page
Condolences to the Family
April 11, 2018
My mother was Gilbert's school bus driver many years ago and he always had a special place in her heart. She only recently learned of his death. Our condolences to his family and friends.
Tammy Martin, daughter of Betty Meshey (school bus driver)
April 09, 2018
I am very sorry to hear of his passing. He was a gentleman in every sense of the word. May he Rest in Peace. Mark Miller, Camp Hill, PA (MU Class of 1988).
April 04, 2018
My condolences to your family. I knew Gilbert only through TTRNO, and found him to be very sincere, caring, and a genuinely nice person. He was approachable, and always had a positive outlook on everything. I am so sorry to have read of his passing. I'll think of him as I ride in joy on my Vespa, and know he helped me achieve that dream of owning my Vespa.

April 02, 2018
To Gilbert's family, my sincerest condolences. It doesn't seem real that he's gone. I saw him two days before he died, and he was so excited about the next chapter in his life, in property management. I was fortunate enough to enjoy many conversations with him, and several motorcycle rides. He was always fun, smart, and entertaining. He had good stories to tell, and was a good listener when I had my own stories or issues. His motorcycles were unreasonably loud, customized in a manner befitting his personality, and he had the biggest smile when riding them. His absence will leave a big hole in our world. Godspeed, Gil! -George Putnam, NOLA

April 02, 2018
Sincerest condolences to the Tellado family. Our family knew Gilbert from the many scooter-related events we attended and hosted over the past decade. Our family was in a different position than many because we had our children with us most in the earlier years. As our kids grew into young adults, whenever we saw Gilbert, he was always great with them and always had them laughing—and giving them pointers on how to be good riders. But we were also there when Gilbert flew his Vespa up a ramp through a ring of fire! That will always be one of our fondest and most exciting memories. No trip to "The Big Easy" was complete without stopping by the Transportation Revolution to say hello to Gilbert.The loss of Gilbert has made us very sad, but miniscule compared to the pain his family and closer friends are bearing. Rest in Peace, Gilbert.The Sanderson Family, Pensacola, Florida
April 02, 2018
Eddie and Family…so sorry for your loss. You are in my thoughts and prayers.
Wanda
April 02, 2018
duane rip my friend my prays are with you and your family love
April 01, 2018
My name is Martha Berrios and I would like to give my condolences to the family for their loss. Eddie I'm really sorry for your grief on your loss I know there are no words at this time that can replace your pain but please know that my heart is with you. My sincere condolences to the fam.
April 01, 2018
Gilbert will be missed. What a huge loss for friends and family.
Laurie Lichtman
March 31, 2018
Gilbert you will be missed by all who knew you for years or barely knew you at all. Always a kind gentle way about you and those you left behind will always remember you. James Fletcher
March 31, 2018
You will be greatly missed by all who knew you. Prayers to the family at this difficult time. With Love, David and Heather Vance
March 31, 2018
It was a blessing to know him. He was a true gentleman. I still can't believe he's gone.
March 31, 2018
Eddie, Mary, Gina. Please know you are in my thoughts prayers and thoughts. Prayers and hugs
March 31, 2018
Brother Gilbert was a exceptional fraternity brother. He was a good person and had a kind soul. He will be greatly missed by the brotherhood as he joins the adytum on high. Safe Journey Brother Gilbert. You will be missed.
March 31, 2018
Eddie, I am very sorry for the loss of your son. Praying God will comfort you. Cheryl Harnish Martin
March 31, 2018
Gilbert- you will always have a place in the hearts of all the people you have touched. I met you through your sister Regina- and for the past 15 some years- you have always made me feel like family. Please watch over Regina and Carolina and know that you will always be loved and missed. Gone but never forgotten. The Angels called another Angel Home..
March 31, 2018
To a wonderful old soul, who brought lots of laughter to life! Rest In Peace Gilbert! You will be missed by many.
March 31, 2018
Gina, Carolina, Mom and Dad….Gilbert was and always will be, one of the most precious parts of my life. I will be forever grateful for every single moment.
Please know I'm here for you, forever. I send my love and prayers to you.
Huggggggggggg,
Kim Crane
Visitation

Monday, April 02, 2018
12:00 PM - 1:00 PM
Charles F. Snyder Funeral Home & Crematory
3110 Lititz Pike
Lititz, PA 17543

Map and Directions

Services

Monday, April 02, 2018
1:00 PM
Charles F. Snyder Funeral Home & Crematory
3110 Lititz Pike
Lititz, PA 17543

Map and Directions