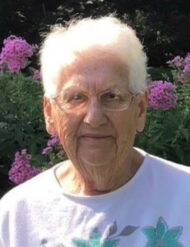 Gertrude M. Falck, 87
July 26, 2022
Gertrude Mae Falck, 87, lifelong resident of Lancaster, passed away Tuesday, July 26, 2022. The daughter of the late Ross B. and Catherine C. (Abel) Henry, she was the loving wife of the late Donald Weaver Falck, who died in 2007.
Gertrude was a 1952 graduate of Solanco High School. She worked for 18 years with RCA and then became a stay-at-home mom, caring for her husband and family.
Of the Methodist Faith, she was a longtime member of Clearfield United Methodist Church, New Providence. Gertrude was so proud of her family; they were the love of her life.
Gardening also held a special place in her heart. She enjoyed spending time manicuring her lawn, caring for flowers, plants, and birdwatching. Gertrude loved nature! Holidays were also a passion for her, no matter the season, her house was decorated to celebrate. She was a very patriotic person and stood proudly in support of all veterans.
Gertrude is survived by her three children: Timothy C. Falck, of Marietta; Jeffrey S. Falck, husband of Jenny, of Riverside, CA; and Donna L. Hoffman, wife of Richard B., of Lancaster; 5 grandchildren: Anita, Amber, Josef, Russell, and Brittany; and 7 great-grandchildren: Gage, Andre, Salena, Gavin, Jordan, Aubrey, and Wren.
Funeral Services for Gertrude will be held at 11AM, Friday, August 5, 2022, at Clearfield United Methodist Church, 1232 Rawlinsville Rd., New Providence, PA 17560. Family and friends will be received for a viewing from 10AM to 11AM. Interment will follow in the church cemetery. In lieu of flowers, the family requests that contributions in Gertrude's memory be made to the church at the address above.
Watch the tribute video
Leave a condolence on this Memorial Page
Condolences to the Family
August 08, 2022
To the entire Falck family, I'd like to extend our deepest heartfelt condolences. The beautiful memories we shared with you throughout the years are priceless! Especially the homemade cookies we looked forward to every Christmas delivered by mailman to your California family! They were the best!
July 31, 2022
So saddened to hear of Aunt Gertie's passing. I have so many fond memories of her! Her beautiful white hair, her laugh, her food and how she loved her family. All the pictures on the living room wall! You all were her pride and joy. Ed sends his condolences, as well. Love to you all, Dottie
July 29, 2022
Gertie, Nan-O, Mom-O! All terms of affection for my loving Mother-in-law who will always hold a special place in my heart. As a transplant from CA to PA in the early 1980's, it was my dear Mother-in-law who really made Lancaster, PA a place to call Home. Love always from her loving daughter-in-law.
July 29, 2022
Dear Tim,Jeff, and Donna, you are all in our thoughts and prayers at this sad time. We have so many happy memories on short lane with your family, always special to us.we are thinking of you at this sad time, your mom was a wonderful aunt, mother. May you remember all the good times with your mother
Visitation

Friday, August 05, 2022
10:00 AM - 11:00 AM
Clearfield United Methodist Church
1232 Rawlinsville Rd.
New Providence, PA 17560

Map and Directions

Services

Friday, August 05, 2022
11:00 AM - 12:00 PM
Clearfield United Methodist Church
1232 Rawlinsville Rd.
New Providence, PA 17560

Map and Directions