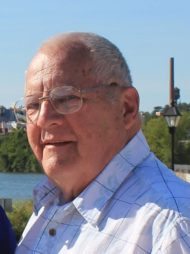 Gerhard "Gary" Gehrke, 80
January 13, 2021
Gerhard "Gary" Gehrke, 80, of Lititz, PA passed away on January 13th with his wife Marcie Van Splinter by his side. Born in Chicago, IL he was the son of the late Gerhard R. and Dora (Mueller) Gehrke.
Gary spent most of his working career with Velsicol Chemical in Chicago, IL and A&I Warehouse in Memphis, TN before moving to Lititz.
In his free time, he enjoyed traveling the US. He accomplished his goal of traveling to all 50 states in 2018. He will be remembered by those who knew him as an easygoing and caring guy who loved his family and friends and the special "Tough Street" Gang.
Gary is survived by his loving wife, daughters: Cheryl Graves (Rusty) of Huntsville, AL, Christine Riggins (Kirk) of Germantown, TN, Suzanne Mayfield (Jason) of Olive Branch, MS, Melissa Van Dyk of Ephrata and Danielle Stewart (Josh) of Lititz, 8 grandchildren and 4 great-grandchildren, His sister & brothers-in law: Ruth Van Orden (Tom) of Lancaster and Steve Van Splinter (Eilene) of Richland, PA, his mother-in-law Carol Van Splinter of Pompton Lakes, NJ and 2 nieces and 2 nephews.
A viewing will be held at the Charles F. Snyder Jr. Funeral Home & Crematory, 3110 Lititz Pike, Lititz on Sunday, January 17 from 3PM-5PM. In lieu of flowers memorial contributions may be made to the National MPS Society (in honor of his niece Sarah), c/o Donations, PO Box 14686 Durham, NC 27709-4686 or American Kidney Fund (in honor of cousin Jim), 11921 Rockville Pike, Suite 300, Rockville, MD 20852
Leave a condolence on this Memorial Page
Condolences to the Family
January 18, 2021
Gary was such a wonderful and caring person. He will always have a special place in our hearts. Our thoughts are with your entire family.
Griscom Family
January 18, 2021
I am so sorry for your loss.my thoughts and prayers are with you .
Linda Helms and family
January 16, 2021
I'm so very sorry for your loss. My prayers are with you. ❤️
January 16, 2021
Terry & I send our deepest sympathy & love to you and your family. Terry & Mary Alice
January 16, 2021
My prayers go out to you Marcie, the girls and family. May God wrap His arms around you and provide you with peace in your hearts. May Gary rest in peace in God's loving arms.
Kathie Reep
January 16, 2021
Dear Marcie,
I am so saddened to hear of the loss of your husband. Having just experienced the same thing a little over a year ago, I know exactly how hard it is. Nothing can compare to it. You have my sincere condolences at this difficult time. I will keep you in my prayers.
Micky Kraft
January 15, 2021
To our dear Melissa and her family,
We are deeply sorry for your loss. We wish nothing but love and healing for you and your family during this difficult time. Your Dad was clearly loved by many and his legacy will live on powerfully through you and your family for years to come.
We love you!
Your Cargas Energy Support Team
January 14, 2021
Dear Marcie, I'm sending my sincere sympathy to you and your entire family. May he rest in peace.
Linda Leonard
January 14, 2021
I miss you more than you know ❤️
Melissa
Visitation

Sunday, January 17, 2021
3:00 PM - 5:00 PM
Charles F. Snyder Funeral Home & Crematory
3110 Lititz Pike
Lititz, PA 17543

Map and Directions