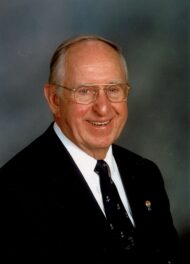 Gerard E. "Gere" Frailey, 93
July 30, 1928 - October 29, 2021
Gerard E. "Gere" Frailey, 93, a lifelong resident of Lancaster County, passed away on Friday, October 29, 2021, at Brethren Village, Lititz. Born July 30, 1928, he was the youngest son of the late William 0. and Edna (Rooney) Frailey. He was the husband of Margaret "Peggy" (McClain) Frailey, and they celebrated their 62nd wedding anniversary this past June 29th. He was predeceased by his first wife, Maxine (Kiehl) Frailey who passed in 1956.
Gere attended St. Anthony's Parochial School and Lancaster Catholic High School. He graduated with a degree in animal husbandry from Penn State University. As a boy, he delivered prescriptions for his family's drug store, Frailey Pharmacy, well known in the Lancaster area. After college he worked for poultry supply companies, traveling the East Coast. He began work for NCR in 1958 selling cash registers and scanning systems to many Lancaster County grocery stores and restaurants.
Gere's wife, children and grandchildren were the most important people in his life. He was always ready with a warm smile and big hug, an encouraging word and the code he lived by: "God knows what He's doing."
He loved gardening, hunting, crabbing, and "messing around on boats." His boats, Frailibus, were his pride and joy. He was a Commander in the Susquehanna Power Squadron and belonged to Olde Katz' Hunting Camp. A member of St. John Neumann Catholic Church, he sang bass in the choir there, and before that in the choirs at St. Anne's, Sacred Heart Church, and St. Anthony's, where his mother was choir director. He was a man of strong faith, which he lived daily.
Surviving along with his wife, Peggy, are eight children: Susan Hazipetros (John), Diane Petra (Guido), Eileen Eder (Andrew), Julia Frailey, Gerard Jr., Lisa Frailey (Andy Batchelor), Thomas (Nancy), and Maggie Lee. Also surviving are 13 grandchildren: Yianis, Andros, Noel, Eric, Stacey, Wesley, Marta, Dakota, Steven, Dan, Patrick, Brian and Erin; and eleven great-grandchildren. In addition to his parents and first wife, he was predeceased by six siblings: Bill, Jack, Dick, Milton, Betty, and Henry.
A Mass of Christian Burial will be celebrated at 11 AM on Wednesday, November 3, 2021, at St. John Neumann Catholic Church, 601 East Delp Road, Lancaster, PA, where a visitation will begin at 10 AM. Interment will be private at St. Anthony's Cemetery, Lancaster. In lieu of flowers, donations in Gere's memory may be made to the Brethren Village Benevolent Fund, 3001 Lititz Pike, Lititz, PA, 17543 or to Doctors without Borders at donate.doctorswithoutborders.org
Leave a condolence on this Memorial Page
Condolences to the Family
November 05, 2021
Peggy, Diane and family. We are sorry for your loss. Jay Essif and Kathy Gerhart
November 03, 2021
Dear Diane & family
We were so very sorry to hear of your dads passing. Please know that you are in our prayers
November 02, 2021
Dear Aunt Peggy and family, I clearly missed out on the infamous Frailibus adventures!! How beautiful to read so many personal notes regarding Uncle Gere's many charisms and talents…love of God and love of family being tops. I'm sorry we had so many miles between us, but the family love was always shining on all. God bless Uncle Gere's soul and may he Rest In Peace!! May each of you rejoice to have known such a good man and such love!! Our love and prayers to all during this time of loss. Dyan McClain Huey
Indianapolis, IN

November 02, 2021
Diane,

We are so very sad to learn of your father's passing. I never had the pleasure to meet Gere but always enjoyed the family stories that you shared with Christal and I – many of them that included Gere. Please accept our sincere condolences.
November 02, 2021
One of my earliest memories was of our family of eight (maybe it was just 6 then) with Peg and Gere and many kids on their boat (was it really a converted landing craft?). We always had such fun when we were together. Gere and my dad were alike in many ways, like the hugs and the sense of humor. Everyone who ever met Gere Frailey was blessed. Such a good man!
November 01, 2021
Dear Peggy, we are so very sorry for your loss. Gere was a fantastic person and a good friend to all of us in the church. God bless you and all your family to ease your pain. I will be praying for his soul, for you and for your whole family. Love you Peggy. We will keep you in our thoughts and in our hearts. Dalila & Ed

November 01, 2021
Dear Lisa, I'm so sorry about your dad. Thank you for sharing his obituary. It is clear why he raised such a wonderful daughter! I know you will carry him around in your heart forever, and take him with you on all of your adventures!
Eleanor Wilson
November 01, 2021
I'm so sorry to hear about my Uncle Gere's passing. He was the youngest of my uncles and closest to my age. He would always remind me how he changed my diapers when I was a baby. I also fondly remember hay rides when he would drive a tractor, pulling us around in a wagon. And corn roasts at his parents' house on Lititz Pike. My best wishes and condolences to Aunt Peggy and all of Gere's children, my cousins. I'm glad we got a chance to get together at our various reunions and I wish the best for all.
With love, your cousin and nephew, Denny (son of Jack).
November 01, 2021
My Uncle Gere was one of the most loving, caring people I knew. We loved visiting Lancaster to ride on his family boat, The Frailibus. My thoughts and prayers are with our Aunt Peggy and all Uncle Gere's children at this time. Uncle Gere was a role model to all of us on how to live a long healthy life. Marty Frailey ( niece of Uncle Gere)
November 01, 2021
Dear Peggy, my deepest condolences on Gere 's passing. You and your family are all in my prayers. Chris Kane
November 01, 2021
I met Gere when he was the instructor for Lancaster Power Squadron. What a great teacher and a class act of a man. My husband knew him for many many years. Over the years I found out that my dental office secretary Susie was his oldest and his youngest Maggie became my jeweler. It's a small world and was much better to have Gere in it.
Our hearts go out to all of you in this loss. Lisa and Bob Schober
November 01, 2021
What an interesting and full life! Such a wonderful family, condolences to you all.
November 01, 2021
Gere was one of the nicest people I ever met. The numerous great memories with the Fraileys on the Bay will be cherished forever.
November 01, 2021
Peggy, Celeste and I will miss Gere. He was a great guy. I worked closely with Gere at NCR. He kept the service department busy installing his sales. Our condolences to you and your family.Celeste and I still talk about the time he took us on the Frailibus down the river to somewhere on the Chessapeak to the NCR picnic and on the way back it stormed. We were in good hands with Gere at the helm.
November 01, 2021
To the Frailey family: I read about your dad's passing and was immediately taken back to the wonderful days that we spent on the bay. The Frailibus was famous – sleeping bags on the deck and all us kids hopping on and off. I have often wondered where and how you all were. Those times were magical – and I so wished we could have given our children the same experience of the yearly rendevous at Farley Creek, Wharton's, catching crabs wherever, rowing around the marinas, swimming at buoy 2! My dad and crew of Lorelei, won the huge trophy for the Susquehanna Power Squadron navigation competition – and it is in the basement! My condolences to you all – Nancy
November 01, 2021
Dearest Maggie and family, My deepest condolences to all. Gere's presence was BIG, like his corny jokes, huge hugs and love of life. To know him as Maggie's dad was to know a quintessential loving father – tough and tender in the best ways. Such a dear man will be lovingly missed, l hope all those memories will be treasured, comforting gifts.Love to all, Karen Watkins
November 01, 2021
To Peggy and family, Sending you condolences on the loss of your beloved husband, father, and grandfather.
Visitation

Wednesday, November 03, 2021
10:00 AM - 11:00 AM
St. John Neumann Catholic Church
601 East Delp Road
Lancaster, PA 17601

Map and Directions

Services

Wednesday, November 03, 2021
11:00 AM
St. John Neumann Catholic Church
601 East Delp Road
Lancaster, PA 17601

Map and Directions