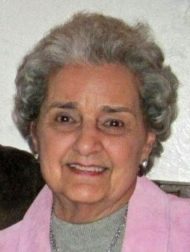 Geraldine M. "Gerry" Walter, 87
February 09, 2021
Geraldine M. Walter, 87, of Lancaster, passed away on February 9, 2021 at Moravian Manor. Born and raised in Lancaster, she was the daughter of the late George and Teresa (Hecker) Schreder.
She attended Lancaster Catholic High School, graduating class of 1951. In 1953 Gerry married the love of her life, Robert F. Walter, with whom she shared 67 years of marriage. She worked for Turkey Hill Minit Markets in their payroll department for over 20 years.
Gerry was an avid reader and enjoyed getting together with her long-time girlfriends from high school and playing cards. Along with her husband, she traveled across Europe, Africa, the United States, including Hawaii and Alaska, and Canada. One of her favorite activities recently was Rock Steady Boxing.
She was a life-long member of St. Joseph Catholic Church, and volunteered with St. Joe's preparing funeral lunches, and with St. Anne's making brown bag lunches.
She will be missed by her husband, Robert F. Walter, her sons; Robert J. Walter, companion of Linda Scott, of Lancaster and Stephen M. Walter of Carlisle, and many dear cousins.
Gerry is preceded in death by her parents and her brothers, George J, Charles, Joseph, and Fritz Schreder.
A Funeral Service will be held Monday, February 15, 2021 at 10:00am at Charles F. Snyder Jr. Funeral Home & Crematory at 3110 Lititz Pike, Lititz, PA 17543. Guests will be received for a time of viewing prior to the service starting at 9:00am. Interment will follow at St. Joseph's New Catholic Cemetery, Bausman.
In lieu of flowers memorial donations can be made to Parkinson Support Group at Landis Homes, at 1001 East Oregon Rd., Lititz, PA 17543, or to Rock Steady Boxing at 136 W. Main St., Ste. 200, Leola, PA 17540.
Leave a condolence on this Memorial Page
Condolences to the Family
February 19, 2021
My sympathy to you.
May God Bless You with His Peace.
Rita Whiskeyman
February 17, 2021
Bob and Family,
So sorry to hear about Geraldine. I will always remember her infectious laugh and the twinkle in her eye at the family 'get-togethers'. My sympathies are with you and your family.
nancy Schreder
February 14, 2021
Dear Bob and family,
You have my sympathy with the passing of Gerry. Whenever I worked at the house she was always very pleasant to me. I will also miss her.
Ken Strubel
February 14, 2021
I cannot tell you how sorry I was to hear of the passing of such a sweet and kind soul. I wil always remember her for her kindness, love of her family and beautiful smile.
Heaven gained an angel. Know now that she is restored in body, mind and spirit.
May the Lord grant you peace, serenity and the strength to get through this sad and difficult time.
You have my very deepest and sincere sympathy.
Love, Sue
February 14, 2021
My condolences to Bob and his family.
Mark Myers
February 14, 2021
Bob,
I am so very sorry for your loss. I always enjoyed talking with Gerry and her determination ran deep. I told her she reminded me of my aunt for whom I was especially fond. I did not know that she assisted with funeral lunches at St Joe. She probably knew my mother who did the same!
My condolensces to you and your family.
Brenda Dorsey
RSB Coach
February 14, 2021
Dear Bob,
I am so sorry to hear of Gerry's passing. She was a wonderful lady. I enjoyed our talks and getting together with you both and playing cards. She will be so missed. Matt and I are here for you, if you need anything, please call. Our thoughts and prayers are with you and your family.
With love, Patty and Matt
February 14, 2021
Dear Steve and Bob,
Sincere condolences to your family. She must have been a wonderful person.
Love,
Mary Lynn Hobday DiPaolo
February 13, 2021
Dear Bob and Family,
I had the pleasure of working with Gerry at Rock Steady Boxing. When I first met her she was determined to jump. She couldn't understand why she just couldn't get her feet off the floor. We tried it many times and when we were successful she got this big smile. Gerry was a very warm and friendly person. I will miss her. My sympathy to all of you .
Rose Soles
Volunteer at RSB
February 12, 2021
God Bless you my dear friend and Bob may our Lord give you strength to continue without her. She was a wonderful lady. My thoughts and prayers are with you and your sons. Sincerely Bonnie Schlager
Visitation

Monday, February 15, 2021
9:00 AM - 10:00 AM
Charles F. Snyder Funeral Home & Crematory
3110 Lititz Pike
Lititz, PA 17543

Map and Directions

Services

Monday, February 15, 2021
10:00 AM
Charles F. Snyder Funeral Home & Crematory
3110 Lititz Pike
Lititz, PA 17543

Map and Directions