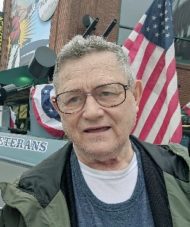 Gerald T. "Jerry" Randall, 81
April 26, 2021
Gerald T. "Jerry" Randall, 81, of Lititz, passed away peacefully at home under hospice care with his 2 daughters, Tracy Randall-Loose wife of Kevin Loose, Susan Randall-Sloan wife of Shane Sloan and wife of 56 years, Barbara A. (Bachman) Randall by his side on Monday April 26, 2021. Born in Dumfries, VA, he was the son of the late Sherwood Lee and the late Fannie Waller (Sullivan) Randall.
Raised in the Quantico area of Virginia, Jerry was a graduate of Gar-Field High School, Class of 1959. There he excelled at baseball and was an All-Star pitcher. When Jerry was recruited for the Majors, he turned them down and enlisted in the United States Navy, where he proudly served from 1959 to 1963, when he was honorably discharged. Jerry served on the USS John R. Pierce Destroyer during the Cold War Cuban Missile Crisis.
Jerry met Barbara, while he was on leave from Bainbridge, Maryland, at the Lancaster USO where they danced the Polka and Jitterbug and began dating. In January 1964, Jerry and Barbara were engaged and married on June 28, 1964. He began working as a bank teller at Lancaster County Bank until he became employed by Armstrong World Industries, where he worked for over 25 years. His jobs included cost accountant, office manager and factory worker. When he was in his sixties, Jerry returned to school and got an Associate degree in business management from HACC on the GI bill. He also worked part-time at Sears as a shoe salesman for 15 years.
Jerry maintained his love for sports and was a member of the Armstrong bowling league, Armstrong softball team and a coach for little league baseball in Lititz. He enjoyed going to Barnstormers games and rooting for the Yankees and the Cowboys. He also liked going out to eat at Brickerville House and Knight and Day Diner, gathering with friends at McDonalds, playing scratch-off lottery tickets, and listening to Sirius radio station 50s on 5. Jerry was a very friendly guy and able to make friends with anyone he met. He would play pinochle every Wednesday with his friends. He enjoyed going out to celebrate Veteran's Day with his son-in-law, Shane and friend, Landis Kreider and traveling to Virginia for Gar-Field class reunions. Jerry was a member of St, Luke's UCC in Lititz.
In addition to his wife and daughters; he is survived by a brother, Sherwood Lee Randall Jr. and his wife Marie, sisters; Dorothy Beers, Joyce Creed, Kathleen Randall, sister-in-law Sharon Plunket, many nieces and nephews and his furry companions; Callie, Little Gray, and Kody. Jerry is preceded in death by his parents, and siblings; James Randall, Jean Campbell, Patsy Messenger, Charles Randall and Betty Ann Carter.
A Funeral Service will be held May 4, 2021 at 2:00pm at Charles F. Snyder Jr. Funeral Home & Crematory, 3110 Lititz Pike, Lititz, PA 17543. The service will be live streamed on Jerry's obituary page on the funeral home website. Guests will be received for a time of viewing Monday May 3, 2021 from 6:30pm-8:00pm and again prior to the service May 4, 2021 at 1:00pm. Interment will be private at Indiantown Gap National Cemetery, where Jerry will receive military honors. In lieu of flowers, memorial donations can be made to Lititz Meals on Wheels at 300 W. Orange St., Lititz, PA 17543.
Leave a condolence on this Memorial Page
Condolences to the Family
May 04, 2021
Our Sweet Barb ❤️Tracey & Family ❤️Susan & Family❤️…and all of our beautiful Randall Family:❤️ Sending our deepest heartfelt sympathy and all of our love 💗 as we share in the great loss of a super kind,lovable and sweetest Spirit 🌈our Beloved Gerald "Jerry"💐. Our hearts are with you today and always. We are here for you anytime you need anything: We all Love you very much. May God Bless You and keep you in his tender loving care! ❤️We will Love you Always Brother and Uncle💗June, Juliet, Suzy, Brendan, Mark, Amelia xo Matthew xo Charle xo Eleanor xo 😘
May 04, 2021
To: The Randall family, I'm June's oldest sister, I want you to know how sorry we are that you are going through this. Please know that your husband, and daddy received many prayers from ND, Go's bless you all,🙏🏼🙏🏼🙏🏼❤️❤️
May 04, 2021
What a good man and great athlete and dancer! He grew up down the street from me! He came to our class reunions faithfully! Loved him and his big heart and dancing feet!
May 04, 2021
Our thoughts and prayers are with all of you!! We always "knew" you through our uncle Chucks sharing and great story telling and memories of his loved family!! I'm sure a celebration in haven when Fanny, uncle Chuck etc met him with open arms and a smile! May all your wonderful memories see you through the tough days ahead!! Love, Lori and Family (June's niece)
May 04, 2021
Much love to you Uncle Gerald. May you rest in peace and dance the jitterbug with my mom in heaven.
May 04, 2021
Beautiful service for our Uncle Gerald, the Good Shepherd. Sending so much love and prayers for strength for Aunt Barb, Tracy and Susie and your family. Uncle Gerald, we miss u so much. Please watch over us 🙏🏽😇
May 03, 2021
So very sorry for your loss. We always enjoyed Jerry's friendship. God bless you all of you, Barb, Tracy, and Susie.
May 01, 2021
I am so proud of my cousin, Gerald. I only wish I had lived in the Quantico area as I was growing up so that I could have known him and all of my Randall cousins better. RIP Gerald and God bless and support all of those who loved him so much.
April 30, 2021
Love you Uncle Gerald. Kids em all for me – especially my Dad who I know was there to greet you with open arms along with the rest of the family. Love you and your girls, Suzy
April 30, 2021
You will surely be miss Uncle. Hope your dancing and playing cribbage with my dad give him hugs for me. Love you all so much!!
April 30, 2021
We miss and love you brother. Rest in peace.
til we meet again at the cribbage board in the sky.
Sherwood Lee and Marie Randall
Visitation

Monday, May 03, 2021
6:30 PM - 8:00 PM
Charles F. Snyder Funeral Home & Crematory
3110 Lititz Pike
Lititz, PA 17543

Map and Directions

Visitation

Tuesday, May 04, 2021
1:00 PM - 2:00 PM
Charles F. Snyder Funeral Home & Crematory
3110 Lititz Pike
Lititz, PA 17543

Map and Directions

Services

Tuesday, May 04, 2021
2:00 PM
Charles F. Snyder Funeral Home & Crematory
3110 Lititz Pike
Lititz, PA 17543

Map and Directions