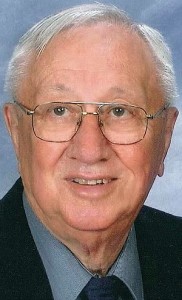 Gerald Remley, 84
June 25, 2014
Gerald Remley, 84, of Lancaster, passed away on Wednesday, June 25, 2014 at Pleasant View Retirement Community.
He was the husband of Mary Anne Houtz Remley, with whom he celebrated 32 years of marriage this past November 21st. Born in Berwick, PA he was the son of the late Gerald and Alice Remley.
Gerry had worked for 30 years for Bell Atlantic and AT&T as a Marketing Administrator. Following his retirement, he drove for Conestoga Tours for 17 years.
He was a US Navy veteran, serving during the Korean War as Storekeeper Second Class.
Gerry was an original member of the Red Rose Veterans Honor Guard, was an original member, musician and director of the Sound of Roses band, a member of the Malta Band and was past president of Lancaster and Conestoga Sertoma Clubs. He was a member of the F&A Masonic Lancaster Lodge 43. He enjoyed music, playing the trumpet, and traveling, especially cruising.
He was a member of First Reformed United Church of Christ in Lancaster, where he was a long-time choir member and a former deacon.
In addition to his wife, Mary Anne, he is survived by his son, Barry married to Paula A. Remley of Millersville, his granddaughter Kelly Ferguson and his half-sister, Gail Lehman of Selinsgrove. He is also survived by his 2 sisters-in-law: Irene married to Russell Atkins and Ruth married to Wasel Schpuntow; his 5 nephews: Jim, Richard, Bill and Phillip Atkins and Stefan Schpuntow; his nieces Patricia Bachman, Judy Phillips and Barbara Craver, 19 grand nieces and nephews, and 16 great grand nieces and nephews. He was preceded in death by his daughter and son-in-law, Julie and Ed Ferguson, his sisters Joyce Craver and Sharon Reeder and by his brother Donald Remley.
Friends will be received on Sunday, June 29, 2014 from 12 Noon to 2PM at the Charles F. Snyder Jr Funeral Home & Crematory, 3110 Lititz Pike, Lititz PA, with the Funeral Service to follow at 2PM, the Rev William Worley officiating. Interment will be private at Indiantown Gap National Cemetery. In lieu of flowers contributions may be made in Gerry's memory to First Reformed UCC, 40 East Orange St., Lancaster, PA 17602 or to Red Rose Veterans Honor Guard, Box 8601, Lancaster, PA 17604-8601.
Gerry's family would like to express their gratitude to the staff of Lancaster General Hospital 7 Lime, and Pleasant View Retirement Community for their great care and commitment provided to Gerry.
Leave a condolence on this Memorial Page
Condolences to the Family
June 30, 2014
Mary Anne,
Our minds are filled with fond memories of Gerry and the many trips he took us on over the years. The toilet dumping, the getting stuck in the field, picking up at rock in Savannah and I could go on and on. He brought us laughter and kindness as he enriched our lives through friendship. Mike and I are so sorry for your loss and pray that you feel the love and strength of God during this difficult time.
Mike and Cathy Strite
June 29, 2014
My sincere condolences to Mary Anne and family. Gerry was a tremendous help to me when I firt got into sales & marketing at Bell Atlantic in Lancaster. His sense of humor was remarkable and he was a great sounding post and source of supprot for me. My prayers go out to the whold family. He was jsut an all around great guy.
Bob Wertzberger
June 29, 2014
Dear Barry and family,
We were saddened to read about your dad's passing. He was a good person and I know he will be missed.
Sincerely, Joe & Melanie Gargano

June 28, 2014
Dear Mary Ann ~ I have only known you and Gerry for a few years but I have to say teasing Gerry and enjoying his wonderful sense of humor always made my day! I will certainly miss his smile and welcoming conversation! Please remember, I'm right across the street! If you ever need anything, I am here for you! Love, Shelley
June 28, 2014
Mary Anne, Gerry was the center of many great times with the Sound of Roses. He was full of good humor, the life of the party. It's another sad loss the Roses have suffered in recent years. I'll give you a big hug on Sunday.
With love,
Jane Shull
June 27, 2014
Marry Anne,
Even though I'd never had the opportunity to meet Gerry , my parents spoke many times of the joy and fun you folks shared . I am certain that Jennie and Chuck Lang are entertaining all of Heaven with their stories and maybe even singing a song or two . May your memories be the rock that sustains you in this time .
Linda Warfel
June 27, 2014
Mary anne
We are sorry for your loss. Pierce and I will not be able to attend the service, but you have our deepest sympathy. He was a fun and talented man.
Sincerely,
Elaine & Pierce Atwater
June 27, 2014
Barry,
I was saddened to see that your Dad had passed.
Hopefully you can find comfort in memories of the past.
It was great running into you and your lovely wife at Dienner's Resturant receently!
Fred Young
June 27, 2014
Barry & Family-
Thoughts and prayers are with you during this difficult time.
Joe & Cheryl McConnell

June 26, 2014
Gerry was a highschool friend of my husband, that continued thru all these years . We shared many happy times with Mary Ann and Gerry. Gerry had a joy of life that was infectous to those around him. Bad jokes but a good heart. We were blessed to be among his friends. I am sure Ozz will be thrilled to welcome him home. He will always have a special place in my heart.
Norene Oswald
Visitation

Sunday, June 29, 2014
12:00 PM - 2:00 PM
Charles F. Snyder Funeral Home & Crematory
3110 Lititz Pike
Lititz, PA 17543

Map and Directions

Services

Sunday, June 29, 2014
2:00 PM
Charles F. Snyder Funeral Home & Crematory
3110 Lititz Pike
Lititz, PA 17543

Map and Directions