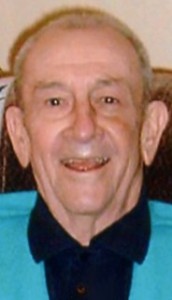 Gerald P. "Moe" Harnish, 83
Gerald P. "Moe" Harnish, 83, of Lancaster died Monday, February 4, 2008 at Lancaster General Hospital.
Born in Lancaster, he was the son of the late Paul M. and Virginia (Heil) Harnish. He was married to Audrey A. (Bowers) for 60 years.
Mr. Harnish was a veteran of World War II, serving in the U.S. Navy as a Petty Officer 2nd Class in the Atlantic and Pacific Theatre of operations on armed guard convoys. He then worked as a bricklayer with Local Union #1 of Philadelphia from 1946-1978, and for the City of Lancaster in the Building Inspection Department from 1978-1988.
A member of Sacred Heart of Jesus Catholic Church, Moe was a Eucharistic minister and an active volunteer who performed numerous duties, such as giving Communion to the residents at Mennonite Home as well as homebound parishioners.
He was a 4th Degree Knight of Columbus, Santa Maria Assembly, an active volunteer of Knights of Columbus Council #867 in Lancaster, a long-time member of the Legion of Mary, and a member of the 8th Ward Club.
A devoted family man, Moe enjoyed bowling, golf and hunting, and was an avid Notre Dame football fan.
Surviving in addition to his wife are his six children: Eileen M. Foxwell, wife of Harry J. of Fairfax, VA; Stephan P. Harnish, husband of Lorraine C. of Langhorne; Christine L. Harnish, companion of Dennis Daugharthy of Holtwood; Philip G. Harnish, husband of Robin Williams Harnish; Thomas A. Harnish; and Joel P. Harnish, husband of Heidi Schmalhofer Harnish, all of Lancaster; ten grandchildren; one great-granddaughter; and a sister, Mary T. Lutz, wife of David of Northumberland. He was preceded in death by three brothers Richard, Robert and David, and one sister, Joan Book.
Mass of Christian Burial will be celebrated on Friday at 11:30 a.m. from Sacred Heart of Jesus Catholic Church, 558 W. Walnut St., Lancaster, PA with the Rev. Michael Grab as Celebrant. Friends will be received Thursday evening from 6:00-8:00 p.m. with the Rosary being recited at 7:30 p.m. at Charles F. Snyder Funeral Home, 414 E. King St., Lancaster, PA, and again on Friday at Sacred Heart Catholic Church from 10:30-11:30 a.m. Interment in St. Joseph New Catholic Cemetery. Please omit flowers. Memorial Contributions may be sent to Catholic Charities, 925 North Duke Street, Lancaster, PA 17602.
Leave a condolence on this Memorial Page
Audrey I'm sending my condolence at this time at your loss. Find the strength at this time in the prayers of your family and friends.
Sincerely,
Melanie Strine
I would like to extend my sympathy to your family during your time of grief.
Moe was a wonderful guy that we all will miss!
Rob Eckenrode,
Past Grand Knight 867
Dear Audrey and Family:
I was so sorry to read about Gerald's passing in tonight's paper. There were a few occasions when I saw you two at Royer's Flower Shop on N. Queen St. I became a widow in Oct. of 2006, so I pray that God's peace and love will bring you and yours comfort.
God Bless you all,
Regina Kirchner Garreth Class of '43
I will always remember the smile & joy of my Pee-Paw. One of my greatest memories was when he helped to get my first set of golf clubs. As we all know, golf was one of his greatest joys in life. I remember going out for my first round of golf with Pee-Paw and I could see how happy he was to share his favorite past time with his grandson. On the very first hole……during a short little chip shot to the green……I actually plunked Pee-paw right in the head. He shouted out…"Michael!"…..and then he just looked at me with a smile. You could tell that he was so happy to be on the links with his grandson. This is one of my fondest memories of my Pee-Paw and I will never forget what I've learned from him. I will truly miss my Pee-Paw and I will always love him.
Ever Loving Grandson,
Michael
Dear Aunt Audrey, Eileen, Steve, Chris, Phil, Tom, and Joel
I will forever think of Uncle Jerry as the "patriarch" of the family. If ever there was anyone going through hard times, Uncle Jerry & Aunt Audrey were always right there to support the family. I will always remember they were right there beside Dad when he took his last breath…"Big" Moe was looking out for "Little" Moe. We so appreciated all the support, prayers and visits to Mom over the years.
My memories of Uncle Jerry will be forever etched in my mind and heart as a kind, loving, and gentle man who was a big teddy bear at heart who dearly loved his wife and children. I remember the Sunday morning visits when the brothers and sisters would gather at someone's home and "discuss" the affairs of the world. Sometime the "discussions" could be very lively! Nevertheless, these are cherished memories along with our family reunions.
I hope that knowing all the brothers are together again, along with sister Joan, brings peace and joy to you. Uncle Jerry was proud of each of you and he will go on living in each of you. Please know that he will always be remembered as the wonderful man he was.
Judy and Family
Eileen, Steve, Chris, Phil, Tom, Joel and extended family,
I am so sorry to hear about your Dad. He will forever live in my heart. I will always remember that big wonderful smile on his face. What a gentle giant he was! One of the most vivid memories I will have of your Dad is all the good times at our family reunions. I remember pulling up to these affairs, year after year, knowing I would see Uncle Jerry standing at the barbecue grill, beer in hand, watching over the roasted corn. I will never forget all the support he gave me when Mom was in the hospital all those days. There was never a day he wasn't there to support us.
May all the sorrow you have in your hearts now be replaced with all the wonderful memories of a man that will never be forgotten!
Love
Kathi