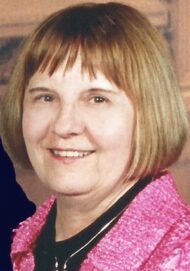 Georgette Soltis Young
June 11, 2021
Georgette Soltis Young, of Lancaster, passed away at home on Friday, June 11, 2021 following a lengthy battle with cancer. She was the daughter of the late George "Pete" and Veronica Osinkosky Soltis of North Catasauqua, PA and married to Thomas "Tom" Young of Lancaster.
Born in Allentown and raised in North Catasauqua, PA, she graduated from Millersville State College and taught first and second grade at the Kissel Hill School, Lititz, PA, for 35 years. Besides her husband, she is survived by a brother, Gregory Soltis, and a sister, Gloria Soltis, plus many relatives.
She was active in several ministries at Historic St. Mary's and helped at St. Anne's Brown Bag. She enjoyed her retirement and free time, participating in games, clubs, and lunches with friends. Traveling to 47 states, the North Atlantic Provinces and western Canada with her husband on several "road trips" was especially enjoyed, along with earlier trips to a few countries.
Friends will be received on Saturday, July 10, 2021 from 10-11AM at Historic St. Mary's Catholic Church, 119 S. Prince St., Lancaster, PA 17603 with the Mass of Christian Burial to follow at 11AM. Interment will be at Indiantown Gap National Cemetery at a later date. In lieu of flowers, kindly remit at donation to Historic St. Mary's Church at the above address.
Leave a condolence on this Memorial Page
Condolences to the Family
July 12, 2021
A wonderful inspiration for children and teachers. Thank you, Georgette. You touched all of us with your wisdom and dedication.
Beth Wade
July 10, 2021
I send my condolences. I knew Georgette as a fellow teacher at Kissel Hill Elementary School for many years. I always enjoyed talking with her. She was a sweet person and a dedicated teacher. She strove to do her very best for all her students. She left an impact on many lives, and made the world a better place. She will be missed! 💕❤️Karen Bamberger
June 27, 2021
Tom,
I was saddened to hear that Georgette had passed away. We attended classes at Millersville and I always enjoyed our conversations. She was such a kind and gentle person who will be missed by many people whose lives she touched.May your memories bring you comfort during the days ahead.
Charlyne Atty-Holder
June 22, 2021
Dear Tom,We are saddened by the loss of Georgette, she was a good friend and neighbor. We have so many fond memories of Georgette, our grandson Malachi always lit up when he saw her, Georgette would call him into her house and Malachi always came home with cookies and treats and saying the he loves Georgette. Thanks Georgette for your compassionate heart. You will always be remembered. Tom, May the peace of Christ strengthen you during this difficult time. Bill & Ruth Gibson
June 21, 2021
Georgette was a beautiful person. May she rest in peace. Many blessings to you Tom.
Millie
June 21, 2021
Tom, I am so sorry for the loss of Georgette. She went to St. Lawrence Grade School and always attended our little reunions over the years. She was a beautiful person with a beautiful soul and I know the girls from St. Lawrence will miss her tremendously.
Mary Anne Ruch
June 20, 2021
Dear Tom,
I lost touch with Georgette when I left Warwick. She was a loving and caring teacher, and a faithful colleague. I am so sorry for your loss!
with sincere sympathy,
Jane Pippart-Brown
June 20, 2021
Dear Tom, I am so sorry for the loss of your wonderful wife. She was a lady. She was the best neighbor. I will miss her sweet, kind, friendly, compassionate nature so much. We had so many great backyard coversations about teaching, gardening (especially concerning weeds,) your travels, and especially about pets. She taught me more about the treatment of cats with asthma than I would have learned in the first year of veterinary school. She loved Molly, and Meisje as much as I did. The last time that I saw her, she asked me if she could pet Karma. Even being as weak as she was, she smiled and commented about Karma's little "wiggle bump." Please accept my most sincere condolences over the loss of Georgette. Her loss is a painful loss to everyone whose lives she touched. May your memories of her help to, at least some small way, soften the grief of her passing.
Doug Webb
June 20, 2021
Tom, Greg and Gloria –
I was saddened to see Georgette left us. Betsy and I send our heartfelt sympathy to you. You are in our thoughts and prayers. I'm sure she will live on in your hearts forever. Take comfort in knowing that she is at peace and not suffering any more. I'm sure she will be watching over you.
George Hillenbrand

June 18, 2021
Dear Tom, Ken & are extend our deepest sympathy to you over the loss of your beloved beautiful wife Georgette. Please know that we are keeping you & your family in our thoughts & prayers. With our sympathy, Ken & Irene Steckler
Visitation

Saturday, July 10, 2021
10:00 AM - 11:00 AM
Historic St. Mary's Catholic Church
119 S. Prince St.
Lancaster, PA

Map and Directions

Services

Saturday, July 10, 2021
11:00 AM
Historic St. Mary's Catholic Church
119 S. Prince St.
Lancaster, PA

Map and Directions