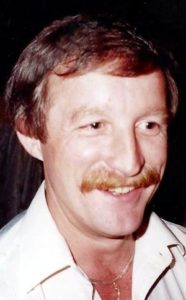 George M. Geraci, 65
November 13, 2017
George M. Geraci, 65, of Lancaster, passed away Monday, November 13, 2017 at the Lancaster General Hospital. He was born in Lancaster to the late Charles J., Sr. and Theresa A. Long Geraci.
A graduate of Lancaster Catholic High School, George worked as a machine operator at the Armstrong floor plant in Lancaster for over 30 years. George was a great human being who loved life. He was a very kind and generous person, always helping those in need. He treasured his many friendships, but most important was his love of family.
He was a member of St. Anthony of Padua Roman Catholic Church. Always in pursuit of a challenging game of golf, George enjoyed traveling with his buddies to play at various courses. He also enjoyed bowling, basketball and softball and watching the Phillies.
The one constant in George's life was the gathering of friends and family at Valentino's Café. It was the special place for sharing stories and making memories.
George is survived by his brother Charles J. Geraci, Jr., husband of Ellen M. of New Providence and sister Theresa H., wife of Michael B. Ditzler of Lancaster; two nieces, Nina M. Geraci and Melissa Ann, wife of Michael Youtz; great-niece Miah S. Cramer and nephews Harry Connell, husband of Kristy and Derick D. Ditzler, husband of Tonia. He was preceded in death by his brother Daniel J. Geraci.
The family will greet friends from 9 AM to 12 PM, followed by a memorial service at noon, on Saturday, December 2, 2017 at the Charles F. Snyder Funeral Home & Crematory, 414 E. King St., Lancaster, PA 17602. A celebration of George's life will be held at Valentino's Café following the service. Private interment will be in St. Anthony Catholic Cemetery. In lieu of flowers, memorial contributions may be made to the American Heart Association, 610 Community Way, Lancaster, PA 17603.
Leave a condolence on this Memorial Page
Condolences to the Family
December 02, 2017
To the Geraci family, my deepest sympathy for your loss. my thoughts and prayers are with you in this difficult time. May George rest in peace. Marianne Callaway
November 29, 2017
Theresa and Family, I am so sorry to hear of George's passing. George was a great guy, I remember all
the good times at Valinteno's Cafe. Wish I could be there to help celebrate a terrific person, I will not be able to attend George's service as i will be out of town. My thoughts and prayers are with you and your family. Margie Beers

November 26, 2017
Nud and Family…we are so sorry for your loss. George was a great guy and friend. May he rest in peace.
Mick and Diane Gergal
November 26, 2017
Theresa,
Very sorry to hear of the passing of George. He was quite the character in high school and I always got a kick of his antics, driving Fr. Taylor nuts. Keep the good memories close to your heart and he will always be with you.
Joe Segro

November 26, 2017
So sorry to hear of George's passing. I have many fond memories of him and our time growing up together. Also sad that I will not be able to attend his service as I will be out of town. My thoughts was with his family and friends.

Gerry Lichty Potts
November 25, 2017
Nudie and family…..So sorry to hear of the loss of your brother George. Keeping you all in our thoughts and prayers.
Jim and Mary Ann Mahler
November 22, 2017
Condolences to the family. So sorry to hear of his passing. With sincerity, Jackie Crawford
November 21, 2017
To Nudie and family,
I am so saddened with the news of your brothers passing. The Geraci brothers were the cool guys. Until we meet again.
Love,
Mary Lynn Hobday
November 20, 2017
Here's to my good friend and co worker at Armstrong. We played a lot of golf together and bowled in The Armstrong League. He was a great guy. Gone entirely too soon. Condolences to the family in this trying time.
Bob Fasnacht
November 20, 2017
To George's Family…My sincerest condolences in George's passing. I had met George back in our volleyball days at Valentino's Cafe. We had shared numerous good times with friends and created a lot of good memories. May he rest in peace…
November 20, 2017
Theresa and Nud
I was so sorry to hear about Georgie…he was such a sweetheart just like Danny. My sympathanies to you and the rest of your family. I will keep you all in my prayers…
Cathy (McCloskey) Gaenzle
November 19, 2017
Dear Theresa, Nud and Family.
My thoughts and prayers go out to you at this sad time. George was such a great guy. He will be missed by all but is waiting for you in a better place. We just have to wait a while. I just have to add, I don't want to call you Charles however, I never did know how to spell Nud, Nood? Hope that brings a little smile to your face. Theresa, we will talk soon.
Love and prayers,
Josie (Ransing) Rice
November 19, 2017

So sorry to hear about George. Haven't seen him in years, but he was one of those people you just don't forget. He'll be missed. Rest in peace, George.
Barbara Battaglia Millar
November 19, 2017
RIP my friend. Prayers to your family. My heart is very sad to know you left this world so young. You are now in good hands with the Lord. Until we meet again. Vic DeMascolo
November 19, 2017
Where do I start I've known Georgie and the whole Geraci family since we were kids my condolences go it to Nudie and Theresa me and my husband Frank both worked with all the Geraci boys at Armstrong and enjoy many laughs together we will miss you but now you and Danny are up there laughing together again Rest In Peace old friend Sherry Simone Pilsner
November 19, 2017
My heart is broken–George was a true friend! Condolences, love and hugs to all of his family!
"Suzy Shearer" Conklin
November 19, 2017
Your brother sounded like a great guy. So sorry for your loss.
"Kitch" Class of 1967
November 19, 2017
Prayers and hugs to the Geraci family! Sending love from MS, wish we could be there to celebrate a wonderful person. Know we will be thinking of all of you. George was one of the "good guys"! We will remember him with a smile, as the memories we have with him are uplifting. Until we meet again George, RIP. Gone too soon!
Randy & Valerie Friedel
November 19, 2017
He was one of the "Best" will miss him even though I haven't seen him since I retired .Worked with him and also played softball with him and his brothers, a lot of good memories. God bless his whole family-he is in the hands of the Lord. Lester Mumma
November 19, 2017
Hi Charlie,
I'm so sorry to hear that George passed. He was a great guy. We where never close but we were friends for a long long time. ( Danny to too!) You guys have been in my thoughts periodically for close to 60 years, and always held a special place in not just my heart but also in Maria's heart also. She was in dannys class in school. Before I met her. And we started going together in 1963. Yeah, we've been friends a long time and with Maria's passing I know the feeling of loss you have. Lord willing I'll see you on the second. Take care my friend
Dick Bernhardt
November 19, 2017
RIP George, you're with your parents and brother now; we had great times at Valentino's.
Michael Witmer, LCHS Class of 1971
Visitation

Saturday, December 02, 2017
9:00 AM - 12:00 PM
Charles F. Snyder Funeral Home & Crematory
414 East King Street
Lancaster, PA 17602

Map and Directions

Services

Saturday, December 02, 2017
12:00 PM
Charles F. Snyder Funeral Home & Crematory
414 East King Street
Lancaster, PA 17602

Map and Directions