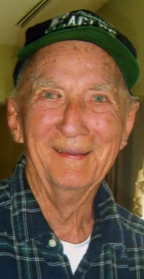 George F. Wagner, Jr., 84
George F. Wagner, Jr., 84, of Lancaster, passed away surrounded by his family on Friday September 18, 2009 at Hospice of Lancaster County Mt. Joy. He was born in Lancaster and was the son of the late George F. and Marie (Gegg) Wagner.
He is survived by his wife June (Smith) Wagner. They celebrated sixty years together on July 23, 2009.
George was a proud Veteran of WWII serving with the US Navy as a Diesel Mechanic aboard the LST-284 Ship.
He was of the Catholic faith. He graduated from St. Anthony's Parochial School, attended Lancaster Catholic High School, and graduated from J.P. McCaskey High School class of 1943. He was a longtime member of St. Anthony of Padua Catholic Church.
George retired after 30 years as a supervisor with Bell Telephone. He was formerly employed by Hamilton Watch Company before his career with Bell Telephone.
He was a member of VFW # 7294, was Past President of the Pioneers, he enjoyed bowling, music, singing, growing tomatoes, working on lawnmowers, was an avid fan of Notre Dame football, and loved spending time with his family.
George resided at Magnolias. His family would like to thank the staff of Magnolias and his roommate Russ for their love and care over the last five years. They also would like to thank the compassionate staff at Hospice of Lancaster County.
In addition to his wife, he is survived by a daughter, Carol Germeyer, wife of Jeff, of Lancaster, son, Bob Wagner, husband of Linda, of Landisville, daughter, Anita Bunting, wife of Bill, of Mountville, grandchildren, Nicole, Sky, and Dylan, great grandchildren, Cameron and Emily, many loving nieces and nephews, brothers, Robert and James Wagner, and sisters, Julianne Christ and Agnes Silverthorn. He was preceded in death by sisters, Cass Miller and Hilda Mohler.
Relatives and friends are respectfully invited to attend the Mass of Christian Burial from St. Anthony of Padua Catholic Church 501 E. Orange St. Lancaster, PA on Tuesday, September 22, 2009 at 11am with Rev. John Acri as the Celebrant. A viewing will be held at the Charles F. Snyder Funeral Home 414 E. King St. Lancaster, PA on Tuesday from 9:30-10:30am. Interment will be held at Zion Evangelical Lutheran Church Cemetery with Military Honors. In lieu of flowers, memorial contributions in George's memory may be made to Hospice of Lancaster County 685 Good Dr. PO Box 4125 Lancaster, PA 17604 or Magnolia's of Lancaster 1870 Rohrerstown Rd. Lancaster, PA 17601. To send the family online condolences please visit Snyderfuneralhome.com
Leave a condolence on this Memorial Page
It's hard to find the right words to say at a time like this. When I think about happy times with George, there are so many to remember. The one thing that will always stay with me is how much he loved his wife. He used to tell me, "I miss my girl!, Where is my girl??" and I would tell him, "George your girl is at home and she is just fine!" and would say "Oooook, but I MISS my girl!" He was always so happy here and always in a great mood. Even when he came back to us from the hospital, he had the oxygen and the wheel chair, and he still had the most beautiful, radiant smile on his face.
I wanted to share with you all some of the last few happy times I had with George…
A few days after he returned to us, I came in to work and I went to see him and I walked in the room and was so happy to see him back. I walked over to him and said "oooh George I missed you!" , gave him a BIG hug, and said "Did you miss me?" and he preceded to look at me funny… so I said again " George did you MISS ME? I missed you!" and he paused and smiled and said "No hunny??" I looked at him and he just laughed and laughed and laughed!…
Later that night we got some of the people together and were singing songs and laughing and George was singing his little heart out… after about 20 minutes he was fading a little bit… singing quieter and I said "George are you getting tired?" He didnt say anything, so I thought… let's sing something that he will like… We started singing Yankee Doodle and pushing him through the halls… well it took about 2 lines into the song and he sat right up and was swinging his arms around and singing right along…
It is times like that, that I will never forget… Even when he was so tired and so worn out, he never stopped smiling… he always had a song in his heart and a smile on his face… no matter what…
I hope that your family knows how much we ALL loved George and how much we will miss him and all of you!
God Bless you and your family– Sara Hayes, Med-Tech
always remember Mr. Moon & Camp Chicwatan
& if you would have asked a' me, i would have give to you.