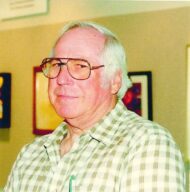 George F. Chapman, Jr, 88
August 28, 2022
George F. Chapman, Jr. 88, of Lancaster, passed away at Newport Meadows on Sunday, August 28, 2022. Born in Lancaster County, he was the son of the late George, Sr. and Esther M. Chapman. He is survived by his first wife, Edith Chapman; his sister, Janet LeBreton; his children, Randall M. Chapman, Cynthia Guldin, and Ceilia Dodge; and his stepson, James Oakley; as well as 10 grandchildren; and 8 great-grandchildren. He is preceded in death by his second wife, Diane and one great-grandchild.
George was in the Army Reserves Corps of Engineers for 8 years. He loved the outdoors and enjoyed going to his cabin. He loved hunting, fishing, boating, and hot air ballooning. He was a Woodworker for Trojan Yacht Co. for 16 years and then a Cabinet Maker for Hampton's Cabinet Shop for 3 years. He was employed at Ephrata Hospital in Maintenance and Painting for 14 years. He was the proprietor of Chapman's Covered Bridge Tree Farm for 23 years. Being a member of various fine art organizations, he was Vice President of Octoraro Art Association. He exhibited his art and carvings there. He also exhibited at the Lancaster Co. Art Association and Eicher Art Association, where he volunteered and was former President of Village Art Association.
A Memorial Service will be held at the Lancaster County Art Association, 149 Precision Avenue, Strasburg, PA on Monday, October 3, 2022 at 11:00 AM. In lieu of flowers, donations can be made to the American Cancer Society at www.cancer.org or to Willow Tree Hospice at 616 E Cypress Street, Kennett Square, PA 19348.
Leave a condolence on this Memorial Page
Condolences to the Family
September 18, 2022
George we will miss you a lot. You have touched a lot of lives through the years with that smile, humor and your artwork and frames! May the comfort and peace surround you and your family at this time. We sure had a lot of great times together! Peace be with you and thank you.
Services

Monday, October 03, 2022
11:00 AM
Lancaster County Art Association
149 Precision Avenue
Strasburg, PA 17576

Map and Directions