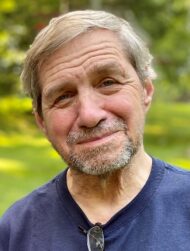 Gary L. Roberts, 73
March 09, 2023
Gary Roberts, a Baltimore area construction executive, died March 9th at Masonic Village in Elizabethtown, PA, following a several year battle with progressive supranuclear palsy. Born in Baltimore in 1949, Gary was a life-long Baltimore area resident until moving with his wife Christine in 2021 to Lancaster, PA. Mr. Roberts graduated from Baltimore City College in 1967 and enlisted in the Maryland National Guard. Following his active duty, he entered the construction industry in 1970 as a carpenter at the Henry A. Knott Remodeling Company. As a Carpenter, he worked on projects such as renovations to the State House in Annapolis, and stabilization of the historic Jerusalem Mill in Harford County. His aptitude for estimating and planning was recognized, and he advanced into project management at Knott, where he was responsible for work including restoration of historic residences in Fells Point and Reservoir Hill, and renovation of a Maryland Avenue property to serve as the Franciscan Center. In the early 1980's, Mr. Roberts helped plan and execute the construction of modular video conference facilities which were among the world's first. In 1985, Mr. Roberts co-founded construction company Russell, Hodges & Roberts, Inc. with two colleagues, choosing to specialize in renovations to commercial and institutional facilities. He was the principal cost estimator for the firm, and his early career work in the field was an invaluable asset to the company and its many clients. Their work included multiple projects for the National Aquarium in Baltimore, the James Frenkel Medical Building, University Physicians, Maryland National Bank, Baltimore Orioles, and Baltimore Ravens. Following the amicable separation of RH&R's partners in 2001, Mr. Roberts founded Oakwood Construction with his wife, where he continued to specialize in renovation projects, performing work in the health-care industry, principally for the Sheppard Pratt Health System.
Mr. Roberts' love for the outdoors began with childhood adventures in Herring Run Park, but continued throughout his life. Gary became an avid trout fisherman and could often be found after work hours on the Gunpowder River. He also spent many hours on his boat fishing for Rockfish in the Chesapeake Bay. He was a devoted fan of the Baltimore Ravens and enjoyed going to games with his wife and son. He also enjoyed playing poker with friends and trips to Borgata in Atlantic City. Most of all, he loved his family and cherished every moment spent with his grandchildren. Gary was the husband of Christine (Berry) Roberts with whom he celebrated 53 years of marriage. In addition to his wife, Gary is survived by his son, Jason Gary Roberts, husband of Katie, of Lancaster; his grandchildren, Caleb, 6 years, and Adalie, 3 years; brothers, Roger Roberts and Robert Roberts, husband of Kathy, both of Baltimore; and several nieces and nephews. Services for Mr. Roberts will be announced. In lieu of flowers, the family requests that memorial contributions in Gary's memory be made to Cast For Kids Foundation.
Leave a condolence on this Memorial Page
Condolences to the Family
March 24, 2023
Dear Chris and Family,
Will and I were so said to hear of Gary's passing. It has been a long hard road for all of you. Such a devestating illness is beyond comprehension. You all have always been in our prayers. Gary was such a wonderful person and we know you miss him and are heartbroken. Trust that Our Lord is with you and we pray he will bring comfort to you all. May God Bless You. Sincerely Anita & Will Goodwin
March 22, 2023
I started working for Gary at RH&R in 1991 as a young mother looking for a part time secretary job during school hours so I could get my girls to school in the morning and pick them up after. The three partners (Gary, Theron, and Bill) mentored me and encouraged me, even in taking classes at the community college to further my education, learn bookkeeping, and supported me in all ways relating to my priorities with my family life. Gary became a good friend to me who I felt was in my corner and truly cared for me and my family. When my daughter, Cherie, became old enough, she worked in the summers a couple of days a week with me, and Gary (along with Theron and Bill) were so very kind to her. When she graduated from highschool, she was hired full time. As time went on, Gary fully supported me in my decision to move on to work for the airlines when a flight attendant position opened up. He knew my desire to interact and meet new people, and he encouraged me. He ALWAYS encouraged me. Cherie successfully ended up taking my place, and a few years after, when Gary started Oakwood Construction, Cherie worked for him, and continued for twenty years, until Gary's retirement. Gary was the kind of person who cared for his employees, who cared for their families, who let his employees put our families first. Mostly I feel it's because he knew how important family was, and it was obvious how much he loved his own family, how much he loved Chris and Jason. He supported me, my family, and grew very close to my daughter after, and her family. I am immensely grateful for my years at RH&R, so young so inexperienced, yet was allowed and supported to grow so much in my time working there. I am so sorry to hear of his passing and send my warmest thoughts and prayers to you Chris, and to all of the family. May God give you peace and comfort at this time of loss. I know he will be greatly missed.
March 22, 2023
I didn't know Gary before he came to Magnolias but I got a glimpse of what a wonderful person he was, despite his illness his personality still shined through. My deepest condolences for your loss, Christine.
March 20, 2023
To all who mourn for
Gary L. Roberts,
the Officers and Board of the
Baltimore City College Alumni Association
extend their condolences.
March 17, 2023
Chris, it was such a pleasure to get to know you and Gary at Magnolias. I'm so very sorry for your loss. I will remember Gary fondly during football season, and how he'd laugh at me when I would talk about the Steelers. Keeping you, Jason, and your family in my prayers. Love to you all during this time.

Love Always
Melissa
March 16, 2023
Chris,
It's so very hard to say goodbye to a loved one. The words of a favorite song begins , "We'll meet again someday…". I believe this is true, in the meantime we have wonderful memories.
Please know that you are in our thoughts and prayers.
Love,
George and Mary
March 16, 2023
sorry for your loss!! Gary was one of the kine, I am sure he will be sorely missed, rip!!

March 15, 2023
Chris ,Sorry for your lose. Kenny O
March 15, 2023
Dear Chris,
Gary was a man of few words at work (and as his employee) of his personal life, except for when it came to you. And when he would, his eyes would light up and all anyone needed to know of his marriage was evident in his admiration, respect and love for you. He was a special man. Your marriage was extraordinary. All that is written above is a great dedication; especially the fishing. It was once said, behind every great man is a great woman.
March 15, 2023
Dear Chris,
Evident in your joyful stories shared through the years, you were clearly devoted to your Gary. Sending hugs and prayers.
❤️Becky Straub
March 14, 2023
I was lucky enough to fish with Gary many times on Chesapeake Bay. His enthusiasm for catching fish and having fun on the water was unrivaled. Rest in Peace Gary you are missed.