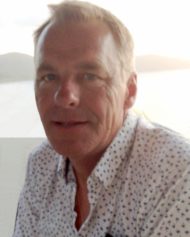 Gary D. Andrewlavage, 61
February 04, 2020
Gary D. Andrewlavage, 61, of Elizabethtown, passed away peacefully after an extended illness at Hospice & Community Care in Mount Joy on Tuesday, February 4, 2020. Born in Elmira, NY, he was the son of the late William and Wanda Andrewlavage. Gary was the beloved husband of Christine Andrewlavage, and they celebrated 36 years of marriage this past June.
In addition to his wife, Gary is survived by two sons: Brian Andrewlavage and his wife Melanie of Denver, NC, and Joshua Andrewlavage and his fiancée Jessy Clark of Portland, OR, who recently granted the family with the joy of the first grandson, Milo David Andrewlavage; his sister Maurina Ruggiero and her husband Tony of Horseheads, NY; his brother Bill Andrewlavage of Honeoye, NY; niece Erica Yearick of Denver, CO, his dear mother-in-law Ann Marie Riggs of Lancaster, along with a host of in-laws, nephews, nieces, and longtime friends.
Gary enjoyed a career in commercial construction that spanned over 40 years with many titles from carpenter, to superintendent, to general contractor. He was involved in numerous projects across the Northeast including the construction of multiple Wegmans in Rochester, the Pennsylvania State Capitol remodel, the Lancaster Convention Center restoration, Lancaster Airport Tower remodel, and multiple covered bridge restoration projects across much of rural Pennsylvania.
Gary was an avid outdoorsman with a passion for both hunting and fishing. It began with fishing the Susquehanna River during childhood at "The Cottage." While living in Rochester, he enjoyed trolling Lake Ontario and the Finger Lakes. He eventually moved into tournament bass fishing and rose to a semiprofessional level fishing tournaments from Canada to Virginia. Hunting was always a part of his life as well. Whether turkey hunting in the Catskills, bow hunting in Rochester, or fox hunting the farms of Lancaster County, he was always looking for the next great hunting spot. He took great pride in providing the next generation the ability to enjoy the great outdoors through his involvement at the Milton Grove Sportsmen's Club. Anyone who met or knew Gary would agree that he was friendly, caring, and was quick to offer a hand with advice or handyman skills, as long as you offered him a cup of coffee.
Family and friends are invited to attend a Celebration of Life service for Gary which will begin at 11:00 AM on Saturday, February 22, 2020, in the Sell Chapel of the Masonic Village of Elizabethtown, 200 Freemason Drive, Elizabethtown, PA 17022. A luncheon in the Lodge Multipurpose Room will follow services to continue the celebration of Gary's life.
In lieu of flowers, contributions in his memory may be offered to the American Lung Association, 3001 Gettysburg Road, Camp Hill, PA 17011 and Hospice & Community Care of Mount Joy, 4075 Old Harrisburg Pike, Mount Joy, PA 17522.
Leave a condolence on this Memorial Page
Condolences to the Family
February 10, 2020
We are so sorry to hear of your loss. Our prayers to you and your family. Randy and Darlene Castle
February 09, 2020
sorry for to here about gary. i always seen gary at the pond at milton grove sportsmen club and we talked about fishing and hunting. gary always helped me with things to do at the pond,i will miss gary.
ken haines
February 09, 2020
Gary was taken far too soon. He had so much more to experience and so much more to share. We mourn your loss, Chris, as we lift you and your family up in prayer.
Steve and Jana
February 09, 2020
Dear Chris, You and Gary have been in my thoughts frequently. I am so sorry to hear about Gary. My deepest sympathies to you and your family.
Beth Wray
February 09, 2020
Christine, I am so sorry for your loss. I worked with Gary years ago at Wohlsen Construction when he worked on the Projects at the Capitol Building and Conrad Weiser. He often talked about you and the boys and I felt at times like I knew you. I have thought about him many times over the years as I enjoyed working with him. He was a talented craftsman. My deepest sympathy to you and the boys.
Sandy Shiffer
February 09, 2020
He will be missed by so many that knew him, especially his family and close friends and I think of his mother-in-law Ann Marie Riggs and how much he tried to help her get things done around the house after the passing of her husband Bill!
Leon L. Love
February 09, 2020
Dear Chris and family. I am so very sorry for your loss.
karen vacca
February 08, 2020
Gary was a wonderful man. Very talented and loved by his family. He will be sorely missed by all of his family.
Mary Ann Gorman
Services

Saturday, February 22, 2020
11:00 AM
Masonic Village of Elizabethtown
Sell Chapel
200 Freemason Drive
Elizabethtown, PA 17022

Map and Directions