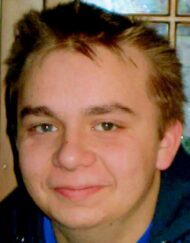 Garrett Henry Gartner, 22
August 30, 2021
Garrett Henry Gartner, 22, of Lititz, passed away Monday August 30, 2021 at Hershey Medical Center after a brief illness.
Born January 17, 1999 in Lancaster, Garrett was the proud son of Joe and Jackie (Miller) Gartner. A 2017 graduate of Warwick High School, Garrett went on to work at Weis Markets where he served as the Front-End Monitor. Garrett was looking forward to a new role as a movie and gaming critic for WhatCulture Ltd. His passion for movies and games spanned from new releases to vintage classics.
Garrett was artistically inclined and had an eye for detail which started at a young age. Over the years, he blessed his family with countless 3D depth pencil drawings and many handmade novelties constructed from ordinary household items. His deep-thinking lead to many creations and heartfelt discussions that will forever be cherished by his family.
Strong and steadfast in his beliefs of right and wrong, he was a gentle soul by nature, Garrett was always willing to lend his friendship and help others overcome the challenges of life. He had a great sense of humor and a smile that would light up a room. He will be sorely missed by all.
To cherish his memory, Garrett leaves his parents: Joe and Jackie Gartner; two siblings: Dr. Jolene Gartner partner of Yeji Kim-eya and Gillian Gartner partner of George McGinnis; as well as a nephew: Daylin McGinnis.
Family and friends are invited to the Charles F. Snyder, Jr. Funeral Home & Crematory, 3110 Lititz Pike Lititz, PA 17543 on Sunday September 12, 2021 from 3pm to 4pm for visitation. A Celebration of Life Service will follow at 4pm.
In lieu of flowers, memorial contributions in Garrett's honor can be made to Kidpower International, PO Box 1212 Santa Cruz, CA 95061 USA. Helping those children that have suffered or are suffering from childhood bullying.
Leave a condolence on this Memorial Page
Condolences to the Family
October 09, 2021
My precious Garrett, the days are achingly long and the nights unbearabe without you here. I miss you so very much and I love you more than this life. You were my precious surprise and you have been taken much too soon. There is not a moment that passes or a step that I take that my heart does not bleed tears of pain. I miss you my baby boy. Mum loves you.
September 12, 2021
Garret was a good friend of mine, we shared almost all our classes together and jokes and laughs. After we graduated, I would always see his cheery face in Weis and have a good chat. He was a genuine guy who will be missed dearly❤️ Prayers to the family!
Kerry Hart
September 12, 2021
Garrett was an amazing person to work with and I considered him a friend. I wish everyone who has ever known him the best and I know that he's leatchinng us all from above. Making sure that everyone he's ever cared about is safe.
September 12, 2021
Garrett Gartner was a good man and great friend we didn't get along at first but before you knew it he was like family I would like to give my condolences to the family and just say he has left a great impression on this world he will be missed but never forgotten rest easy dude
September 12, 2021
To Garrett's Family and Friends,
We are deeply sad for the tragic loss of this loving and talented young man and our heartfelt sympathy goes to each of you.
And we are honored and grateful to have Kidpower International be the charity selected for memorial donations for Garrett in his honor. Thank you!
Kidpower's mission is to teach effective and empowering skills that protect people of all ages, abilities, and walks of life from bullying, abuse, and other harm – and that strengthen relationships that add joy and meaning to our lives. People can send a check to the address shown in the obituary – or make an online donation in Garrett's memory at:https://www.kidpower.org/donate/ Here is information about our Bullying Solutions resources and services that you are welcome to share with others:https://www.kidpower.org/bullying/
You can reach us at safety@kidpower.org if you have any questions or would like help with finding free resources to protect children, teens, and adults of all abilities from bullying.
With great sorrow for your loss,
Irene
Irene van der Zande, Founder and Executive DirectorKidpower Teenpower Fullpower International
September 12, 2021
RIP to my favorite weis bud. You'll be missed dearly! Praying for his family ❤️❤️ I will alway remember you always talking about YNW Melly and getting jalapeño poppers on break at weis😂 fly high bud🕊
September 11, 2021
Garrett, I don't believe that you realized how much you were loved and impacted so many people with the fondest memories. You were the reason that I stayed as long as I did at Weis. Your personality was a joy and engaging. Jackie , and family, my heart aches for all of you. Knowing Garrett, he would want nothing more than for you to find happiness through his memories.
September 11, 2021
Garrett, even though I'm the family dog I can still type. Dad showed me how to get on this website and I want to make a post. You are the best friend that a guy like me could ever have. You fed me, played with me and took me on long walks. Sometimes we would sit together for great lengths of time, and I would listen to what was on your mind. Sorry, I could not offer any Sage like advice because I'm quite young myself, but I'm a good listener.
I forever, will miss our precious time together. I want you to take care of yourself and find that precious inner peace you longed for. Gotta go, it's lunch TIME!
Love,


September 11, 2021
So sorry for you lose. Garret was a special guy. He will be missed. Cheryl sensenig a co worker from weis
September 11, 2021
Gartner family – I am so saddened to hear of your terrible loss. What a beautiful soul! I remember Garrett and his sweet smile that brightened all our days at Kissel Hill. My prayers are with you.
September 11, 2021
Garrett, you have blessed more lives than you can imagine. Your wit and humor will never be forgotten. Your steadfastness for right and wrong has paved the way for others to follow. Your compassion and patience for others, that needed a helping hand, will surely be missed.
I consider you as my best friend, someone I could truly count on. We've had many heart to heart conversations with insights for both Father and Son. I will miss those the most.
I know you will be blessed and find the inner peace you always longed for. I have been a proud and blessed Father to have you as my son.

September 10, 2021
Our hearts are all filled with sadness for you all. Sorry for your lose
Uncle Gary and Alexis,Cara,James and Zac
September 10, 2021
Garrett, we will forever remember your kind and generous soul, also your wonderful sense of humor. We can still see you at Grandma Miller's house teaching our kids the Happy Llama song. It will always make us smile.
Rick, Emily, Brinn and Lucas Miller
September 09, 2021
My deepest sympathy for your loss. 🙏
Blanca L Cuervo
September 09, 2021
To a man lost too soon. We hold a piece of our heart just for you. Our loving thoughts go to the Gartners at this terrible time. He was quite the man. We love you all so much.
Alex and Taylor
September 09, 2021
To all of the Gartner family. I don't know how to express our sorrow and the deep void that is left. Jackie, Joe, Jolene, Gillian. He was a man of conviction and passion. That is a light taken from this world. We love you all very much. He will be so missed. The world dimmed in honor of him. He was and still is an honorable and wonderful man. We love you all.
Debby and Collette Yang
September 09, 2021
Very sorry for your families loss! He was always friendly and smiling!
Carol Ziegler
September 09, 2021
To the man that would have been my best friend had we had more time together. I cannot say how sad I am. I truly believe we are two of a kind. I have no words at the sorrow. You were kind and brave in ways you did not realize. You will be missed. May you find peace. I love you Garrett.
Lisa Miamiami
September 09, 2021
I am so saddened to hear of Garrett's passing. My heart goes out to you. I remember him as a little tyke bouncing through the halls of Kissel Hill. It has been a pleasure seeing him at Weis all these years…. he always had a friendly hello and a short conversation to keep me up to date on his sisters.
Joe, Jackie, Jolene and Gillian, I am praying for you.
Stacey (Zuckerman) Yunginger
September 09, 2021
will miss all the good times we had when we could get together and your one line answers. You knew how to make me laugh You will be in my heart Love Grandma Miller
September 09, 2021
Our hearts are filled with sadness and loss. Garrett we will miss you so much
Aunt Sheree, Uncle Keith, Brett, Kayla, William, Evan
September 09, 2021
My heart is with all of you as you struggle through this unimaginable heartache. Hold close to those you love and know your community feels a great sense of loss. Peace dear Garrett.
April M Norman
September 09, 2021
I am so sorry to hear about Garrett. I remember him from when he was just a little boy when Gillian & Kallie were in kindergarten together. He grew into a very nice & polite young man. I will keep your family in my thoughts and prayers.
Tracy Cardenas
September 08, 2021
I'm at a loss for words. It was an honor to be a friend of Garrett's. He would always be able to make even the worst of days amazing. I'll always cherish the memories I have with him for the rest of my life. Love you brother
-Jordan
September 08, 2021
My deepest sympathies to Garrett's family and friends. I would encounter him frequently at Weis. He was always very kind and very helpful. I am so saddened to read of his passing.
Becky Becker
September 08, 2021
Garrett was one of the greatest people I have ever worked with. He was a great friend and was always there to help. We shared so many laughs together and I'll miss him dearly. – Chris McCamant
September 08, 2021
Gillian, Miranda and I are extremely sorry for your loss. If you need anything let us know!
Madison Becker
September 08, 2021
Garrett,
It is so hard to say goodbye. I love you more than you know. You are and always will be so important to me. Your laugh, smile, and witty one liners were the highlight of my day. I looked forward to our talks, hearing your voice, and your infectious laughter. I will miss you forever. I promise to carry on your memory, to spread the joy that is you. Until we meet again little brother. I love you.
Gillian Gartner
September 08, 2021
Dude, I have no words. You were always such a ray of wonderful in this world. I remember going out on breaks at work, you'd come out after me just to talk and ask for advice. You were always after wisdom for peace and happiness, and I most enjoyed our in depth conversations about such. You are so very missed man, we will all carry you in our hearts forever. Love you Brother.
Jeffrey Allen Beasley
September 08, 2021
I remember having classes with Garrett at Kissel Hill and in high school at Warwick. He was a really bright guy who always kept his head up even when he was having a hard time. RIP.
Bailey Carr
September 08, 2021
My deepest sympathy to each family member. Garrett was a good guy. I have fond memories from Dayspring. Your family is in my prayers.
Debra Kauffman
September 08, 2021
So so sorry for Garrett's family and friends. I used to work with him at weis. Shared plenty of laughs and good times. Untill next time buddy.
Beau Cristini
September 08, 2021
To all the family Our heart is breaking with yours!! Our prayers are with you all!!
Ron & Shirley Sipe
September 08, 2021
I have no words to a life lost too soon. A great man. Of strength and compassion. Garrett I love you very much. You always deserved more. You showed a strength to your family in the most difficult times. A love to your family. I love you dearly.
Saul De Merindol
September 08, 2021
to the gartner family,
Saddened to hear about Garrett's passing. I hadn't seen him since the early 2000s so he was likely a wee lil tike back then. One fond memory was of all of the budding & bubbling life of the gartner grandchildren, including Garrett, as they searched for easter eggs in the their grandmother's yard. It was beautiful to witness and to be part of the fun. Thank you! May my cousin rest in peace and in power. Keeping you all in my thoughts and well wishes.
Julie Maiorana
September 08, 2021
My condolences to Garrett's family !! He was a fellow coworker of mine at Weis, and it was truly boring without him there! He always had something funny to say, and was great company. Sending love and peace to all his family and friends ❤️
Sieana Roe
September 08, 2021
My Condolences, we went to school together for a bit and he was one of the best people there. I wish his family peace in this trying time
Nathan
September 08, 2021
Dear Garrett,
You are sorely missed, my friend. We are all still trying to wrap our heads around your passing and absence. You deserved so much more time here than you were given, but God had much bigger plans for you. And despite my being angry and deeply saddened that you are no longer with us, in Him I will continue to follow, love and entrust.
Thank you for being so accepting of me as a person, and for welcoming me into your heart and home as an eventual brother-in-law-like figure over the years. I truly miss our talks already, and wish that I had set aside time for more of them. Thank you for sharing your passions with me, e.g. art, music, movies, gaming, building etc, and for taking an interst in mine. It honestly made me proud that you were stoked about my journey in the arts.
You were undoubtedly the highlight of our trips out to your parents place, as you were never without a great sense of humor and an ever willingness to make everyone laugh and smile. Our son Daylin will continously be reminded of who you were, and just how cool Uncle Garrett was. You rocked, bud, and little man sure is going to know it, believe me on that.
With much love and respect, and until we cross paths again…
– George H. McGinnis
September 08, 2021
My condolences to Garrett's family!! I worked with him at Weis. Until we meet again, Michelle Simmons 💔
September 08, 2021
To a man full of honor and bravery and light. You will be so missed. You filled a room with brilliance, creativity and kindness. Your legacy is that. Honor and bravery and light. The world is less bright without you. Your honor and love and creativity will be remembered. I love you.
Yeji Kim-eya
September 08, 2021
Garrett always knew how to make someone's day better, he had a laugh that I will always remember. My condolences to his family and friends.
Alex Michael
September 08, 2021
To my brother and my most wonderful friend. You have suffered so much in this world. I hope you have finally found some peace. You were always a gift and a light that you could not see. I am in true darkness without you with me. I miss you with all my heart. I love you Garrett. I'll miss you all my life. I love you so much.
Jolene Gartner
September 08, 2021
To my precious and beloved son, you are loved beyond this life! I miss you so deeply and my life will forever wear a gapping hole with your loss. You are the best friend anyone could have let alone your old mother. We stood together, shared so many wonderful times and supported each other in the struggles life handed us. I love you my son, my precious Garrett. I will take not one step within this life without your presence in my heart.
September 07, 2021
Garrett i will always remember the endless phone conversations we had in highschool, i will always remember how you would sit with me at lunch when nobody else would, i remember when you came to my halloween party on front street in lititz, i remember so many amazing times we shared together…and i will never forget them or you, i love you garrett and i always will ❤️
Amanda ries

Visitation

Sunday, September 12, 2021
3:00 PM - 4:00 PM
Charles F. Snyder Funeral Home & Crematory
3110 Lititz Pike
Lititz, PA 17543

Map and Directions

Services

Sunday, September 12, 2021
4:00 PM
Charles F. Snyder Funeral Home & Crematory
3110 Lititz Pike
Lititz, PA 17543

Map and Directions