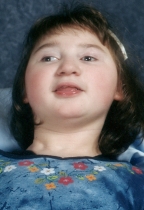 Gabrielle N. "Gabby" Taylor, 14
Gabrielle N. "Gabby" Taylor, 14, of Lititz, passed away at the Heart of Lancaster Hospital on Monday, September 8, 2008. Born in Lancaster, she was the daughter of Jon A. and Lea Ann ( Neu ) Taylor.
Gabrielle went to the 8th grade at Manheim Central Middle School. She was always fun loving, happy and loved being around people. She attended the Lancaster Evangelical Free Church.
Surviving are her parents, one sister, Jennifer R. Taylor and three brothers, Gabriel J, Jordan, and Caleb all at home, Maternal grandparents Leon W. and Laquita A. (Sandmann) Neu of Gainesville TX, several aunts, uncles and cousins. She is preceded in death by her paternal grandparents Alton E. and Nancy J. ( Mecca) Taylor.
There will be a viewing at the Charles F. Snyder Jr. Funeral Home and Chapel Inc 3110 Lititz Pike, Lititz PA 17543 ( 717) 560- 5100 on Sunday, September 14th, 2008 from 6-8PM and on Monday, September 15th, 2008 from 9-10AM. The service will follow at 10AM with pastor Jeff Batzer of Lancaster Evangelical Free Church officiating. Interment will be in Witness Park Cemetery. To send an online condolence, please visit www.snyderfuneralhome.com
Leave a condolence on this Memorial Page
May God grant your hearts peace and healing during this difficult time. Gabby was a delightful young lady that I had the pleasure of knowing. She was very blessed to have such wonderful and devoted parents and siblings. Words can not express the sympathy I feel for your pain. May you always look back and hold all the precious memories close to your heart. If I can do anything else to help please let me know.
Love Sue Peacock

On behalf of the entire staff of PSA Healthcare, I send our deepest and sincerest condolences to your family during this difficult time. Gabby will be deeply missed by all who knew her. I hope that you will find some comfort in knowing that she will be remembered always for her pure joy and happiness, as well as that contagious smile! I was blessed to be a part of her life, and I thank you for that.
Jessica L. Fritsch RN
Clinical Care Coordinator
PSA Healthcare
Jon & Lea Ann,
Just wanted you to know that you are in our thoughts and prayers. Jon, you and your family was loved very much by your Aunt Jewel.
Gary & Betty Hillis
Gainesville Tx
I am so sorry to hear of your loss. May God bless you and hold your hand thru
this trying time and we will all keep you in our hearts and prayers.
With Love Sandra (Neu) Massengale.
Sorry we are unable to make it down. She will be greatly missed. You and the family our in our prayers during this difficult time. She was a wonderful young lady who has blessed many of our lives. We love you all.
Love,
Nathan, Yvonne, Caleb, and Chloe Sandmann
I just read the newspaper & saw your little girls picture. I am so sorry. Please know that you are in our prayers. Gabby is an ANGEL now!
God be with you & give you peace.
Dianna Hensley & family
To LaQuita and Leon and family, Lorene and Henry:
We were so sorry to hear about the loss of your precious granddaughter and great-granddaughter. You are in our prayers.
Love in Christ,
Rod and Evalyn (Carson) Elliott & Family
Jon and LeaAnn- Our heartfelt condolences to you and your family at this sad time. Gabriella's spirit will always live on. She is certainly in heaven surrounded by friends and family. We will keep you all in our prayers. Love always.
Jeff and Rhonda (Hess) McKinzie
I just wanted to say how sorry I am for your whole family.
Please let Leann, and your family know a candle has been lit for her.
Shelley (Brammer) Truesdell
Our hearts go out to the Taylor Family. We are pleased to have met Gabby. She was always full of life and laughter. She always would put a smile on our face when we were around her. If there is anything we can do for this precious family please let us know. Gabby will be greatly missed.
The Marion Family
Brett, Jan, Stephen, and Hayley
I am sorry to hear about the passing of your beautiful daughter. I have always believed that God only sends special Angels to very special people. Not all of us were blessed enough to have one. I know she brought you 14 years of true happiness. May you treasure those memories. God bless you and your entire family.
Tisha Krebs Green
Dear friends,
My name is Alyssa and I helped out in Gabby's IU13 class at Fritz Elementary for many years. I'm very sorry for your loss, but I am also excited. It is never easy losing anyone, but we have the joy of knowing that our sweet Gabby is in a better place! She no longer has to struggle through the long days here on Earth! Boy is that a praise! Your family will be in my prayers as you mourn the loss of Gabby. Just remember, God is in control and I'm sure He has a reason for everything! Romans 8:28 "And we know that all things work together for good to them that love God, to them who are the called according to his purpose." KJV
~Alyssa
I am so sorry to hear about your loss. If you need anything please feel free to call us. You will be in our thoughts and prayers.
Eddie, Dorothy, Sheena and Shaunda Martin
Our condolences to your family. We were sad to hear the news of Gabby's death. You are in our thoughts and prayers at this incredibly difficult time.
~The Riley Family (Pack 27)
I want you to know how sorry we are of the passing of Gabby. I know that I have never met her face to face but I have heard wonderful stories of her and how happy of a person she was. I was honored to help your family and I know Gabby will me missed by all of us at PSA Healthcare. Your family will be in my prayers and may God Bless.
Georgia Davis
We are so sorry for the loss. Our thoughts and prayers are with you all.
Eric & April