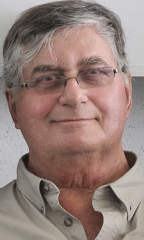 Franklin D. Walters, 70
Franklin D. Walters, 70, of Quarryville, PA, passed away suddenly on Saturday, June 25, 2011 at Lancaster General Hospital. Born in Lancaster, he was the son of the late Selma (Fisher) and Arthur F. Walters. Frank was the husband of Kandace (Ream) Walters; together they celebrated 32 years of marriage.
Frank graduated from Manheim Township High School. He was active in school playing Varsity Football and on the Rifle Team. He independently owned an Agricultural Silage Bagging Service & Ag Supplies Business; he retired after 35 years of service. He was a Veteran of the United States Army. Frank enjoyed the mountains of North Carolina where he spent a lot of time at his family home. He was an avid golfer and enjoyed fishing. Frank also spent a lot of time with his African Gray Parrot.
In addition to his wife, Kandace; Frank is survived by a son, Travis Franklin Walters; two daughters, Hannah Walters wife of Kyle Ciccocioppo and Celeste Shank. He is preceded in death by a son, Eric Walters. He is the loving grandfather of seven grandchildren and four great-grandchildren. He is also survived by his companion Sammy, an African Gray Parrot.
A memorial service will be held on Saturday, July 2, 2011 at the Charles F. Snyder Jr. Funeral Home & Crematory, 3110 Lititz Pike, Lititz, PA 17543, at 2 PM with Pastor Jim Day officiating. Friends will be received from 1-2 PM at the funeral home. In lieu of flowers, contributions can be made to the Feathered Sanctuary, 2911 Willow Street Pike, Willow Street, PA 17584 in memory of Frank & Sammy. To send the family online condolences, please visit SnyderFuneralHome.com. Charles F. Snyder Jr. Funeral Home & Crematory717-560-5100
Leave a condolence on this Memorial Page
Condolences to the Family
December 18, 2015
Been thinking about you and our adventures. I miss you Bro! And you wit and straight forwardness.
I laugh out loud when I think of some of the times we had or some of your famous sayings ("What's wrong with that?" or "What are you doing with that goof?"–my fav.
Hope you're in Heaven cause the Devil wouldn't know what to do with you.

Dear Kandy and Family,
I was saddened to learn of Frank's passing. We were in the same class at MTHS and I have many fond memories of times spent together. Our reunions will not be the same without him.
My deepest sympathy and Blessings to all of you,
Conan Raffensperger
Lewes, Delaware
Dear Kandace and Family,
We're so sorry to hear about Your loss of Frank, We have alot of Good memories of Him, I appreciated His strength in Business, We were surprised to see Quarryville address, I'm one of men who helped finish Your basement at Brownstown, Pa. We appreciate the past picnics & pool parties at Brownstown! In April We parted with my Sisters Two year Son Josiah, Oldest Son, Due to accidental Drowning in creek ,Manheim Area. They had a 2 Week old Baby at the time, Second Son. We also know the Pain of Parting, We wish Yous Gods Grace& Peace & Healing now and always!
Chris's Son, Levi Stoltzfus 195 Upper Valley Rd Christiana, Pa. Email lstoltzfus@epix.net
Sleep tight my good friend. May God bless. I will miss you
Mickey Falcone
Old Friends' fond memories never pass away. We are just so proud to have been a part of his life as a friend, associate and partner. We grieve with you Kandace in your loss and we shall certainly miss him throughout our lives.
With Deepest Sympathy
Dwight & Marlene Smith-Gander
Clyde Alberta Canada
Dear Kandace & family,
I was very sad to find out that Frank had passed. We had many good conversations over the years and he will be sorely missed. Kandace my sincere thoughts and prayers are with you & your family at this time of sadness. Cherish the memories for no one can take them away.
Love Always,
Uncle Barry & Aunt Del Ream
Franklin was a patient in the same room as Jim on Sat. and we and our daughter had wonderful conversations with him. He seemed like a very special person and we want to express our heartfelt sympathy to your family from our family.
Sincerely
The Lafferty Family of New Holland
Kandy, Hannah, Travis and family,
I'm very sorry for your loss. My thoughts are with you and your family.
Take care,
Steph McAndrews
To Kandi and family–
What a terrible loss. Frank was a true human being, doing all he could to help others in need, I saw this time after time. He was your husband and father AND he was my friend! You all have my deepest sympathy.
Bob D.
Dear Family,
Please accept my words of sympathy from long ago and far away. Frank and I were classmates and I only have those memories and memories from the few passing hours of class reunions and chats of the phone.
But even that small bit of time spoke loudly of the truly wonderful man, Frank Walters. Frank was a friend to all, defender for all and a lover of life unlike any person I've known since. He spoke his mind and was forthright and brave where most would falter. I'll always remember him as a larger than life, jovial and "in-the-moment" individual with the strength of character to see things were put right. I know in my heart he was a good and loving man to all he came in contact with and especially to those closest to him, his wife and children. Please accept my sincere condolences and may peace come to you in the days ahead.

Sincerely,
John W. Musselman
This is from Harry Bottomstone:
First of all, I can't believe I am sitting here looking at this. I could say numerous things, An unending list. I hope this says how I will always feel about and remember By Buddy Frank.

It is said, That when we move on we won't be remembered for how much money we had, what kind of car we drove, or what kind of clothes we wore. We will be remembered for the difference we made in someone's life. Frank made a big difference in my life. He taught Me things I could have never learned from any other person, from any book, or from any school. He had so much compassion for people. He would help anyone who was down to get back up. That's what Frank did for me. He made me a better person. He knew I could do things even if I thought I couldn't. I loved it when he would say to me,
"Handle it!" I'll try Frank. I'll try to handle it. It won't be easy but I'll try.
God will hold you in the palm of his hand Frank.
Always: Harry
Dear Walters Family,
It is with great sadness that I write you today to express my sincerest condolences and to wish you peace.
Thank you for mentioning Feathered Sanctuary in Franklin's obituary. Not only is your family's world upsode down, but Sammy's is too. I hope someone in the family will continue to care for him.
I visit Feathered Sanctuary often and do what I can to help them. I have an african grey, too.
Sincerely,
Carey Wentworth
Mount Joy, PA
Dear Kandace and family,
It was with a great sense of loss when we heard of Frank's death. We wanted to let you know that we are truly saddened.
Frank's passing will not only leave a void in our lives, but in the lives of all those who knew him.
Our sincere thoughts and prayers are with you and your family.
With deepest sympathy,
Calvin and Nadine Mazurenko
Kandy and family,
I was so sorry to read of your loss. Know that God has his arms around all of you as you grieve your loss. He was too young and I'm sure you will miss him.
Sending thoughts and prayers your way,
Kathy Spangler