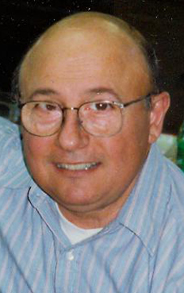 Frank R. Amico, 71
Frank R. Amico, 71, went to be with the Lord April 10, 2007 after a courageous battle with cancer, his wife and family at his side.
Frank graduated from Lancaster Catholic High School, 1953, then served in the US Air Force receiving an Honorable Discharge with the rank of Airman 1st Class. Employed with RCA for over 34 years and 17 years as a part time courier with Lancaster General Hospital.
He enjoyed trips to Atlantic City and Las Vegas and to various theatres. He was a true Notre Dame Football fan to the end, even going to South Bend, IN frequently with his brothers and sisters. He was a charter member of St. Leo the Great Catholic Church.
Frank loved family reunions and was a loving son who was a caregiver to his mother for many years.
Frank is survived by his wife of 10 years, Marlene Frankenfield, and two daughters, Patty married to Donald Mentzer of Lancaster and Michelle Stanley of Philadelphia; two brothers; David married to Jean O'Conner and John P. married to Nancy Schreck both of Lancaster; three sisters; Saveria (Sandy) married to Paul W. Freisher of Lancaster; Bonita married to Lyn Hahnlen of Sinking Spring and Mary Lynn married to Roderick Grant of Lancaster; six nieces and 5 nephews.
Mass of Christian Burial will be held at St. Leo the Great Catholic Church, 2427 Marietta Ave., Lancaster on Friday at 12:00 noon. A calling time will be held from 11:00am until time of service. Interment in St. Joseph New Catholic Cemetery. In lieu of flowers contributions may be made in Frank's memory to Hospice of Lancaster County, Box 4125, Lancaster, PA 17604 or to the American Cancer Society, 314 Good Drive, Lancaster, PA 17603. Arrangements by the Charles F. Snyder Jr. Funeral Home and Chapel, Lititiz.
Leave a condolence on this Memorial Page