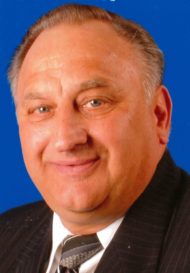 Frank J. Gappa, 79
February 06, 2021
Frank J. Gappa, 79, of Lancaster passed away on February 6, 2021 at Lancaster General Hospital. Born in Danville, he was the son of the late Lawrence E. and Helen M. (Lazicki) Gappa. He was the beloved husband of Gloria J. (Faus) Gappa, with whom he shared 58 years of marriage.
Frank worked as a machine operator for Kellogg's for 26 years and enjoyed constantly learning and growing in his position by taking courses in electrical and mechanical engineering. In addition to his work at Kellogg's, he also was a volunteer member of the Kellogg's fire brigade and was a volunteer fireman for Eden Fire Company.
A man of strong faith who put God first in his life, Frank was a member of St. John Neumann, where he served as an Extraordinary Minister, Funeral Acolyte, and Administer to the Sick. He attended annual spiritual retreats at Malvern Retreat House for 40 years and helped to recruit guests. Together with his wife, Frank was an active member and past president of the Lancaster Serra Club.
Frank was heavily involved in the Knights of Columbus. He was a member of the Santa Maria Assembly, 4th Degree Knights. He was a past Faithful Navigator, past Grand Knight of Council #6810, past District Warden of District #97, and past District Deputy of District #61. He was also a member of the Knights of Columbus Honor Guard and received the Honor Guard of the Year Award for 2014-2015.
Frank was an avid hunter and fisherman and enjoyed spending time outdoors. He shared this love with his children and went on many trips to the mountains with his sons to hunt and fish. While his children were growing up, he was a Den Leader for Cub Scouts and a Troop Leader for Webelows and Boy Scouts. He served as the Treasurer for the East Petersburg Sportsman's Association for 10 years. He was a farmer at heart and would spend hours tending to his vegetable garden that he grew from seeds.
He was a kind and generous man with a great sense of humor. Frank was dedicated to God, his family, and his community and showed it in everything he did.
He will be greatly missed by his wife, Gloria, his children; Frank J. Gappa Jr., Kathleen M. (Gappa) Clark and her husband Thomas, Diane M. (Gappa) Riggles and her husband Brian, Kenneth L. Gappa and his wife Brenda, and Daniel R. Gappa and his fiancé Beth Keller, eight grandchildren; Laura A. Vaughn, Dustin W. Gappa, Brandon K. Riggles, Brooke M. Riggles, Leah C. Gappa, Cari K. Gappa, Ashley L. Heinlein-Gappa, and Alexander J. Heinlein-Gappa, six great-grandchildren; Ariel M. Shaffer, Trinity M. Shaffer, Xavier V. Shaffer, Logan L. Shaffer, Xander J.Heinlein-Gappa, and Maizlee G. Heinlein-Gappa, and his siblings; Maryanne McAllister and her husband Robert, Edward A. Gappa and his wife Judy, and Charles L. Gappa and his wife Ann. He is preceded in death by his beloved infant daughter Brenda M. Gappa.
A Mass of Christian Burial will be held on Saturday, February 13, 2021 at 11:00am at St. John Neumann Catholic Church, 601 E. Delp Rd., Lancaster, PA 17601, with Fr. Michael Culkin as Celebrant. A live stream of the service can be viewed on the St. John Neumann website. A viewing will be held at the church prior to the service starting at 9:00am. Interment will follow at St. Joseph New Catholic Cemetery, Bausman. In lieu of flowers, Franks family kindly asks that donations be sent to St. John Neumann Catholic Church at the address above.
Watch the tribute video
Leave a condolence on this Memorial Page
Condolences to the Family
February 23, 2021
What great memories I have of Frank groudhog hunting with Larry Saylor and Dale Corl. Those fun days occurred more than 40 years ago. Frank had a wry sense of humor, and a devoted love for Gloria and his family. Saddened we didn't reconnect after moving back to Lancaster County. May Frank rest in peace, and may light perpetual shine upon him now and forever.
Bud and Kathy Hart
February 13, 2021
Dear Gloria,
We are so so sorry for the loss of your dear husband, Frank. I think he is meeting up with my dad (Frank Torregrossa) in heaven. Frank's friendship meant a lot to my dad, as well as my family. Rest In Peace Frank.

Jeannie and Bruce Hubbs
February 13, 2021
I did it know Frank personally but I do know Ken and his family and I believe if you know the son you know the father. Hugs to the family and peace be found in the ones you love and the ones that love you.
Ed Haldeman
February 12, 2021
I can't believe it has been 58 years since your wedding. May find memories sustain you and your family at this time of sorrow. My condolences.
Elaine Long
February 12, 2021
Sending my deepest sympathy and condolences to Gappa and McAllister Families.Please know you're in my prayers .God Bless.
Betty Lazicki
February 12, 2021
Gloria and family,
We are so sorry for the loss of Frank. He was kind hearted, he had a good sense of humor, he was a good co-worker, totally into recycling, and just an all around nice person. We hope many good memories of so many wonderful years will somehow, in time, ease your grief.
Our thoughts and prayers are with you!
Lancaster Kellogg Retirees Association
February 12, 2021
Gloria and family, My heart is saddened to hear of Frank's passing. He was our #1 on State Rd.. Always ready to help, listen and follow thru when necessary. You have my condolences. Rest in peace, Frank.

Pat B.
February 11, 2021
Sending my condolences to the family. Mr. Grappa was a very kind and friendly man. I got to know him being friends with Dan and Ken during our school years. My prayers to you all during this difficult time.
Cathy (Barr) Plummer
February 11, 2021
We are sorry for your loss Gloria, and family. It was a pleasure to know Frank, even though we did not know him well. We are sure he will be very greatly missed. We live at a retirement village or we would make every effort to get to his memorial service; but we do need to be careful here.
Paul & Lisa Buckwalter
February 11, 2021
I got to know Frank at Kelloggs. He was a good man, always smiling and willing to help us "newbies". I extend my sincerest condolences to all the family during this sorrowful time. Till we meet again, Frank. Rest in peace.
Kathy Herr
February 11, 2021
Dear Gloria and family,
So sorry to hear Frankie passed away. May you be comforted in your loss with all of the wonderful memories you have of a lifetime shared with him. May he Rest in Peace.
Cousin Michelle (& Louis) Gappa Lampkin
February 10, 2021
Our family is saddened by the passing of a dear family member. He spent time at the farm that I grew up on to visit his first cousin and his family. We send our sympathy to Gloria and the rest of the family. We will miss Frank at every family gathering in the future. God Bless!
Cindy Gindhart
February 10, 2021
Gloria and family, Aunt Mary and I are saddened by the loss. Frankie always had a smile and good story. He will be greatly missed.
Stephanie ( Stacy ) Groff Reitz
February 10, 2021
So sorry for your loss. Frank was such a wonderful and kind person. Your family is in my thoughts and prayers.
Theresa Bright
February 10, 2021
Thank you Uncle Frank for taking me on a motocyle ride when I was very young, swimming and fishing. I got to hunt with you once or twice. Thanks for all of the memories. My condolonces to the family.

Ed & Bonnie Strosser
February 10, 2021
Mr. Gappa was a kind-hearted and generous person. He will be greatly missed by all. On behalf of my family, especially my father James. I wish all my deepest condolences.
Donna eckenroth
February 10, 2021
Gappa Family Please accept our deepest sympathy for the loss of Frank. Met him through the Knights of Columbus . He was such a devoted member and always smiling! Our prayers are with Gloria and the family.
Frank and Pat Spohn
February 10, 2021
I am sorry for your lost my thoughts are with your whole family
Chris rohrbaugh
February 10, 2021
TO THE GAPPA FAMILY, OUR DEEPEST SYMPATHY FOR THE LOSS OF FRANK. I HAD WORKED WITH HIM & FRANK WAS A GREAT PERSON & HONORED TO HAVE KNOWN HIM. OUR THOUGHTS & PRAYERS ARE WITH ALL AT THIS MOST DIFFICULT TIME.
Neil & Chris Cantor
February 10, 2021
Dear Kenny and Daniel – this is from a teacher that you had at Schaeffer School. I fondly remember both of you and wanted to send my condolence to you both upon the passing of your father. May God provide you and your families with peace, comfort, and hope that only He can provide. In Christian love, Mrs. Nancy Marshall
February 10, 2021
sorry for your loss
NORRIS AND THERESA LIVELY
February 10, 2021
Kathi and family, so sorry for ur loss. Prayers and thoughts. He sounds like he was an amazing man, husband and father. May he Rest In Peace.
Juli Kline and Brian Cagle
February 10, 2021
When I became a Knight, Frank was there. When I became a member of the 4th Degree, Frank was there. When I joned the Honor Guard, Yes, Frank was there. He watch out for all of us, Now it is our turn to watch out for him. I will miss you Frank and hope I can can continue where you left off.
Michael L. Urbanik
February 09, 2021
To the Gappa family:
We are very sorry for your loss. Our thoughts are with your entire family. Frank was such a kind and funny man. I have sweet memories of him back from my high school days at your house. I was lucky to know him. Wishing your family comfort and strength for the days and weeks ahead. We'll be praying for all of you.
Nicole & Noel McGarvey
February 09, 2021
My thoughts and prayers are with you all. So glad I was able to visit in September. I have many great memories of our families spending time together growing up. May your memories bring you comfort.
Trina Baxter
February 09, 2021
Gloria and Family, Frank was such a good and honorable man. A true man of God who truly cared for everyone. We will all miss him greatly but we are comforted that he now sees God face to face for eternity and that his commitment to insuring the salvation of those whom he loves will never cease until we join him in paradise.
Patrick and Janice Russoniello and Family
Visitation

Saturday, February 13, 2021
9:00 AM - 11:00 AM
St. John Neumann Catholic Church
601 E. Delp Rd.
Lancaster, PA 17601

Map and Directions

Services

Saturday, February 13, 2021
11:00 AM - 12:00 PM
St. John Neumann Catholic Church
601 E. Delp Rd.
Lancaster, PA 17601

Map and Directions