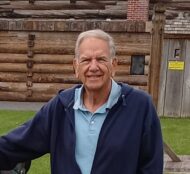 Frank E. Cimino, Jr., 76
March 7, 1945 - December 23, 2021
Frank E. Cimino, Jr., 76, of Lititz, passed away on Thursday, December 23, 2021, at Hershey Medical Center, after an extended illness. Born in Neptune, NJ, he was the son of the late Frank E. and Janet (Cook) Cimino. Frank was predeceased by his wife of 34 years, Elizabeth A. "Betty" Cimino, who passed in September, 2019.
Frank was a devoted husband, father, Poppy and friend. For more than 40 years, he worked as a Maintenance Supervisor for Jersey Central Power & Light, retiring in 2001. Always active in the communities where he lived, he formerly served as a scout master, youth baseball coach and throughout his life was a dedicated volunteer firefighter with many fire departments in New Jersey and Pennsylvania. An outdoorsman, he especially enjoyed hunting and fishing. Frank was loved by all who knew him, and led his family and friends through life with his wit, wisdom and special "Ciminoisms".
Frank is survived by his children: Frank Cimino and wife Donna of Daytona Beach, FL, Michael Cimino and wife Lynn of Philomont, VA, Robert Brown and wife Carolyn of Lititz, PA, Jerome Brown and wife Caroline of Howell, NJ, Jackie Loesch of Howell, NJ, Patrick Brown and wife Maureen of Jacksonville, FL, Carla Padakowski and husband Tony of Beachwood, NJ; and his significant other Diane Swisher of Ephrata, PA, and her son Russell Swisher and wife Stephanie of Lansdale, PA. Also surviving are his grandchildren Danny Cimino, Jamie Cimino, Ashley Parker, Nicholas Cimino, Jennifer Loesch, Jessica Loesch, Joseph Brown, Caitlin Brown, Patrick Brown, Amy Brown, Kyle Brown, Nicole Murphy, Elizabeth Brown, Sean Prato and Michael Swisher; a brother, Fred Cimino; and a sister, Patricia Numair. He was predeceased by a sister, Janet "Betty" Haberl.
Services will be private at the convenience of the family. In lieu of flowers, the family encourages contributions in Frank's memory to be made to the Lincoln Fire Company – Station 16, 38 South Market Street, Ephrata, PA 17522.
Leave a condolence on this Memorial Page
Condolences to the Family
December 28, 2021
As a member of United Fire Co. # 1, Neptune City, New Jersey and a friend of " Frankie " my sincere condelences to the family, you should be proud of the contributions and memories that Frank has left all of us.
RIP Brother, we will handle it from here.
Larry Sauer
December 27, 2021
My family and I are very sorry to hear of Franks passing.Even though we didnt talk over the past many years,i still missed and loved him.RIP my brother
December 27, 2021
Frank you are gone to soon you lit up the fire house every time you come in due to your years at JCP&L and as you were AKA glow in the dark was are joke you gave the older members a good sence of the past while you guided the new members to the future as foreman your knowlage will be sourly missed.
As chief of the department Frank rest in peace we've got it from here