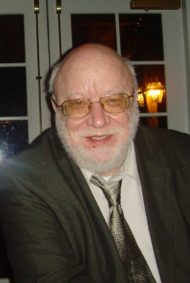 Frank David Tegtmeier, 71
January 29, 1949 - July 29, 2020
Frank D. Tegtmeier, 71, of East Petersburg, passed away at the Lancaster General Hospital on Wednesday, July 29, 2020. He was born in Collingdale, PA to the late Christian Frederick and Louise (Wetherill) Tegtmeier.
A 1967 graduate of Roxborough High School in Philadelphia, Frank earned a Bachelor's Degree in English from Millersville University in 1971. Frank enjoyed acting in the Drama Club. While working on his Master's Degree, Frank met Mary E. Carlson who was working on her Bachelor's Degree in Russian also at Millersville.
Frank and Mary married in 1972. They both worked for R.R. Donnelley at Steel Way, with Frank being a proofreader for 36 years before retiring in 2013. Frank and Mary enjoyed many Fall vacations to the Pocono's to celebrate their wedding anniversary and experience the vivid foliage.
He was quite an eclectic reader, devouring all subjects over the years. Frank paid great attention to detail. Grandson Dakota will always remember Frank's greeting to him, "Did you learn anything new or interesting today?"
In addition to Mary, Frank is survived by their sons, David L. Tegtmeier of York and Carl M. Tegtmeier of Marietta; grandchildren, Dakota Tegtmeier, Jared Tegtmeier-Oatman and Arilyn Tegtmeier-Oatman; as well as his siblings, Patricia Wexelblat (Richard) of West Brandywine, Philip Tegtmeier (Teri) of Honey Brook, and Linda Tegtmeier of Philadelphia. Frank was preceded in death by their daughter Sheri Tegtmeier and his sister Robin Nugent, wife of Harry of Philadelphia.
Services will be private.
Leave a condolence on this Memorial Page
Condolences to the Family
August 08, 2020
Mary and Carl
I'm so sorry to hear of the passing of Frank. I'll be thinking of you both as I know how difficult this time is for you.
iris
August 05, 2020
So sad to hear of Frank's passing. He was such a character, always with a good story to tell. You could learn a lot from Mr T if you just stopped and listened. RIP Frank. Thoughts and prayers to Mary and family.
Kathy Butzer
August 02, 2020
Dear Mary,
So very sorry for your loss. I remember you and Frank fondly. He was such a great friend of mine during my time at Millersville. When I heard the story of you and Frank getting married, it just fit! I'm certain that the two of you were a great match! It is good to read that you have a family and grandchildren, that will be helpful in the days ahead. Please know that I have thought of you often. May you feel God holding you close as you and your family walk through this difficult time. Blessings to you and the family.
Sally Perry
August 02, 2020
So saddened to hear about Frank's passing. He always had a great story to tell and a ready smile to give. Quite a memorable guy in LAC. My thoughts are with you Mary, Carl and David.
August 02, 2020
Mary, So very to hear about Frank's passing. God bless you. I always admired your and Franks intellect.
Thomas W. Williams III
August 02, 2020
Mary – so sorry to read of your loss — Frank was best man at our wedding in 77 — he gave a wonderful speech – which he agonized over to find just the right words. We spent many an all night session talking about a million things — I think I helped you guys move about a zillion times – life is short – keep making the most of it ….
tom & arlene hassler
August 02, 2020
So very sorry Mary, for the loss of Frank. I always enjoyed working with Frank. He was so very knowledgeable and could speak on any subject, but in a quiet way. Such a nice person. My thoughts are with you and your Family.
Terry Taylor
August 02, 2020
Very sorry to hear of Frank's passing. I enjoyed working with Frank and had many great conversations with him through the years.
Frank Goldman
August 01, 2020
No words can heal the hurt, but please know that you are all in our hearts. Sending our love & understanding of what an incredibly difficult time this is.
Skye & Tom
August 01, 2020
It is said,when you passed from this world, you pass three times. The first is when your physical body retires. The second is when you ascend to the God of your beliefs. The third is when the last person on earth remembers your name. Frank will be remembered.
Eric Disque
August 01, 2020
Mary, Carl and David;
Teri and I wish you the happiness found in the strength of your memories.
with love,Phil & Teri

August 01, 2020
There is little that we learn in life that equals that which we learn after some one is gone from your life,
I will miss Frank because he asked for so little.
Because he always asked questions and because when you looked into his eyes, you realized, he already knew the answer.
Miss you brother, with love Phil
August 01, 2020
Hello Mary!
Loads of love to carry you through this tough time of losing your love, your companion. The painful part of not seeing them for the rest of your life. I pray for your strength and peace for Frank. You are always in my thoughts Mary!
It's wonderful to read about all your memories! That's what will keep him alive…
Sindhu