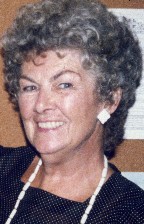 Frances Z. Abel, 86
Frances Z. Abel, 86, of Oak Leaf Manor, formerly of Elizabethtown and Columbia, passed away peacefully surrounded by her loving family on Friday, December 7, 2012 at Moravian Manor. Born in Columbia, she was the daughter of the late Edward C. and Anna (Barth) Ziegler.
Frances was preceded in death by her husband, Harvey D. Abel III in 1993.
Frances graduated from Columbia High School in 1944. She retired as a secretary from ITT Grinnell Corp. in Columbia to pursue her life's calling as a wife and mother.
She was a member of St. Leo the Great Catholic Church and former members of Holy Trinity in Columbia and St. Peter's in Elizabethtown. She was a member of the Council of Catholic Women.
Frances traveled extensively throughout the United States and Europe and she enjoyed playing cards, vacations with her family to OCNJ, watching her grandchildren play sports, and playing bingo at Oak Leaf Manor. She was also a member with the Elizabethtown Traveling Seniors Club, Leisure Club of Mount Joy, and the Hershey AARP.
Frances is survived by her three sons, Richard Z. Abel, husband of Susan, of Elizabethtown, David Z. Abel, of Elizabethtown, Michael Z. Abel, husband of Julie A. of Lancaster, 21 grandchildren, and five great grandchildren. She was preceded in death by her granddaughter Brittany O'Connell.
Relatives and friends are respectfully invited to attend a Mass of Christian Burial on Thursday, December 13, 2012 at 11AM at St. Leo the Great Catholic Church 2427 Marietta Avenue Lancaster, PA 17601 with The Rev. Peter I. Hahn as Celebrant. A visitation will be from 10-11AM at the church. Interment will be in St. Peter's Cemetery Elizabethtown. In lieu of flowers, memorial contributions may be made in Frances's memory to Brittany's Hope Foundation 1160 North Market St. Elizabethtown, PA 17022 or www.brittanyshope.org, a foundation established in honor of her granddaughter, Brittany, which aides special needs children worldwide. To send the family online condolences, please visit SnyderFuneralHome.com. Charles F. Snyder Jr. Funeral Home & Crematory 717-560-5100
Leave a condolence on this Memorial Page
Condolences to the Family
May 04, 2015
Mrs Abel was one of the nicest ladies I have ever known. I used to go fishing with her husband Harvey and her son Richard in the Susquehanna River back in the late 60's. Glad I got to see her one more time before she passed on back in 2010. Steve Chiffriller
To the Able Family; My father and I send our deepest sympathy's to all of you in the passing of Mrs.Abel. She and Harvey were our neighbor's for a number of year's when they lived at 842 North Market Street in Elizabethown. They both were wonderful people and we always enjoyed seeing them while out in the yard or when we'd take a walk in the field's behind the house to look for deer. When Harvey passed away the friendship with Mrs.Abel continued. She had a wonderful sense of humor and was always a joy to talk to. We are saddened to hear of her passing and that our sympathy's are a bit late as we just found out today, Dec.20th,that she had passed away. Mr. and Mrs. Able were great neighbor's and we have fond memories of both. Nate lives in their home now and he continues the tradition of being a great neighbor, just as his grand-parent's were. Bless you all.
Lawrence and Thomas Drybred Elizabethtown,PA
With deepest sympathy at this time of grief and sadness. May memories held in your heart help to soothe and comfort you.
Tom Buske
On behalf of Veritas Medical Solutions please accept our sincerest condolences. Our thoughts and prayers are with you and your family.
I send my deepest condolences to the entire Abel Family.
I know how much Frances meant to all of you. She and Harv were always so kind to me. Many a good laugh with them. May she rest in peace…
Kevin Taliani
We send our sympathies to the Abel Family. Our thoughts and prayers are with you and for your mom.
David and Christina Farrell
My sincere sympathy goes out to Michael, David and Richard and their families.Having been a neighbor of Frans when we lived on Chestnut Street there are fond memories of her and you boys.
Pat Bright
David, sorry to hear about the loss of your mother. Please accept my heartfelt condolences, to you and your family.
Craig Coble
David and Michael, We at Escort send our sincere condolences to you and your family on the passing of your mother. We know she will be missed by all whose lives she touched. May she rest in peace.
Gary Oppito
Fred D'Angelo
Everett Morss
David, Michael and the entire Abel family. I send my sincere condolences to all of you on the passing of your Mother. She most definitely has raised a wonderful family and am sure was very proud of both of you and the rest of her family. My prayers are with all of you during this time. May she rest in peace.
God Bless,
Tony Paradiso
David: My wife Donna and I send our sincere condolences to you on the death of your Mother. She has left a legacy through her children and grandchildren and the Abel-Ziegler influence will continue in the community. We pray that our prayers will support you during this time.
Earl Rishell
Judi and Scott Edwards send our sincerest condolences to the entire Abel Family. We know Frances will be dearly missed as a Mother, Grandmother and Friend to all. May she rest in eternal peace.
God Bless All of You….
Judi and Scott