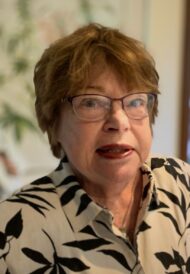 Frances J. Scholl, 71
December 26, 2021
Frances (Fran) Jean Kinson Scholl, age 71, passed away on Sunday, December 26, 2021, at hospice in Mount Joy, PA surrounded by family. She is survived by her loving husband Hans of 40 years, son Major Eric (Laura) Scholl, US Army, daughters Sandra Kyburz and Karin (Steve) Renfer of Switzerland, grandchildren Nick, Shelby, Bode and Lilly and siblings Kathryn Kinson Doughty and David Ross Kinson.
Fran was born in Oak Park, Illinois to David Kinson and Carolyn Sipiora and grew up near South Bend, Indiana. Her wanderlust was strong, and her parents encouraged it. From living in Hawaii and Switzerland to travelling in India and throughout Europe her adventures set the stage for loving and accepting different cultures, which taught her that all people are one. Exploring the world and meeting new people were her passions. Everywhere Fran went she left with a smile and a new friend.
Fran was a proud teacher of over 20 years, creating a positive atmosphere and helping the School District of Lancaster, and then Ephrata Area School District. Teaching was her ultimate gift in life. One of Fran's favorite quotes was: "An education is the gate to anything worth having."
Fran was involved in AAUW and the Book Sale for the Friends of the Lancaster County Library, PTO at Central Manor Elementary School, Town Fair organizer, Cub Scout leader and Unitarian Universalist Church/Sunday school coordinator.
The Scholl family would like to thank HUP/Penn Medicine for giving Fran a new lease on life with a successful heart transplant (2013) and would also like to thank all the doctors, nurses, and helpers who provided Fran the medical support she needed over the years.
In lieu of flowers, please consider a gift of a beautiful book to the Lancaster Public Library, 125 N. Duke Street, Lancaster, PA 17602.
Leave a condolence on this Memorial Page
Condolences to the Family
January 11, 2022
While there's virtually nothing anyone can say or do in the face of losing a beloved wife/mother/sister/grandmother that can make your grief any easier to bear, if it helps at all, please know that many others are thinking of you and feeling for you. I had the privilege of being a colleague and friend of Fran's when she taught at Ephrata Middle School. Her love of teaching was evident and she touched so many lives. I will personally remember most her smile and her wonderful sense of humor.
January 11, 2022

Fran was one of my most favorite people to have known throughout my career as an educator! While Fran had more years of experience, she started working at Ephrata Middle School the same year as I. We bonded as new colleagues and became friends! When she relocated to the elementary, I filled her open position as the middle school's ESL teacher. Fran was such a champion of my choice to take the grad classes for this new certification. I have a fond memory of my husband, Frédéric, and I enjoying a dinner date at the Belvidere with her and her charming husband, Hans! Over the years since her retirement I enjoyed every occasion that has afforded us an opportunity to reconnect. The world has lost a precious individual, but heaven has gained an angel!
January 09, 2022
So sorry for your loss. I remember Fran as a very happy and friendly lady. My deepest sympathy to you and your family. Kyvele Karpouzis
January 01, 2022
So very very sorry to hear of fran,s passing. Fran was one of the first neighbors we met some 30+ years ago when we moved to the neighborhood. Fran always had a smile and generous greeting. God bless Hans and family.
December 31, 2021
To Hans and Family,
Those of us at the Unitarian Universalist Church of Lancaster note with sadness the passing of dear Fran. She was a true blessing to all with whom she came in contact. Our church's religious program was rich because of her involvement. May Peace be yours.
December 31, 2021
Dear Hans, Eric and Family,
Fran's welcoming smile, courage, and positive spirit enriched us. By a glint in the eye she spread her wanderlust, and always there was the sharing of beautiful words. We are grateful for Fran's life and wish you peace in this parting. With love and tears, Peter and Leni Kerekgyarto
December 30, 2021
Hans, Eric, & Family,
We are so sorry to hear of the passing of Fran! She was a wonderful neighbor that my Mom (Ruthann) and Dad (Frank) enjoyed talking to! If you need anything, please don't hesitate to reach out! And Hans, if you need company, just walk across the street to see Frank! He & Bailey (his dog) would enjoy the company!
December 30, 2021
Remembering so many good times with Fran and Hazie as we were settling into our new life in Lancaster. She was a very special person. Sending love💖
Ingrid Vail
December 29, 2021
Hans: So sorry to hear of Fran's passing. She always had a positive way with her. Our prayers and thoughts are with you and the family. Ruby and John Botham
December 29, 2021
I was fortunate to work with Fran when she taught in Ephrata. I recall what a kind, creative, fascinating woman she was.
Diane Penchansky
December 29, 2021
Hans and family,
So sorry for your loss. Fran was a special person whom I always admired. Her teaching skills were exemplary and her kindness to her students was obvious.
Jane Bacon, a former colleague