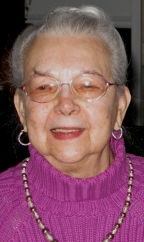 Frances G. Raszl, 83
Frances G. Raszl, 83, of Lititz, passed away on Friday morning at Hospice of Lancaster County in Mount Joy.
She was the wife of Milton R. Raszl, with whom she celebrated 61years of marriage this past December 29th. Born in Ingolstadt, Germany, she was the daughter of the late John and Babette Crusius Heuberger.
Frances had worked as a Registered Nurse at various facilities in the New York City area. She had studied at the Long Island College Hospital.
She was of the Catholic faith, and was a member of the Lancaster Liederkranz.
In addition to her husband, Frances is survived by her 2 daughters: Barbara married to Rolf Kaumann of Colts Neck, NJ, and Frances Otremba of Queens, NY; and by her 5 grandchildren: Michael Otremba, Rolf R. Kaumann, William Kaumann, Kaitlyn Otremba, and Jillian Otremba, married to Jeffrey Anderson.
Services will be private. Contributions may be made in Frances' memory to Hospice of Lancaster County, 685 Good Drive, Box 4125, Lancaster, PA 17604-4125. Arrangements by the Charles F. Snyder Funeral Home and Chapel, Lititz 560-5100. To send an online condolence, please visit www.snyderfuneralhome.com
Leave a condolence on this Memorial Page
Condolences to the Family
August 14, 2020
I remember my AUNTY and UNKY Well. I remember Barbara, Francy and Ralph, I Remember my Aunty teaching me how to wash up before dinner and to ALWAYS DRY MY HANDS PROPERLY, THE WAY ONLY SHE COULD OF TAUGHT ME, Funny the things we remember. Barbara ALWAYS doing office work, Unky always in the shop and disagreeing with Richie while Grandpa seemed to ALWAYS make it right between the two of them, it's a SHAME TO REMEMBER ALL THE ARGUMENTS, FIGHTING, DISAGREEMENTS THEY HAD… PICTURE WE ALL STUCK TOGETHER IN OUR PERSONAL LIVES.. THIS RASZL FAMILY COULD OF ACCOMPLISHED ANYTHING!!! ANYTHING..
Will ALWAYS REMEMBER MY AUNTY AND UNKY IN MY OWN WAY, WILL ALWAYS MISS THEM AND LOVE THEM. GOD BLESS YOU BOTH.
Michael Raszl