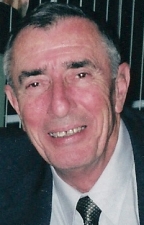 Filippo Raia, 70
Filippo Raia, 70, of Mount Joy, PA, passed away on Wednesday evening at Lancaster General Hospital.
He was the husband of Eda P. Bonosoro Raia, with whom he would have celebrated 51 years of marriage this coming September 18th. Born in Palermo, Sicily, he was the son of the late Francesco and Guisepina Raia.
Filippo had worked for the General Dynamics Corporation in Quincy, MA for 25 years until his retirement in 1989.
He was of the Catholic faith.
He served in the Italian Merchant Marine in 1956 at the age of 18, which led to him coming to the United States. After sailing for nearly a year and just missing being bombed in the Suez Canal, Filippo jumped ship and swam to the nearby US shores. Soon after he became a US citizen.
A very talented craftsman, Filippo was able to make all types of things. He liked to travel, and was an avid soccer fan.
In addition to his wife, he is survived by his 3 sons: Anthony married to Lori Raia of Haverhill, MA, Filippo II married to Rose Raia of East Petersburg, PA, and Mathew married to Natalie Raia of Tewksbury, MA; and his 18 grandchildren. He was preceded in death by his son, Francesco G. Raia.
All services and interment will be held in Massachusetts.
Arrangements by the Charles F. Snyder Funeral Home, Lancaster 393-9661. To send the family an online condolence, please visit www.snyderfuneralhome.com
Leave a condolence on this Memorial Page
Hello, my name is Regina Carroll. I was one of the Patient Care Assistants that cared for Filippo during his stay at Lancaster General Hospital. He was a great patient, and we cared for him very much. We enjoyed very much the time we were able to spend with him. He taught myself and one of the nursing students how to play poker, and took walks with us and talk about anything. He watched us catch a bug one night and was very entertained by our methods of capture. He even offered to step on it for us and clean it up! I am personally glad to have had the opportunity to care for Filippo, and I know that the rest of the staff also was happy to give him all the care we could. I believe everyone on my unit will agree with me when I say that our prayers and thoughts have been and will continue to be with you.
God bless,
Regina Carroll
Hi my name is Patty Rutter , I got to know Filippo when he worked with my dad at the auto auction. He was such a sweet and caring man. My dad spent a lot of time in the hospital and missed a lot of work. Filippo always called to see how he was and stopped by the hospital often to visit him. He told me so much about his family, he loved all of you so much!! I am honored to have known him and will always remember him fondly. My prayers are with your family at this difficult time!!
God Bless You!
Patty Rutter