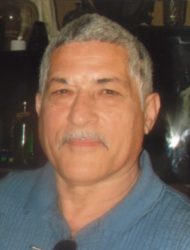 Felix Ramos Garcia, 75
March 30, 1945 - March 29, 2021
Felix Ramos Garcia, 75, of Lancaster, passed away at his home surrounded by family on Monday, March 29, 2021. Born in Ponce, Puerto Rico, he was the son of the late Felix Ramos Torres and Maria Luisa Garcia. Felix was the beloved husband of Norma (Melendez) Ramos, celebrating 54 years of marriage last September.
Felix moved to Lancaster, PA in August, 1966 with his family. He married his wife Norma at St. Mary's Catholic Church on September 17, 1966. He was one of the founding fathers to help bring Spanish Catholic Masses to Lancaster. After moving Spanish masses between St. Mary's church and St. Anthony's church for several years, he was asked to assist the Diocese of Harrisburg in the selection and purchase of San Juan Bautista Catholic church. On June 4th, 1983 he was ordained a Catholic Deacon by Bishop William Keeler. He served the Lord through his service towards others, as a Deacon for the last 37 years.
He spent time as a Missionary in South America, he was a member of the Holy Name Society, Knights of Columbus, Charismatic Prayer committee, Festival committee, Youth camps, along with many more as Felix always sought and answered every need.
Felix was a master craftsman at Sun Room Company for 20 years. A man of the community, he was also a self-employed carpenter, whose business lasted over 20 years. His expertise in carpentry, framing and roofing, specifically targeted the Lancaster community for thousands of projects throughout his life. He also volunteered his service to church and others throughout his life performing facility improvements, while teaching others his craft. In 2007, he completely lost his home to fire and personally rebuilt it within a year.
Felix Ramos Garcia was a humble and generous man who loved and was loved by all who came in contact with him. He planted seeds in the lives of others that grew as strong relationships. He was a servant of the Lord and of those around him. His work ethic, character and love made him find success and teach success. Those in this world those who were fortunate enough to be impacted by him are making it a better place and will continue to make it better, as his lessons are passed on to future generations………"Be humble, give your best, forgive, give, love, appreciate family, look for the best in others…and make sure that my beautiful wife, Norma, is OK".
Along with his wife, Norma, Felix is survived by five children: Felix Ramos, Jr. of West Chester, Luis Ramos of Frackville, Jose Ramos of Florida, Freddy Ramos and his wife Anna of Lancaster, and Angie Ramos and her companion Abimael Vargas of Lancaster. Also surviving are 16 grandchildren, 15 great-grandchildren, 8 sisters, and 4 brothers.
A viewing will be held from 6 – 8 PM on Monday, April 5, 2021 at San Juan Bautista Catholic Church, 425 South Duke Street, Lancaster, PA, 17602. A Mass of Christian Burial will be held at 10 AM on Tuesday, April 6, 2021 at the church with Father Luis Rodriguez as Celebrant. Entombment will follow at Conestoga Memorial Park. In lieu of flowers, contributions in Felix's memory may be made to San Juan Bautista Catholic Church at the above address.
Leave a condolence on this Memorial Page
Condolences to the Family
April 06, 2021
So very sorry for your loss but I guess our Lord needed him in heaven. May he rest in peace and know that he will always be looking out for you.
Cathy Tomasichio
April 06, 2021
Mi mas sentido pésame para Norma, sus hijos, hermanos, sobrinos nietos y cuñados, Felo fue muy querido por todos, lo vamos a extrañar pero tambien lo recordaremos con mucho cariño, ruego a Dios mucha fortaleza para todos, savemos que no es facil pero con la ayuda de Dios todo va a estar bien, vendiciones para todos y que descanse en paz mi querido padrino de boda, y cuñado Felix Ramos Garcia.
Yolanda Ramos e hijos
April 06, 2021
My Tio Felo was a great man and a family man. Hard worker and always made everybody laugh. Very caring an loving guy. He will be greatly missed. He's is now joined with my father and his parents an other sibling. My prayers are with the family.
Jose Ramos
April 05, 2021
My deepest condolences to Norma , their kids and the family, May the lord receive Feliz Ramos in his arms and continue to bless the family, Sorry for your loss 💔
Blanca Colon
April 04, 2021
Loved having Felix and Norma as neighbors. I was sad to see them move because he put new shingles on my roof and fixed my siding . Felix was a true gentleman and a friend . Rest in peace Felix. I will miss you.
Lorraine Allison
April 04, 2021
My condolences to the Ramos family. May Felix rest in peace. Many blessings to you.
Millie Rodriguez
April 02, 2021
Señora Norma Ramos, Felix Jr., Luis, Jose, Freddy, Angie, I am so sorry for your loss. My most sincere sympathy. He was an extraordinary person, expressed love, shared interest in youth development, humble, helped those in need, a true soldier of God. My prayers, my blessings upon the family, and for sure, Jesus has wide open arms for his arrival. God bless you through this difficult time.
-Lourdes
April 02, 2021
What a sweet sweet man so dedicated to his wife and family and church. My condolences to the Ramos'Family he will be included in my prayers for him an Family.
April 02, 2021
Our thoughts and prayers are with you all. I remember him kneeling on the sidelines at basketball games cheering on his grand daughters with a big smile on his face the whole time. He just exuded light and happiness. You couldn't help but smile along with him. May he Rest In Peace.
April 02, 2021
Tio, te quiero mucho y ya nos haces falta. Que en paz descanse. Love José
April 02, 2021
Coach Freddy and family deeply sorry for your loss. Praying God's mighty hand will give you comfort as you grieve.
Visitation

Monday, April 05, 2021
6:00 PM - 8:00 PM
San Juan Bautista Catholic Church
425 South Duke Street
Lancaster, PA 17602

Map and Directions

Services

Tuesday, April 06, 2021
10:00 AM
San Juan Bautista Catholic Church
425 South Duke Street
Lancaster, PA 17602

Map and Directions