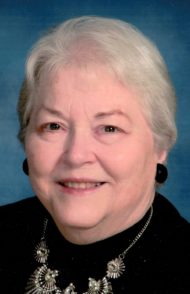 Fanny Ruth (Snyder) Reider, 84
January 14, 2021
Fanny Ruth (Snyder) Reider, 84, of Lancaster, PA, passed away on Thursday, January 14, 2021. Born in Florin, PA she was the daughter of the late Kathryn Eshelman (Zug) and Elmer Rupp Snyder. She was the beloved wife to the late Paul F. Reider who passed in 2014.
Fanny graduated from East Donegal High School. She was an active member of First Baptist Church in Lebanon, PA. Fanny was a talented pianist, whom played by ear. She enjoyed making ceramics and spending time with her beloved classmates, whom she maintained monthly meetings with until recently. Most of all, she cherished spending time with her family, especially her grandsons: Sam and Daniel.
Fanny is survived by her son, Douglas P., husband of Susan K. Reider of Ontario, Canada; her grandsons: Samuel D. of Petersburg, KY, and Daniel F. Reider of Clarks Summit, PA; her sister Vivian Z. (Snyder) Ziegler of Lititz as well as many nieces and nephews. She was preceded in death by her brothers: Charles B. and Paul Z. Snyder as well as an infant brother Christian Bernard Snyder.
A viewing will take place Monday, January 18, 2021 from 2PM-4PM at the Charles F. Snyder Funeral Home and Crematory, 3110 Lititz Pike, Lititz, PA 17543. A Funeral Service will be held on Tuesday, January 19, 2021 at 1PM. Family and friends will be received from 12Noon until the time of service. Covid restrictions will be in place. The service will be available on-line at the church's website (fblebanon.org) within a few days. Interment will at Chiques Church Cemetery, Manheim, PA.
In lieu of flowers, memorial contributions can be made to Word of Life Fellowship, PO Box 600, Schroon Lake, NY 12870 with the designation "for the ministry of Doug and Sue Reider".
Watch the tribute video
Leave a condolence on this Memorial Page
Condolences to the Family
January 18, 2021
I wrote in my blessings book last Thursday, 1/14 – Fanny is with Jesus!! I remember when I first met Fanny at First Baptist Church years ago. She didn't realize that I had been coming to First Baptist Church for several years and I hadn't seen her very often and thought she might be a fairly new attender. We both laughed and she said "well we've met each other now". In the past I enjoyed her piano selections during Offertory and she also sang with other ladies during the Music Ministry. We weren't close friends but I appreciated her monthly work for the church newsletter and at special times of the year, we would email each other. Such a sweet lady!! I'm sure there was a specialy reunion with husband, Paul!
Anita White
January 18, 2021
I am deeply touched by my dear friend Fanny passing on to a new life with our heavenily Father. She knew and truly love our Lord and Savour Jesus Christ. We often spent many moments talking about our life, faith and departure from this world. She was a wonderful person and very caring friend. She will be greatly missed. With loving thoughts. Eric.
January 18, 2021
I am saddened by your loss. Fanny was a neighbor in Maryland and when we moved away we remained friends through e-mail. I enjoyed her "posts" very much. God bless!
Eunice Carney
January 17, 2021
This past week I was sadden to hear of Fanny's passing.
A dear Christian friend
Always , emails back & forth weekly.
Mary L. Harvey
January 17, 2021
Fanny and I were first cousins. We had fun playing together when we were little kids, and our families got together. 70 years later Fanny, Vivian, Arlene and I would meet for lunch in Lititz now and then. It was always a treat for us 4 cousins to "catch up" with news of our activities and our kids. In recent years we were only able to communicate via E-mail….Fanny always remembered my birthday. She will be missed by many friends and family. Love and sympathy to Doug and Sue. Allegra Forney Sanner🎶
January 16, 2021
I am saddened by the loss of Fanny. She was a friend for years in Maryland and our friendship via emails has carried us through. Her testimony for the Lord was steadfast. My sympathy to her family. Barbara Owczarski
January 16, 2021
Fanny was an amazing friend. Enjoyed many Bible studies at her home on Tuesday mornings. Also had many fun times with her at Ladies retreats. She will always have a very special place in my heart. Sending hugs and prayers to her family and all who were blessed to know and love her.
January 16, 2021
Doug, Sue, Sam, and Daniel,
Our thoughts and prayers are with you as you grieve the loss of Fanny. I have such fond memories of her and your family. Doug, you and I have known each other since birth, we were born just a few months apart and many of my fond childhood memories involve you and your parents, from Halloween parties to Friday game nights ~ the Mille Bornes card game comes instantly to mind and the square game board/table! Easter egg hunts, Christmas parties; the list goes on and on! Fanny always had a smile on her face and laughter soon to follow! Most importantly she knew the Lord and her life reflected that. May God comfort you as only He can during this time.
Visitation

Monday, January 18, 2021
2:00 PM - 4:00 PM
Charles F. Snyder Funeral Home & Crematory
3110 Lititz Pike
Lititz, PA 17543

Map and Directions

Visitation

Tuesday, January 19, 2021
12:00 PM - 1:00 PM
First Baptist
20 Linden Rd.
Lebanon, PA 17042

Map and Directions

Services

Tuesday, January 19, 2021
1:00 PM
First Baptist
20 Linden Rd.
Lebanon, PA 17042

Map and Directions