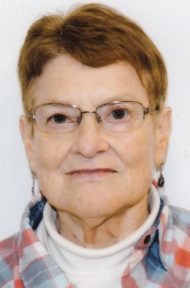 F. Suzanne Weaver, Ph.D., 70
March 05, 2017
F. Suzanne Weaver, Ph.D., 70, of Lancaster, PA, passed away on March 5, 2017 at her residence. Born in Newport News, VA, she was the daughter of the late William Paul Weaver & Irene (Litter) Weaver.
Suzanne was a clinical psychologist for 44 years. She loved her profession & specialized in combat PTSD veterans, especially with Vietnam veterans. Suzanne also trained horses, but loved all animals.
Surviving is a nephew, William "Paul" Weaver of Lancaster; and her caregiver, Ronita Weise also of Lancaster.
In addition to her parents, she was preceded in death by a brother, William "Bill" Paul Weaver, II.
A Celebration of Suzanne Weaver's Life will take place from 3-5 PM on Saturday, July 22, 2017 at the Charles F. Snyder, Jr. Funeral Home & Crematory, 3110 Lititz Pike, Lititz, PA 17543. There will be a Time of Sharing Memories and a Balloon Release in Honor of Suzanne.
In lieu of flowers, contributions may be made to the Lancaster County SPCA, 848 S. Prince St, Lancaster, PA 17603 or to the PA Wounded Warriors, Inc., 1117 Country Club Rd, Camp Hill, PA 17011.
Leave a condolence on this Memorial Page
Condolences to the Family
April 17, 2017
I remember metting Suzanne in grade school when we went to Granby Elementary. She was always so likeable and so sorry she passed away.
Judy Lowe Clarke
March 15, 2017
My deepest condolonces to the family. I was priviledged to work with Dr. Weaver for many years both thru Coatesville VA and Lancaster clinic. She was as devoted to her veterans as they were to her. She was as dedicated as a Mental Health provider as anyone could ever hope for. Her love for veterans is only surpassed by her love of animals. She will be dearly missed.
Patty Swinehart
March 12, 2017
Paul, I am so sorry for your loss. It is hard to believe that Suzanne is gone. Her zest, vitality, and love of animals are what I so fondly remember. I've known Suzanne since we were in the 7th grade. We grew up together in Norfolk, with all of the changes of the 50s and 60s playing a big part in our daily lives. Both from "Navy families," we were both drawn to service careers and always have cared deeply for the spectrum of contributions the military has made to American society. I miss you and your wonderful humor Suzanne. Who else but you would name a black cat "Spot?"
My love, your friend, Susan Lee Bales (Susie), Wilmington, NC
March 12, 2017
Thank you for helping this veteran Dr. Weaver. You will not be forgotten. Some people the world cannot live without. You are one of those people who made a good difference for veterans. Blessings to all your family at this time of loss.
Margaret E Ronner
March 12, 2017
dear suzanne,
I wish I could have visited more with you . I shall miss you terribly. You had such a beautiful nature and caring way about you
Goodbye dearest cousin I 'll remenber the times we shared together . .
All my love…..
your NY cousin.
mimi

Services

Saturday, July 22, 2017
3:00 PM - 5:00 PM
Charles F. Snyder Funeral Home & Crematory
3110 Lititz Pike
Lititz, PA 17543

Map and Directions