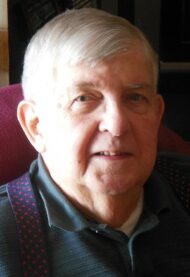 F. James Loose, 91
December 26, 2021
F. James Loose, 91, of Lititz, died on Sunday, December 26, 2021 at Luther Acres. He was married for 56 years to H. Joanne Eberly Loose who died in 2011.
Born on October 9, 1930 in Hopeland, PA, Jim was the son of the late Charles E. and Carrie W. Loose. Jim was a 1947 graduate of Ephrata High School and 1957 graduate of Franklin and Marshall College. He was in Army Corps of Engineers from 1952 to 1954, serving 14 months in Korea.
Jim worked in the Prudential Insurance Company Home Office and their Lancaster Sales Office. He was also in sales management with New York Life and Union Central Life Insurance Companies. In 1975 Jim and his wife bought and operated the former Golden Dipper restaurant in Neffsville and later the former Family Kitchen in Ephrata. In 1988 he sold the restaurant business and worked for Lititz Farmers Bank in Manheim until retirement in 1995.
Jim circled the globe while in the Army and he and Joanne traveled through all 50 states with 8 trips to Hawaii, their favorite destination.
Jim's love of baseball started early in his life and continued all these years. As a teenager he was a member of 3 different baseball teams and a softball team, playing 7 days a week. In the Army, Jim was on a softball team that won the All Far East Championship in Japan in 1953.
Survivors include his 4 sons: James E. Loose of Ephrata, John A married to Karen Loose, David C. married to Melissa Loose, and Edward "Ted" D. married to Pamela Loose, all of Lititz; his 6 grandchildren: Eric, Kelly, Julia, Jessica, Kristen and Jacob; and his brother Larry L. Loose of Ephrata. He was preceded in death by a sister, Patricia A., wife of J. Ronald Witmer.
A Memorial Service will be held at Luther Acres Chapel at 600 E Main Street, Lititz, PA 17543 on Saturday, January 8, 2022 at 11:00 AM. Friends will be received at the Chapel one hour prior. In lieu of flowers, donations can be made to Hospice & Community Care at 685 Good Drive, Lancaster, PA 17604 or www.hospiceandcommunitycare.org
Watch the tribute video
Leave a condolence on this Memorial Page
Condolences to the Family
January 13, 2022
So very sorry to learn of Jim's passing. He and I were the pitchers on the Ephrata H. S. and Legion baseball teams back in the late forties. I was so glad I never had to face that famed knuckleball. I was in Korea the same time as Jim but our paths never crossed there. He was a great guy and all of you have our sympathies. Bill and LaVerne Hyman
January 12, 2022
Jim, John, Dave and Ted, I'm so sorry to read about your dad's passing. I have so many fond memories of The Golden Dipper to Haverhill Road. Thinking of you all. Kim
January 12, 2022
To the Loose boys and family.
I knew your Dad through the years, went to high school with Ted and ate at the Golden dipper with my Dad, Carl Barto. Dad visited with him often thru the years. In recent years, he resided a few doors down from my mother, Edna, at Luther Acres. He would always talk to my mother, sister Tracey, and I at length when we visited. Always wanted to know about my life in Colorado. I bought his book, Loose Ends, which was an enjoyable read. I will miss his smile and engaging personality.
Kori Barto
January 08, 2022
Wonderful family. The service was perfect today!
January 04, 2022
Our thoughts and prayers are with the Loose family, Reg and Barb Doster
January 03, 2022
We were so sorry to hear of your Dad's passing. Your parents (& family) were always so friendly – we lived across the street on Haverhill Rd. Know you are in our thoughts and prayers.
Bill & Sharon Bonner
January 02, 2022
So sorry to hear about the passing of your dad. I remember him your mom and Daisey when we lived next to your family. My thoughts and prayers are with all of you and your families. Maureen Sylvain next door neighbor on Haverhill Road.

December 31, 2021
Sincerest condolences to Jim's family. We are very sorry to hear of your loss.
December 31, 2021
To the Loose family
Sorry to hear of the loss of you father. He and your mother were good friends and neighbors to my parents (Leroy and Mary Alice Boyer) on Haverhill Road. We lost our dad a little over a year ago. My thoughts and prayers are with you all.
With deepest sympathy Mandy (Boyer) Enterline
Visitation

Saturday, January 08, 2022
10:00 AM - 11:00 AM
Luther Acres Chapel
600 E Main Street
Lititz, PA

Map and Directions

Services

Saturday, January 08, 2022
11:00 AM
Luther Acres Chapel
600 E Main Street
Lititz, PA

Map and Directions