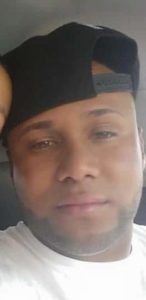 Eugenio Morales-Torres, 33
July 28, 2020
Eugenio "Juni" Morales-Torres, 33, of Lancaster, passed away unexpectedly on July 28, 2020. Born in Humacao, Puerto Rico, he was the son of Eugenio Morales-Tirado and Nylsa V. Torres-Rodriguez. He was also the loving companion of Marangelly Leon.
Juni loved life and loved his family. He enjoyed jet skiing with the Los Paleteros, fixing and customizing cars, playing Playstation, and watching and playing baseball and basketball. He was an avid fan of Lebron James and followed his career for many years. Most important to Yuni was his family. His family meant everything to him. Sharing in his joys and being with his family, is what he looked forward to.
He will be sorely missed by his father Eugenio, mother Nylsa, companion of Sixto Cruz, of Lancaster, companion Marangelly, children; Jadiel and Jadiely, siblings; Karla Luciano and Erik Morales-Torres, both of Lancaster, and maternal grandmother Abigail Torres, of Lancaster. He was preceded in passing by his maternal grandfather, paternal grandparents, and uncle, Emilio Torres.
A graveside service will be held at Mellinger Mennonite Cemetery on Wednesday, August 12, 2020 at 10AM.
Eugenio "Juni" Morales-Torres de Lancaster, falleció inesperadamente el día 28 de Julio del 2020. Nacido en Humacao, Puerto Rico, fue el hijo de Eugenio Morales-Tirado y Nylsa V. Torres-Rodríguez. Él fue también el compañero amoroso de Marangelly León.
Juni amaba la vida y amaba su familia. Disfrutaba del motociclismo acuático junto a Los Paleteros, el arreglo y personalización de carros, jugar PlayStation y mirar y jugar béisbol y baloncesto. Fue un ávido fanático de Lebron James y seguidor de su carrera por muchos años. Más importante para Yuni fue su familia. Su familia significaba todo para él. Compartir sus alegrías y estar con su familia era lo que Yuni siempre ansiaba.
Yuni será dolorosamente extrañado por su padre Eugenio, su madre Nylsa –compañera de Sixto Cruz- de Lancaster; su compañera Marangelly, sus hijos Jadiel y Jadiely; sus hermanos Karla Luciano y Erik Morales-Torres, ambos de Lancaster; y su abuela materna Abigail Torres.
A él le preceden en fallecimiento su abuelo materno, sus abuelos paternos y su tío Emilio Torres.
Se llevará a cabo un servicio en la tumba en el Cementerio Menonita Mellinger, el día 12 de Agosto del 2020 a las 10:00 am.
Leave a condolence on this Memorial Page
Condolences to the Family
August 10, 2020
Yo te conocí trabajamos juntos en wollmar , fuiste al cumple de mi hijo con tu amigo y esposa tomamos y conversamos, un chamaco elegante , mis condolencias a su familia EPD
Manuel Corrales
August 07, 2020
Te conoci cuando trabajamos juntos en Dart , eras un hombre maravilloso, muy humilde y muy trabajador ademas de muy dulce con todos aali en la Fabrica, con una enorme sonrisa, siento mucho tu partida, le pido a Dios que le de fortaleza a tus padres y a tus hijitos para que puedan continuar en esta vida que es tan impredesible. RIP Descansa en Paz
Felisa Jimenez
August 05, 2020
Mis condolencias para toda la familia, Dios les de paz, consuelo y mucha fortaleza en estos momentos tan dificiles.
María Ortíz Martínez
August 05, 2020
Mi mas sentido pesar por la perdida de mi sobrino juni que RIP Lo voy a estrañar
Hector Daniel Torres
August 05, 2020
Me uno al dolor de la familia pues Yuni era muy especial. Siempre he dicho que la familia no la hace la sangre si no los momentos compartidos y el cariño. El negrito de los ojos lindos como cariñosamente te llamaba. Vuela alto Yuni. Y que Dios te conceda el descanso eterno y tú familia la fortaleza para sobrellevar esta pérdida.
Diany Lugo Joshuan y Jesuan Morales
August 04, 2020
MY CONDOLENCES TO THE ENTIRE FAMILY.WIFE,MARANGELY & KIDS.RIP .JUNI.A WONDERFUL FRIEND. PEACE.
Milly Sepulveda
August 04, 2020
Siempre te recordaremos siempre. No hay nada que pueda defender este dolor, pero se que la fortaleza de Dios darnos el conforte. Que Dios te tenga en su Brazos te extrañamos Juni. Love you always
Tio Andre's y titi Nory

August 04, 2020
Que descases en pas . ☝️
Adrian Ramos