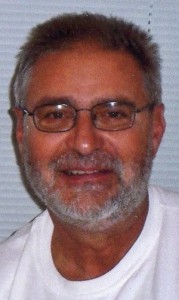 Eugene Alfonso, 65
October 12, 2014
After an impetuous battle with cancer, Eugene Alfonso died on October 12, 2014 in Lancaster, PA at the age of 65. He leaves behind his wife of 44 years, Carmelina Alfonso.
Gene was born in Manhattan, NY to the late Anthony Alfonso and mother Theresa (Grassi) Alfonso. Gene graduated from Wayne Valley High School in 1967 and married Carmelina in 1970. He worked for the Deluxe Corporation in New Jersey for 25 years. Upon his retirement, the couple moved to Lancaster to be closer to their only son and help care for their only grandson.
Gene was a generous and friendly gentleman. He enjoyed spending the winters in Fort Myers, FL relaxing by the pool. He looked forward to watching football on Sunday afternoons, especially when the New York Giants played. Gene loved the game of golf and certainly loved his dog, Charlie. He was a loyal fan and cheered for his grandson at numerous HAMS football and Hempfield lacrosse games. His positive support and enthusiasm will be missed.
Gene is survived by his wife Carmelina and son, Michael as well as daughter in law, Melissa and grandson, MJ; his mother Theresa (Grassi) Alfonso; his brother, Dennis Alfonso, husband of Joan Christine and their family, Erica and Stefanie.
The family would like to thank the staff of LGH and the Ann B. Barshinger Cancer Institute for their attentive treatment and sincere compassion for the family. They would also like to thank their friends and family for the love and support during this time.
A Memorial Service is planned for the spring.
Leave a condolence on this Memorial Page
Condolences to the Family
December 22, 2014
Dear Mike and family,
Steve and I just heard of your dear dad's passing. We somehow hadn't heard until today. We remember your dad well from all of the games — lacrosse and midget football. We send our sincere sympathies to you and yours.
Love,
Chris and Steve Blair
October 26, 2014
We are so sorry to hear about Gene's passing. What a great Guy! We always enjoyed and looked forward to seeing he and Carmen at Football and LaCrosse games. A class act – always cheerful and helpful, a pleasure to be around, and a dedicated family man who will certainly be missed.
– The Morrow Family
October 21, 2014
Gene was a great guy, he will be missed by all his friends at Hidden Gardens Fort Myers Fl. We will miss seeing him walk Charlie around our complex.
Frank and Dee Ungar
October 19, 2014
I am so sorry to hear about Gene. I always enjoyed talking to him and he also was,a caring listener. He was always proud to talk of his family and most often his grandson.He was very proud of him. But you all know that!I will miss seeing him. Love Kim (Manor West Barbers)
October 19, 2014
Hi Carm,
i was so sorry to hear about Gene, you two were two of my favorite customers. My thoughts and prayers are with you and your family.
Sharon Gorski
(was the grey haired teller at PNC Centerville)
October 19, 2014
My condolences to your entire family for your loss. My thoughts and prayers go out to all of you.
Beth Brandt
October 19, 2014
Gene was a model family man and friend. He was cheerful, helpful and kind-always. We will miss him and will never forget him. Our deepest sympathy to his family and friends.
jill and Gary Peterson, Vienna, VA
October 18, 2014
My condolences to the family on the loss of your loved one, Eugene. May your fine memories of him bring you comfort. It is my hope that Jehovah God's promise found in the Bible book of Acts 24:15 where we are assured that "there is going to be a resurrection" bring you peace. W. Alston
October 18, 2014
We will deeply miss seeing Gene with his bright smiling walking Charlie in the neighborhood. He always loved to stop and speak to our son. Our thoughts and prayers are with the Alfonso family.
Love,
The Rivera Family
October 17, 2014
Are deepest sympathy from the Ober family.