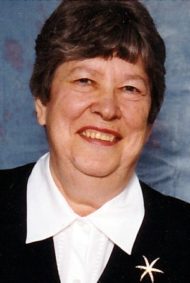 Esther U. (Ulrich) Watts, 86
July 28, 2018
Esther U. (Ulrich) Watts, 86, of Lititz, passed away on Saturday, July 28, 2018, at Hospice & Community Care, Mount Joy. Born in Manheim, she was a daughter of the late Clayton and Katie (Snavely) Ulrich. She was the loving wife of John Watts, Sr. who passed in 2005.
Esther enjoyed cooking, gardening, travelling, and spending time with her family. Following retirement after 39 years at Warner Lambert, she kept active by playing water volleyball, working at SKH, and serving as the unofficial "social director" at Luther Acres. Esther was a Steward at St Paul's EC Church in Rothsville. She always helped those in need, put others' wishes before her own, and will be remembered by many for her hospitality and caring nature.
Esther is survived by her children: John Watts, Jr. (Gail) of Lititz, Sherlyn Weidman (Kirby) of Denver; her seven grandchildren: Erick, Jaimie, John III "Trey", and Renee Watts and Justin and Megan Weidman; her two great-granddaughters: Ariana and Sheena, her sister, Grace Yost of Lititz, and a close friend Richard Musser of Lititz. In addition to her husband, she is preceded in death by her brothers: Roy S. and Martin Ulrich, her sister Mae Kline and her half-brother Clarence Nauman.
In lieu of flowers, memorial contributions may be made to Hospice and Community Care, 685 Good Drive, Box 4125, Lancaster, PA 17604.
Interment will be private at the convenience of the family. There will be a Celebration of Life service at St. Paul's EC Church on Sunday, Aug. 19 at 6:00 pm
Leave a condolence on this Memorial Page
Condolences to the Family
November 13, 2018
I was Esther's primary care doctor for just a short time. I had the awful task of telling her about her illness. She was gracious, and kind, and had a wonderful sense of humor. Her smile was infectous. Her determination was legendary. I did not know her for long, but she has made an indelible impression on me, and in our office. She is missed dearly. My deepest condolences to the family. She will always be with you. Close your eyes, sit quietly, and you will hear her laughter.
August 17, 2018
From Sue Fry: I wanted to express to John, Sherlyn, the grandchildren and all of Esther's family my sincerest condolences about the death of your mother/grandmother and my dear friend, Esther. Esther was very special to me. We moved in to Luther Acres together 17 years ago as next-door neighbors, and we quickly became very close. Esther was always kind and extremely generous, and I will really miss her. All my love to you.
August 10, 2018
Hello, John, Sherry and Families! Jim and I lived next door to you and your parents on Lemon Street in Lititz with our two boys, Steve and Brian, from Aug. 1971 – Dec. 1974 and have chatted with your mother often at Stauffers grocery store. We have been praying for her and for you all, since she told us of her illness and are sorry for your loss but we're thankful she was ready to meet Jesus, in person! We continue keeping all of you in our prayers, as you adjust to her home-going to be with her Lord! May the Lord give you wisdom and strength as you make decisions and carry on in the Lord's plan for each of you. Blessings, love and prayers, Jean Bednar – for Jim and family
August 03, 2018
I worked with Esther at Stauffers. She always had a smile and a laugh for me. She will be missed. Thoughts and prayers to her family and friends.
Jon

July 31, 2018
We send our sincere condolences to Aunt Esther's family. from the family of Dave Watts, Ephrata. Aunt Esther was always a positive, uplifting influence in my life, as will be my memories of her.
Services

Sunday, August 19, 2018
6:00 PM
St. Paul's EC Church
2120 Main St.
Lititz, PA

Map and Directions