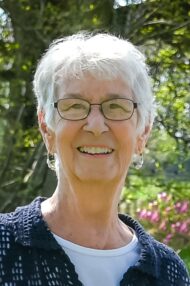 Esta E. Denlinger, 86
August 24, 2022
Esta E. Denlinger, age 86 was welcomed into Heaven by our Heavenly Father on Wednesday, August 24, 2022. Esta was married for 66 years to the love of her life, Jere H. Denlinger. They made their home in Marticville.
She was the daughter of the late Clarence and Marian Shaub. Surviving Esta is one sister, Dorothy Huber. In addition to her husband and sister, Esta is survived by her 7 children, Jill Groff (wife of Tim Groff); Mike (husband of Jann); Jeff (husband of Ann); Judy Hertzler (wife of Marc Hertzler); Tom (husband of Sue); Eric; and Kyle (husband of Jeanene), 17 surviving grandchildren and 18 great grandchildren.
Esta was preceded in death by 4 brothers and 2 sisters: John Shaub, Maris Shaub, Ben Shaub, Ross Shaub, Mae Hershock and Belva McClune. It was with great sadness Esta and Jere saw their grandson; Noah, precedes them in their life. Esta and Noah are now reunited and what a celebration.
Esta was a long-time member of the Worship Center. Esta also taught Sunday School and Vacation Bible School at the Marticville United Methodist Church.
Esta enjoyed making our house in Marticville a warm, welcoming, loving home for her husband, her family, her extended family and friends, with many holiday celebrations, picnics and lots of wonderful meals, fellowship and always with lots of love, laughter and joy.
She loved her husband, children, her grandchildren and great grandchildren, who brought her such joy, she was a beautiful woman of God, she had incredible faith, and was a wonderful prayer warrior. She also enjoyed knitting, gardening and her flower beds. She will be greatly missed by her family, her sister, many nieces and nephews, friends and neighbors. She is now in her Eternal Heavenly Home.
A Celebration of her Life will be held at the Worship Center, 2384 New Holland Pike, Lancaster PA on Wednesday, September 21, 2022. Visitation at 10:00 am and service at 11:00 am.
Please kindly refrain from sending flowers. Your thought, prayers and visits will be and have been greatly appreciated. If you feel you would like to make a memorial contribution, Children's Miracle Network and St. Jude's Children's Hospital have been very dear in the heart of both Jere and Esta.
Leave a condolence on this Memorial Page
Condolences to the Family
December 05, 2022
I wish i would have seen this sooner! My heart goes out to the Denligner family!
Kim (Detwiler) Mellinger
September 11, 2022
Dear Jere and family,
We are sending you our deepest sympathy on the Home Going of Esta.
Love and prayers from Jim & Suzie Fry
September 11, 2022
We were fortunate to have Esta as our neighbor when we lived on Frogtown Rd We send our condolences to Jere and the family
Mary & Lee Rhodes
September 11, 2022
So sorry for your loss she was such a great and loving women My thoughts and prayers are with your family
Services

Wednesday, September 21, 2022
11:00 AM
Worship Center
2384 New Holland Pike
Lancaster, PA 17601

Map and Directions