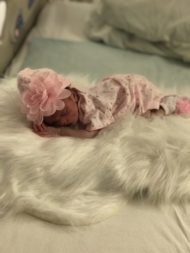 Esmerleny Tobias-Cespedes
September 05, 2018
Esmerleny Tobias-Cespedes, infant daughter of Glenny Cespedes of Columbia and Felex Tobias of the Dominican Republic, passed away on Wednesday, September 5, 2018 at Women's and Babies Hospital. Esmerleny was deeply loved by her parents, her aunt; Darleny Cespedes of Columbia, her uncles; Jesus and Heriberto Cespedes also of Columbia, as well as her maternal grandparents; Juan Cespedes and Martina Ramos, both of Columbia, her paternal grandparents; Teresa Tavarez and Frank Tobias of the Dominican Republic, her paternal great-grandparents; Donardo and Juana Cespedes and her maternal great-grandmother; Maria Ramos and numerous extended family members.
She was preceded in death by her maternal great-grandfather, Percio Ramos.
A graveside service will be held on Friday, September 14, 2018 at St. Joseph New Catholic Cemetery at 1 PM.
Leave a condolence on this Memorial Page
Services

Friday, September 14, 2018
1:00 PM
St. Joseph New Catholic Cemetery
170 Charles Rd
Bausman, Pennsylvania 17603

Map and Directions