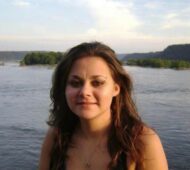 Erika R. Crossen, 33
July 15, 2022
Erika R. Crossen, 33, of Millersville, PA passed away unexpectedly in a vehicle accident on Friday, July 15, 2022. Born in Lancaster, PA, she was the daughter of Tracey (Seitz) and David John Crossen, Jr. Erika was the loving mother to Christopher and Paige.
Erika was a graduate of Penn Manor High School and received her Associates degree in Medical Billing. She was the office manager for Moe's Auto Repair. Erika was an avid Baltimore Ravens fan. She enjoyed going to yard sales, thrifting and shopping on Market Place. Most of all she cherished spending time with her family.
In addition to her parents, Erika is survived by her children: Christopher Ginter of Maytown and Paige Weitzel of Mountville; her siblings: Matthew Crossen stationed in Tokyo, Japan and Chelsea Miller of Millersville; her grandparents: Jacqueline Seitz, and Phyllis and David Crossen, Sr.; her uncles: Jon Derek Seitz from Millersville and Shane Crossen from California and Adam Cross from New Providence; her cousins: Mandee Davis, Ashley Smith, Christopher Crossen, Andrew Johnson and Elena Crossen; her nieces and nephews: Ollieanna, Tyler, Anthony, Kaiden and Aslyn and her beloved furbaby, Lucy. She was preceded in death by her grandfather James Seitz.
Please omit flowers. A Funeral Service will be held at 1PM on Sunday, July 24, 2022 at the Charles F. Snyder Funeral Home and Crematory, 441 N. George Street, Millersville, PA 17551. Family and friends will be received from 11AM until the time of service.
Watch the tribute video
Leave a condolence on this Memorial Page
Condolences to the Family
July 26, 2022
I love you Erika. I know your watching over your family and friends. I'm praying them R. I. P.
July 24, 2022
My heart goes out to her family and children she will be greatly missed.
July 22, 2022
I am so sorry for your loss. Hearing of this news broke my heart. Erika and I got to know each other over the past 10 or more years. She was a client of mine. I send my love and sympathy to the family and friends. I am sad to say I can't attend Sunday. But will be there in sprirt.
July 21, 2022
I have known Erika since kindergarten! She was always such a sweet, loving and fun person. So sorry for your loss.
July 21, 2022
I am sorry for your loss, my thoughts and prayers are with all of Erika's Family and Friends. Erika was a beautiful soul and a wonderful friend, she will be missed dearly. Rest in peace Erika I love you girl.
Brittany Favinger
Visitation

Sunday, July 24, 2022
11:00 AM - 1:00 PM
Charles F. Snyder Funeral Home & Crematory
441 North George Street
Millersville, PA 17551

Map and Directions

Services

Sunday, July 24, 2022
1:00 PM
Charles F. Snyder Funeral Home & Crematory
441 North George Street
Millersville, PA 17551

Map and Directions