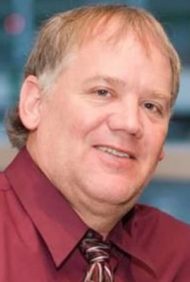 Eric E. Weaver, 51
September 03, 2018
Eric E. Weaver, 51, of Lititz, PA, passed away on September 3, 2018, as a result of a complication arising from a recent knee replacement surgery.
He was the husband of Christine L. (Balmer) Weaver, with whom he would have celebrated 27 years of marriage this Friday. Born in Ephrata, he was the son of Jeanie V. (Bankowski ) Weaver of Lititz and the late Curvin E. Weaver.
Eric had worked at GAF-Elk Manufacturing in Myerstown for the past 8 years.
Eric was very active in the Lititz Fire Company for 35 years, where he served as a Lieutenant, Captain, Assistant Chief, and company vice president, treasurer, and president. He was also a driver of apparatus.
He was an avid hunter, enjoyed going to the mountains in Clearfield to his family cabin, and was a member of the Hammer Creek Hunting Club in Newmanstown and Mosquito Creek Hunting Club in Frenchville. He was also a social member of the Lititz VFW.
Eric was known for his great sense of humor and was a loving husband, son, father, brother, uncle and friend.
In addition to his wife and mother, Eric is survived by his daughters: Samantha N. and Lauren A. of Lititz, his sister Monica married to Brian Rhodes and his brother, Craig married to Michelle Weaver, both of Lititz, and by many nieces and nephews.
Friends will be received on Sunday, Sept. 9, 2018 from 12-2PM at the Charles F. Snyder Jr. Funeral Home & Crematory, 3110 Lititz Pike, Lititz, PA, with at Time of Sharing with Friends and Family to begin promptly at 2PM. The family strongly asks that flowers not be sent but donations made in Eric's memory to two organizations very close to his heart: the Lititz Fire Company, 24 W. Main St., Lititz, PA 17543 or the Lititz Borough Police K9 Unit, 7 S. Broad St., Lititz, PA 17543.
Leave a condolence on this Memorial Page
Condolences to the Family
September 19, 2018
I know this is late, but still wanted to share our deepest sympathy to Eric's family for your lose. Prayers, your neighbors , Cindy & Lyric
September 09, 2018
I wish I had some great words of wisdom to share, but Christ, Sam, & Lauren. I only knew you thru your grandparents and our interactions there at the 'deck' while I lived nearby, but I was fond of Each of you and of Eric.
Curvin and Jean and ya'll made me feel like I was more then just a friend / neighbor.
When I got Jeanie's note, it ripped me… How much tragedy can one family endure? I wish I were closer to offer more then words…
I am a better person and man for having known all of you and my deepest sypathies and empathy goes out to you all…

Dave Landis, the old guy across the way from Jean/Curvin..
September 09, 2018
I'm at a loss for words… I'm so sorry for your loss. Jean, Chris and girls, Monica and family, and the rest of the family, I hope you find strength through the people who were touched by Eric's life. He was bigger than life in so many ways, especially his sense of humor. I feel fortunate to have been in band with him, then living so close to you Monica, so I could stay in touch! Prayers and hugs for today. I'm sorry I couldn't come today to give you them in person, but my recovery from surgery has been rough.
Sending my love!
Marie Sanderson
September 08, 2018
Shocked and saddened to hear of Eric's passing. My condlences to his family and friends.
Bob Rapp
September 08, 2018
Eric,
Thank you for being an honest and sincere individual. During my time at LFC, anytime I road on an engine or truck with you as the officer, I knew I was in good hands. All of us, especially the juniors, could count on you to make the right decisions. Never was I nervous to see you sitting in "the seat." You will be missed by the lives you touched. I never had to opportunity to meet your wife and children, but knowing you are a great human being, they were deeply cared for. Rest easy Eric. We got this.
Noodle.
September 08, 2018
My Condolences to you Christine and your entire families in loss. Your side neighbor Rob Leayman
September 07, 2018
Eric,
You are one of the funniest guys I ever had the pleasure of knowing. I can think of so many times that I have said to Ron – after seeing you – "man that Eric Weaver is so funny"! I know you are in heaven right now making all the angels laugh like crazy. And of course, seeing Curvin, who I think is where you got your humor from! What a blessing you were on this earth. Got to know you thru the Lititz Fire Company, and so glad you have such a giving heart for all those years and volunteered so many hours. Here's my funny story back to you. Remember when you drove the fire truck to our wedding – so we took take the ride from the church to the reception? So kind of you! Really what I remember is in the quiet of the ceremony, hearing all the "beep, beep, beep" – as you back up the engine in front of the church. Man, were we laughing. It wasnt just once – it went on for quite some time, I guess you had to get it straightened out. Whenever I watch the video or audio of our service, I laugh everytime that happens. You are the best. Thanks for all the memories. You will be missed and treasured for years to come. See you on the other side and keep the laughs coming. I probably will think of you every time I see a squirrel! Love, Jody Oettel

September 07, 2018
Our deepest sympathies during your time of loss. You will be in our thoughts.
From all the staff at GAF – Myerstown
September 07, 2018
My condolences to Eric's family and friends as he will be dearly missed. I went to school with Eric since Kindergarten, graduated together and have stayed in contact till the present. I will miss his smile and goofy things he did and most importantly his friendship. He got me through some really tough times and I thank God I was blessed to have his lifelong friendship. I thank you for your service with the fire company all those years!! I will miss hearing "Hey Keller……" I miss you already and I'm very heartbroken over your passing but we will meet again someday. RIP my friend 😢❤️!!
September 07, 2018
To Eric's Family,
we were saddened to hear about his passing.
Jim and Pat Gravesande
Englewood Fl.
September 07, 2018
Your family will be in my prayers
September 07, 2018
Chris, Samantha, and Lauren. I am so sorry for the loss of your husband and father!! I can only imagine what a shock this is!! Please know that I am praying for all of you and your extended family. During this difficult time, may the Lord Jesus keep you close to His heart. "Blessed are those who mourn, for they will be comforted." (Matthew 5:4) May you be comforted in the presence, power, and peace of Jesus.
Love Sharon Roseboro
Visitation

Sunday, September 09, 2018
12:00 PM - 2:00 PM
Charles F. Snyder Funeral Home & Crematory
3110 Lititz Pike
Lititz, PA 17543

Map and Directions

Services

Sunday, September 09, 2018
2:00 PM
Charles F. Snyder Funeral Home & Crematory
3110 Lititz Pike
Lititz, PA 17543

Map and Directions