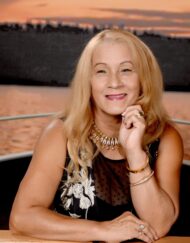 Emilia "Emily" DeJesus, 71
November 11, 1950 - September 17, 2022
Emily went to be with the Lord and her husband Jaime on Sept 17th, 2022. She passed peacefully surrounded by her family. She worked at JL Clark for 44 years as a machine operator working her way up to supervisor before retiring in 2017. She also taught CCD for many years at San Juan Bautista Church. She was well known for making the best rice and beans ever to all who were lucky enough to have some. Her home was where all family gatherings were held as the matriarch of the Saez & DeJesus family. Her family was her world and her legacy.
She was proceeded in death by her mother Maria Confesora Santiago; father Emilio Saez; loving husband Jaime DeJesus; sister Sonia Saez-Medina; and brother Eufemio Saez. She is survived by her daughters Maira DeJesus, Kara Lewis, son in law Ray Lewis; her grandchildren Trey, Tyhir, Isabella, Destiny and Rayjon; as well as her brothers Saul Saez, Rafael Saez, Ernesto Saez, Gonzalo Saez (Lydia), Angel Luis Saez (Ramona), Reynaldo Saez; her mother-in-law Maria Rivera; and countless nieces, nephews and extended family.
A Viewing will be held at Charles F. Snyder Funeral Home, 2421 Willow Street Pike, Willow Street, PA on Monday, September 26, 2022 from 6:00 PM – 8:00 PM. A Funeral Service will take place at the Funeral Home on Tuesday, September 27,2022 at 11:00 AM, with guests being received one hour prior at 10:00 AM. Committal will follow at Millersville Mennonite Cemetery.
Watch the tribute video
Leave a condolence on this Memorial Page
Condolences to the Family
September 25, 2022
Maira and family. Please accept my sincerest condolence at the loss of your dear mother. May she Rest In Peace and May God comfort you.
September 24, 2022
Maira and Kara,
Your mother will be a never ending song in your heart. Always remember the tune for comfort, memories, and happiness. 🎶
She is listening from above and valuing your love forevermore. ❤️
Proverbs 31:28 – Her children rise up and call her blessed…🙏🏾
September 21, 2022
You were always so kind and funny everytime we would run into each other. You are and will always be a beautiful soul. Such kindess not easily found anymore. God Bless you and greet you with open arms. You will be missed.
September 21, 2022
So sorry for your loss. May Emily rest in peace. I met her once on a company trip & she was so sweet & kind.
September 21, 2022
We Will Always Love You Rest Well
September 20, 2022
Titi Emily- you are a warrior and the very definition of Love. I can see why God called you to His presence. You fought well, served effortlessly and family stayed your number one priority. A true proverbs 31 woman. God is pleased. We will carry you in our hearts and memories- you will be missed beyond words. I am so grateful for all you did and are… and imagining life without your smile and kind concern and counsel… is tough. I am only comforted by the knowledge that to be absent in body is to present with the Lord. I love you so much ❤️❤️❤️
September 19, 2022
Emily was a wonderful beautiful woman. She was a good friend that will be missed. She was always smiling even during difficult times. Rest in piece my friend.
September 19, 2022
We will miss you. Will always remeber your kind and caring soul. Love you. Fly high Queen ❤️
Visitation

Monday, September 26, 2022
6:00 PM - 8:00 PM
Charles F. Snyder Funeral Home
2421 Willow Street Pike
Willow Street, PA 17584

Map and Directions

Visitation

Tuesday, September 27, 2022
10:00 AM - 11:00 AM
Charles F. Snyder Funeral Home & Crematory
2421 Willow Street Pike
Willow Street, PA 17584

Map and Directions

Services

Tuesday, September 27, 2022
11:00 AM - 12:00 PM
Charles F. Snyder Funeral Home
2421 Willow Street Pike
Willow Street, PA 17584

Map and Directions