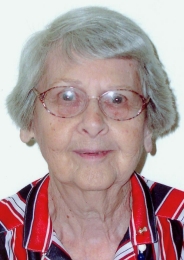 Elsie Krupa Geiger, 86
Elsie Krupa Geiger, 86, of St. Anne's Retirement Community, entered into rest on Saturday, June 3, 2006.
Elsie was the wife of Richard A. Geiger. They would have celebrated their 65th Wedding Anniversary in September.
A graduate of Lancaster Catholic High School in the class of 1939, she was a member of St. Anthony of Padua Parish over fifty years, and was active in the Mother's Club, serving as President in 1957. She was a leader of St. Anthony's Senior Girl Scout Troop in the 1960's, and was involved in Girl's Club of Lancaster Recreation Commission for about 20 years, starting as a leader and teaching sewing and cooking. Elsie worked at Watt & Shand in the Monogramming Dept for several years and was a local seamstress for about twenty-five years. She was the daughter of George M. & Elsie Johns Krupa who built and owned the Capitol Theater in the 1920's.
Elsie is survived by her husband, Richard A. Geiger; four daughters, Lucinda Ann, wife of Donald Dorwart; Lyn Marie, wife of James Kirkland; Jill Teresa Geiger, all of Lancaster, and Jacqueline Ruth, wife of William F. Reck III, of St. Louis. She is also survived by nine grandchildren and seven great grandchildren.
A Mass of Christian Burial will be held at St. Anne's Retirement Community Chapel, 3952 Columbia Ave., Columbia, PA on Friday at 11AM. The interment will be private. Friends will be received at the chapel from 10AM until the time of service. Please omit flowers. Memorial contributions may be made in her memory to the St. Anne's Retirement Community, 3952 Colombia Ave., Columbia, PA 17512 or the Hospice of Lancaster County, 685 Good Dr., Box 4125, Lancaster, PA 17604-4125.
Leave a condolence on this Memorial Page