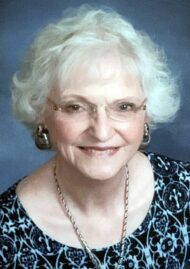 Ellen Reed
January 10, 2022
Ellen Reed was born in Hot Springs, Arkansas and grew up in Pine Bluff, Arkansas, but she lived her entire adult life in Lancaster. Her birth parents were Robert and Edith (Harper) Lykes. After the death of her parents when she was young, Ellen was raised by her father's sister and husband, Virginia and Sumner St. Clair. At that time, her aunt wanted her named Becky. So at home she was called Becky, and at school she was known as Ellen.
Robert "Bob" Reed and Ellen were married for 66 years at the time of his death in 2017. Ellen is survived by one daughter, Virginia (Giny) Mackey and her husband, Robert. She was blessed with three grandchildren: Philip Mackey (Ashley), Jason Mackey, and Alison Gillmen (Tyler) as well as great-grandchildren Jade and Hazel Gillmen, and Parker and Hudson Mackey. Karen Lykes of Cincinnati is her only niece. Her two brothers preceded her in death, Jack Harper Lykes and Robert Evans Lykes.
As a member of Highland Presbyterian Church, she served as a Stephen minister. A member of The Towne Club of Lancaster for 50 years, she held various positions, including multiple terms as President. She had been a member of Covenant United Methodist Church for over 30 years in which she sang in the choir.
Spending 21 years in real estate, Ellen not only had her real estate license, but received her Broker's License and was the owner of Ellen Reed Realtor serving many families in the area, some of whom became her friends.
The funeral service will be held at Highland Presbyterian Church, 500 E. Roseville Road, Lancaster, PA on Friday, January 14, 2022 with greeting of the family at 10:30 AM, followed by the funeral at 11:00 AM. The service will be livestreamed at www.highlandpc.org. Due to Covid restrictions, mask wearing is requested. Memorial contributions can be donated to Highland Presbyterian Church or the National Breast Cancer Coalition.
Leave a condolence on this Memorial Page
Condolences to the Family
January 13, 2022
Dear Virginia,

By chance (or perhaps I was led), I came upon your mother's obituary in the online version of LNP, which I don't read regularly. I was deeply saddened to read of her passing. In December, I thought of her and told myself that I must call her as soon as I had finished the semester's schoolwork. Now I wish that I'd acted immediately on that thought.

Your mother was very dear to me. It was her profound goodness, which your father also possessed, that I appreciated and will cherish the memory of. And it was remarkable that our paths first crossed purely out of mundane need—because I needed to find a house for my family after the position at F&M became stable. I was a harried, young professor, whom she took under her wing as more than simply a client; and our relationship reflected that growing friendship and trust. But, alas, it pains me to think I was not nearly as diligent a friend as I should have been.

Ellen joins a group of very special elders who have passed on but whose example in the way they lived their lives will continue to deeply affect me. I will miss her.

Shu-hua joins me in sending these condolences to you and your family,
Rick Kent

January 13, 2022
Virginia, please accept my sympathy. I will remember your Mother's humor, her laugh, her kindness. It was my pleasure to have known her. She was a classy lady!
January 13, 2022
Virginia
We very much loved and enjoyed your mother. She had an outstanding life which she lived fully, undaunted by her age, giving help and guidance to many. She dearlY cherished you and your family. Her giraffes will surely keep her alive in the memories of your of your children and grand children. What a talented and sincere person. She lived her religion and passed it on to her friends and acquaintances.
Sincerely,
Bob & Nancy Hess
January 13, 2022
Dear family of our friend Ellen,
It is with sadness that we visit you to let you know that we will miss her. We shared many mealtimes together here at Moravian Manor and visited to see the completed giraffe projects.
She loved showing pictures of her grandchildren and great grandchildren. Her stories of life experiences were so interesting. May the comfort of good memories and caring thoughts from friends surround you now.

With sympathy,
Pauline(Polly)Seiler
January 12, 2022
Giny, I am so sorry to hear about the loss of your mother. Thinking of you and wishing you and your family peace.
Visitation

Friday, January 14, 2022
10:30 AM - 11:00 AM
Highland Presbyterian Church
500 E Roseville Rd
Lancaster, PA

Map and Directions

Services

Friday, January 14, 2022
11:00 AM
Highland Presbyterian Church
500 E. Roseville Rd
Lancaster, PA

Map and Directions